Items tagged with 'trash'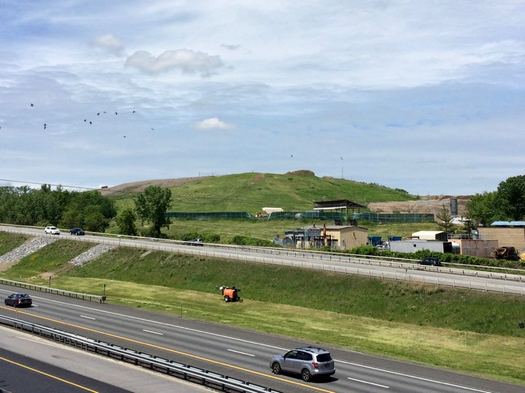 The Albany landfill is set to close by 2023, according to the most recent estimation by the city. And when that happens, Albany will have to find a new place for its trash.
That impending deadline has city officials thinking about what comes next -- where the garbage will go, sure, but also how it's collected from the city's thousands of households. This is an issue that effects pretty much everyone in the city. And time is running out.
As city officials explained at a recent public meeting -- and will talk about again at a handful of upcoming meetings -- they have some ideas about how things might go. For example: A switch to a system in which people pay for garbage service based on how much they throw out is almost certainly part of the future.
But there are also a bunch of questions, and the city is hoping people will have some thoughts about how to answer them.
Here are a few of those questions...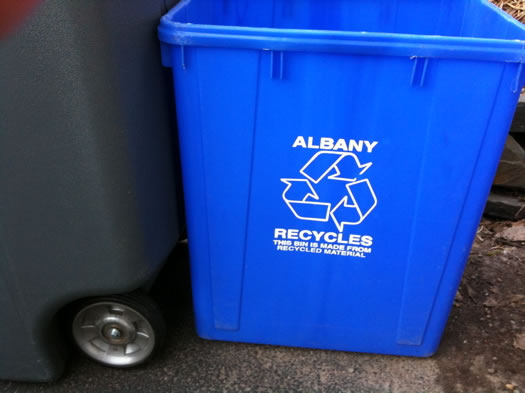 The Albany landfill is running out of space. And by the time it does -- sometime in 2022, there will be no extensions this time -- the city will need to have a plan in place for what to do with its trash.
Toward that end, the city has a series of public meetings lined up over the next month to discuss the topic. Press release blurbage: "These events are designed to give residents the opportunity to meet with City of Albany Department of General Services officials, obtain information regarding the current state of solid waste management in the City, and to provide input on the next steps of the City's Solid Waste Management Plan."
The schedule is below. The first event is this Wednesday, May 24.
This might seem like a wonky topic, but the city is probably facing some significant changes from the current situation. The days of basically piling as much garbage as you want at the curb will be ending, and the city will almost certainly be switching to some sort of system in which people pay by the bag or container ("pay as you throw"), along with greater incentives to recycle and compost. This has all been a long time coming.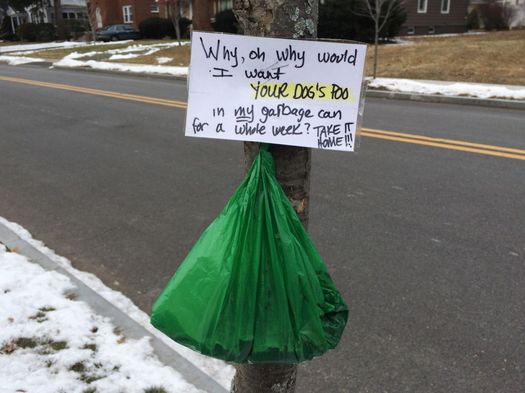 The world is currently full of big, important questions. This is not one of them.
That said, we all have to get along with our neighbors (to some extent), and that's especially true in places where we live close together.
We were thinking about that when we recently passed this sign -- with, um, evidence -- tacked to a tree on Euclid Ave in Albany. And it got us wondering about the ethics of dropping a bag of dog poop in a neighbor's garbage can.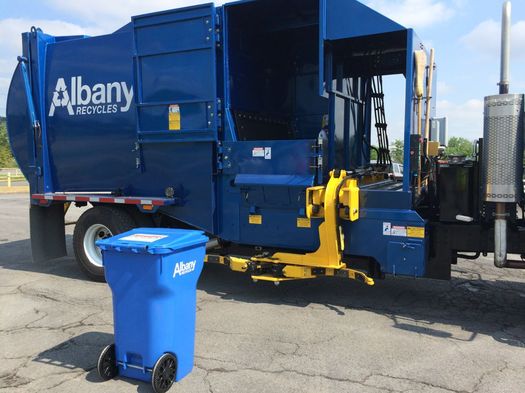 Trash is one of those things that most of us probably take for granted -- but collecting it, and finding a place to dispose of it, is a critical part of any city. It's just something we don't tend to think much about unless something changes (or doesn't work).
So, here's prompt to think about the topic a little more: Starting this week the city of Albany is beginning a test of a new way of picking up trash -- recyclables, to be specific.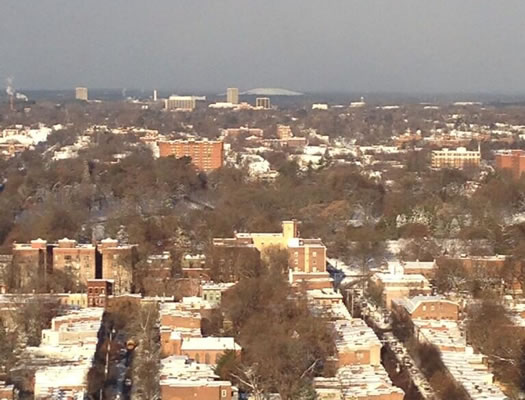 Andrew from Albany shared the above pic today on Twitter -- it's the snow-covered Albany landfill viewed from one of the Empire State Plaza office buildings.
As he noted: "The #Albany dump covered in snow looks oddly like a volcano. The tourism bureau can thank me for this gem later."
Mt. Fuji, it is not.
Noted: Apparently the landfill-mountain-as-ski-hill idea is persistent, if elusive. But in Evanston, Illinois there is a "Mt. Trashmore" that was once used for skiing and is still used for sledding. And in Virginia Beach, Virginia there's a Mount Trashmore Park that includes a skate park.
(Thanks, Andrew!)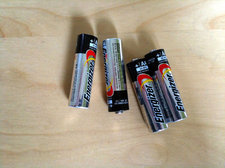 Scott asks via the Facebook:
I have a question for AOA: do you know of anyone around here that does battery recycling?
OK, so the answer to this question is: it's a little bit complicated. And you might have a suggestion that could help.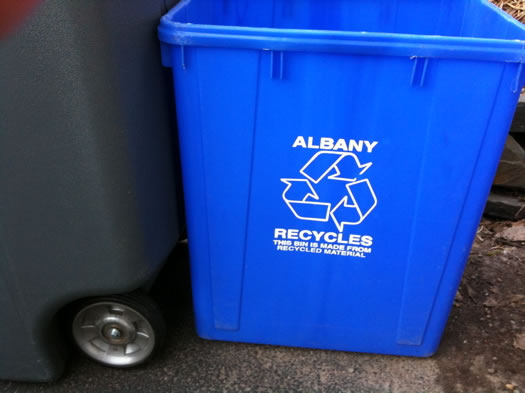 By Elisabeth Draper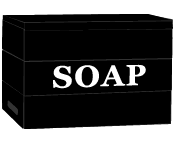 For the past four years I have watched one family in my neighborhood put out more trash bags in one week than I thought possible. On average, they have at least five bags of trash every week and no recycling bins. Through the clear trash bags I can see metal cans, plastics, and cardboard. This drives me bananas.
Why?
Well, mostly because the city of Albany provides trash pick-up and recycling at no additional cost to homeowners. In the suburbs, most folks pay for trash pick-up, but in Albany, it's free. Well, sort of -- the cost is figured into municipal taxes. In addition to their trash and recycling pick-up, Albanians are provided with recycling bins for paper, cardboard, cans, glass, and plastics -- all plastics (1-7). That's a huge bonus -- not all municipalities recycle all plastics.
Perhaps this is why my neighbor's behavior drives me so batty; all they have to do is separate their recycling. But recycling isn't required in Albany. So, other than your own conscience, there's no incentive.
Just so we're clear, I'm not stalking these folks, but anyone who owns a dog or walks in their neighborhood regularly is likely to observe the goings-on there; and since this has been going on for a while, I think we need to change things up.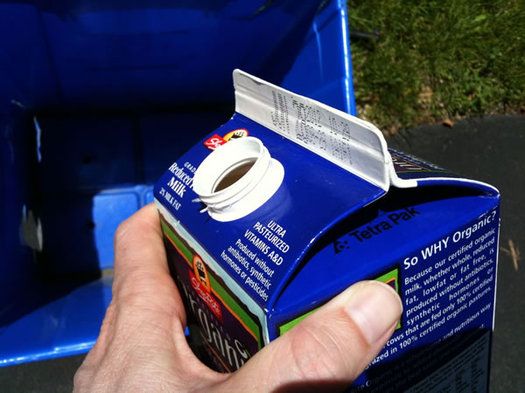 When we retrieved our recycling bin from the curb last week, we noticed that a milk carton had been left behind -- with not a can or bottle to keep him company. Hmm, we thought -- aren't those recyclable?
We mentioned the question on Twitter -- and the consensus was: yes... no... maybe. Other people had the same question.
So we did a little research.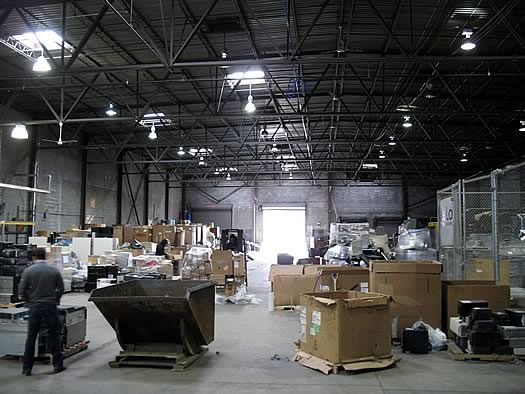 Electronic gadgets are everywhere -- and in greater numbers every day. It's one side effect of an industry in which an item is considered "old" if was released just a year ago.
So, these items often have a short lifespan. And when the end comes, they have to go somewhere -- and increasingly, that place is not a landfill. As of the start of this year, businesses and municipalities in New York State are no longer allowed to pitch electronics into landfills. And by 2015 that restriction will apply to everyone -- even individuals.
With that in mind, a recent invitation to check out an electronics recycling business in south Troy made us curious to see where this stuff goes.
Well, that, and we almost never pass up the opportunity to see stuff get crushed.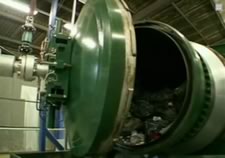 Interesting, and perhaps worth some skepticism: a company called Green Waste Energy has proposed building a waste-to-energy plant at the Port of Albany -- to address both the Albany area's impending trash problem, and to generate energy. [Biz Review] [TU]
The project GWE is proposing is a "thermal conversion" waste plant that would use steam to heat trash in an industrial autoclave (basically a big sealed chamber) to around 320 degree F in the absence of oxygen to break down the trash. Among the resulting products: a gas that could be used to fire a power plant. Here's a video from the company, and here's a clip from the blurbage about its technology (link added):
Unlike old-fashioned mass-burn or incinerator facilities, our Green Energy Centers do not burn and therefore do not pollute. Our patents are on advanced thermal conversion technology. When biomass is heated with no oxygen it gasifies to a syngas with about 66% of the energy of natural gas.
C6 Technology is an advanced conversion technology that has the ability to produce a clean, high calorific value gas from a wide variety of waste and biomass streams. The hydrocarbon content of the waste is converted into a gas, which is suitable for utilization in gas engines to generate green electricity.
It might good in theory, but practice -- and financing, and permitting, and everything -- often proves harder than theory. And while the the trash conversion may not directly create pollution that escapes, burning the gas to fire the power plant would. Nothing's free. The TU reported that GWE's technology is already in use by South African company.
Also, something that's a bit unexpected to us: the founders of the company are an attorney, who also founded an "online debt resolution" company (and was on the board of a different waste-to energy company), and the "managing director of a successful chain of restaurants in the NE US."
But all that trash will have to go somewhere. The Albany landfill, which takes trash from more than 200k people in the area, is projected to be full by the end of this decade.
Earlier on AOA: Albany switches to single-stream recycling
photo: Green Waste Energy