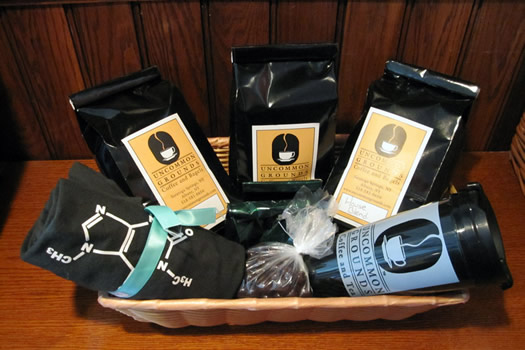 The AOA elves are back to help you with your holiday shopping. For the next couple of weeks we'll be bringing you fun, interesting, local gift ideas for the holiday season.
Life is too short to drink bad coffee, at least, in my humble opinion. But hey, some people don't always think they're worth the good coffee splurge.
Which is why this next installment of the AOA holiday gift guide is near and dear to my heart -- the gift of locally roasted coffee.
Here in the Capital Region, we've got a number of local roasters to choose from, including good old standby the Daily Grind in Albany. The Lark Street Blend seems like a particularly good choice if you really want something that screams "local." It's a chocolate-hazelnut flavor that sells for $14 a pound. There are also usually a few holiday-ish blends. Personally, I'm a blend girl, not a flavor girl, but there are plenty of those, too. Oh, and while the coffee isn't roasted in-store at the Troy shop, you can still buy the beans there.
Personally, my favorite is the coffee roasted on premises at Professor Java's Coffee Sanctuary in Colonie. They have several varieties of beans and blends available at the café or online for $12-14 a pound. I like the Ethiopian and Monsoon Malabar varieties best myself, but those might be a little too dark or earthy for some.
There's also Uncommon Grounds in Albany and Saratoga Springs, which includes the locally-monikered Broadway Blend.
You can also get your grind on at Troy's Spill'n the Beans and the new Caffe Vero on Lark Street.
Pro tip: If you're not absolutely sure the recipient has a coffee grinder, make sure you get the coffee ground in-store. I say this from experience. Or maybe a grinder might make a good item to round out the gift? A colorful mug might also be a nice add-on.
What?
Locally roasted coffee. Okay, obviously it's not locally grown, but it is at least roasted locally.
Who's it for?
Coffee drinkers, duh. Especially your Starbucks-hating pals.
How much? It ranges. It's $12-14 a pound at PJ's, while the beans at UG range from $9.50 a pound to the $12.75 a pound organic and fair-trade varieties.
Where?
Caffe Vero, 260 Lark St., Albany.
Daily Grind, 204 Lark St., Albany or 46 3rd St., Troy.
Professor Java's , 217 Wolf Road, Albany.
Spill'n the Beans, 13 3rd St., Troy.
Uncommon Grounds, 1235 Western Ave., Albany, or 402 Broadway, Saratoga Springs.
Other gift ideas from this year:
+ Hudson Valley Seed Packets
+ Capital Region Etsy: jewelry
+ Adirondack carbon reduction certificates
+ Capital Region Etsy: clothing
+ Capital Region Etsy: kid stuff
+ The gift of garlic
+ Capital Region Etsy: other stuff
+ Run, We Must shirts and hoodies
Hi there. Comments have been closed for this item. Still have something to say? Contact us.