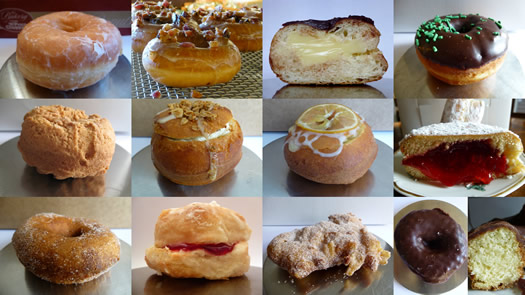 By Daniel B.
We've enlisted Daniel B. to survey Capital Region donut shops -- and pick his favorite donuts -- for a short series called The Best Dozen.
Donuts test our ability to make choices.
When you walk into a shop and are confronted with a selection of deliciousness, how can you possibly decide which twelve to take home? Hopefully these past three months have helped in that regard.
For this series, I've evaluated the wares from 11 different places to buy donuts throughout the Capital Region and identified my favorite dozen from each stop.
But let's say you were interested in putting together the ultimate Capital Region dozen in which you could include donuts from each of these 11 places? Where would you even begin?
You can start right there.
Overall, there were 21 donuts which I considered to be the "best of the bunch" from their respective outlets. Seven of them were cake donuts, six of them were filled donuts, five of them were yeast donuts, and three of them were specialty donuts. As it turns out, none of the best filled donuts were filled with jelly.
(You may be going through your notes and saying, "Hey, I only counted 20." Well, there was one more donut that I had to go back and try for myself. I explain below.)
This ultimate dozen is sorted by style. For each of these styles, I've selected the best donut from the best shop that fills the bill. As a result, not all shops make the cut. And some excellent shops might be underrepresented, as there is only room for one Boston Cream, one glazed, and so on.
Also, there isn't room for every style of donut sampled over the series. Sorry, cinnamon swirls didn't make the cut.
Let's start with the classics, and move on from there.
Classic: Market Bistro's Glazed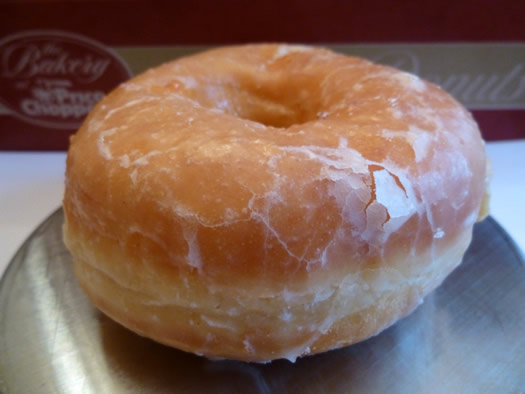 For some reason, it's really hard to find a great version of this very simple classic donut, and this is the best one that I have found. The versions at the Cookie Factory, Schuyler Bakery, and Shop Rite gave Market Bistro a run for its money. But ultimately with its tender crumb, great lift, and crackling glaze, this is the glazed donut I'd rather have.
Old Fashioned: Schuyler Bakery's Cake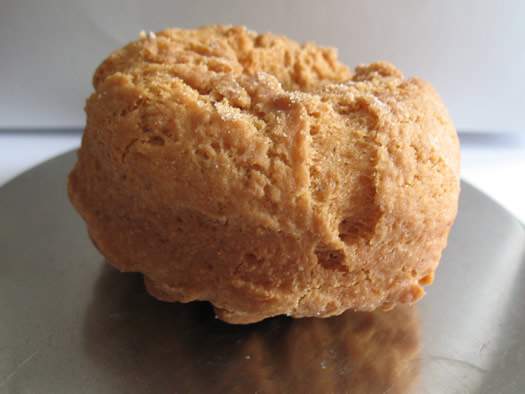 It's not much to look at, but I haven't been able to stop thinking about this delicious donut with its intensely crisp crust. There's nothing else like it in the region. Before tasting this donut, I would have told you that Bella Napoli had the best cake donuts in the area, and I would have been wrong. Discovering the cake donut at Schulyer Bakery may have made this entire project worthwhile.
Regional Favorite: Cider Belly's Apple Cider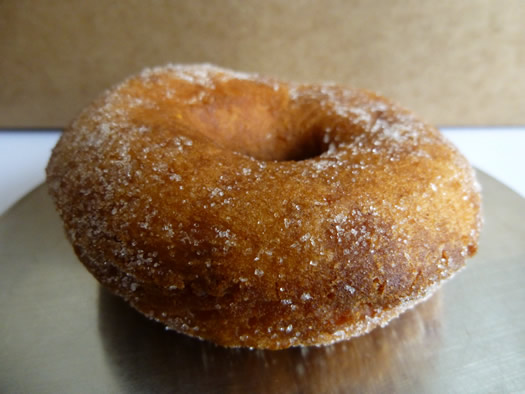 You can choose from either the plain or the cinnamon. (I suppose the maple iced is fair game too if you wanted to get fancy.) These apple cider donuts are better than most of the ones you can find at our local orchards. If you can get warm ones at Indian Ladder or Golden Harvest, those might give Cider Belly a run for its money. But that is hit and miss, while Cider Belly is the sure thing.
Hip: Park Side Eatery's Maple Bacon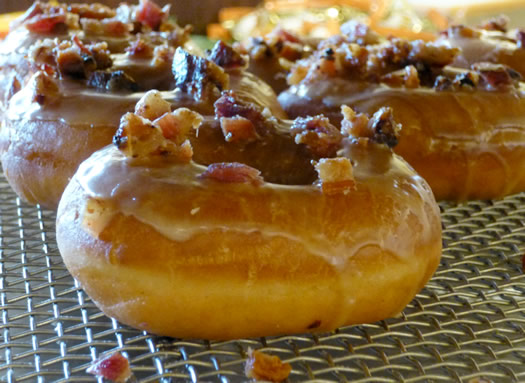 Maple bacon is the darling of the modern donut scene. The variety can be found in donut hot spots from coast to coast, and when it's done well it's delicious. The one at Park Side Eatery bested the version at Nibble with its more assertive maple flavor and bite-sized bits of bacon, which made it easier to eat. They are only available on Friday, Saturday, and Sunday. And these are so popular they tend to sell out before noon.
Fancy: Nibble's Parfait

I've never seen a donut like this in all my travels. One that is filled with thick, tangy greek yogurt and topped with crunchy granola and a drizzle of raw honey. On paper it sounds weird. The mash up of a healthy breakfast with a deep fried donut just feels wrong intellectually. But when you hold it in your hand, and put it in your mouth, all of those doubts fade away as this unusual combination works together in a most wonderful way.
Faddish: Hannaford's Croissant Donut with Jelly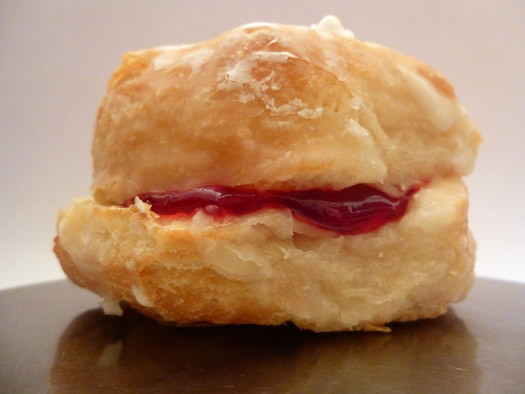 Speaking of mash ups, the biggest one on the donut scene is the croissant donut, and I tried the offerings of two local outlets over the course of this series. The Hannaford version far outpaced the monstrosity at Dunkin' in both quality and value. I originally tried Hannaford's Boston Cream take on the donut. Its promise -- and value -- drew me back to try the jelly-filled version of it. With well-defined layers of rich, buttery pastry, the Hannaford croissant donut had just enough croissant in it to justify the name, though any shattering crispness of its crust was sadly lost by the glaze. Still, it somehow feels more decadent than a regular donut, and the jelly version offered a much better balance of sweetness than the Boston Cream variant. Sure, it's not even in the same league as the original version made in NYC. But this is $.89 and available at Hannafords across the region. It certainly earns a spot in this ultimate dozen.
Cream filled: Cookie Factory's Boston Cream

There are a lot of great Boston Cream donuts in the Capital Region. Granted, we have some awfully disappointing ones as well. Years ago in a head-to-head comparison, Bella Napoli's Boston Cream came out on top (and it is truly excellent). But today, the Cookie Factory's deep cocoa-flavored icing and more custardy filling makes it my first choice. Schuyler's was also mighty impressive, and deserves a nod of recognition.
Tart: Nibble's Local Lemon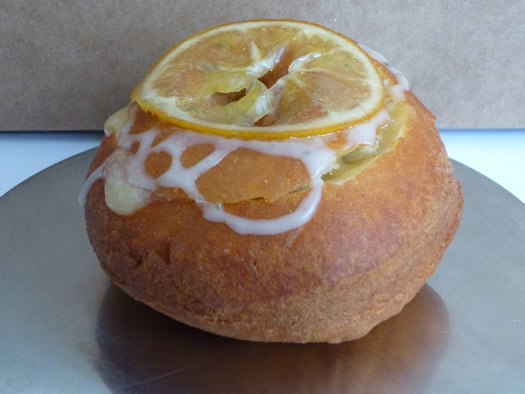 Lemon donuts are a mixed bag, with most tasting starchy, gummy, and almost nothing like lemon. Nibble's is like a lemony punch in the mouth. The sliver of Meyer lemon on the top goes a long way to help amplify the flavor, but the house made lemon curd that is piped into the donut shell to order is the real star of the show. Once again, Schuyler Bakery is a close runner up with its lemon donut tasting closer to lemon Hostess Pie, but in the very best way.
Fruity: Park Side Eatery's Apple Fritter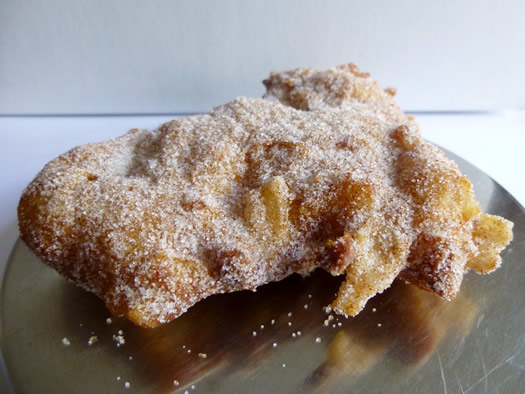 Lots of places make apple fritters, but not every place will let you include one in your regular dozen. PSE does, and its cinnamon sugar-topped version is great, especially if you can find one with plenty of crispy edges. Plus, those pieces of fruit which stud this treat are transformed into creamy pockets of pleasure. I'd love to bring another one of these home with me.
Chocolatey: Cookie Factory's Chocolate Iced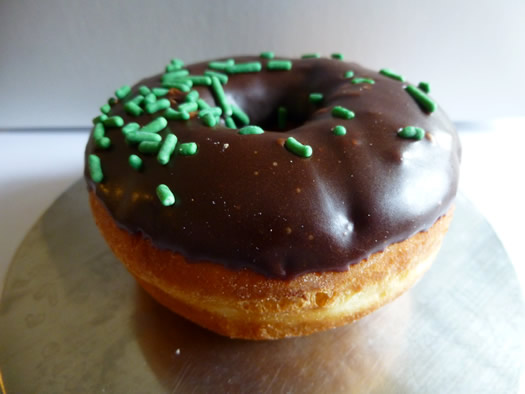 The Cookie Factory has a way with chocolate icing. They are also very talented at making light and tender donut shells. These two things -- which seem as if they should be remarkably simple, yet at which multiple outlets struggle -- are done brilliantly at this Troy shop. The results put all the big donut shops to shame (and bests all the smaller independent ones, too).
Messy: Bella Napoli's Powdered Strawberry Jelly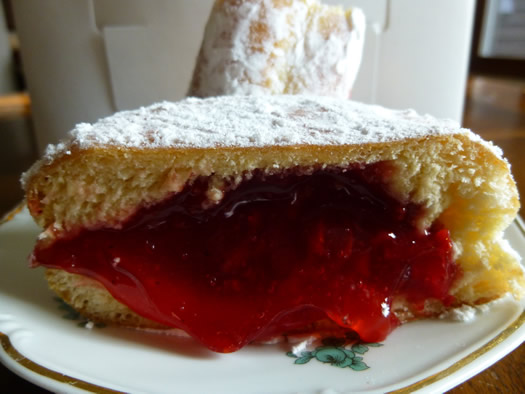 You have to have a powdered jelly-filled donut in an ultimate dozen. So many jelly donuts are filled with a viscous goo that's dyed a shocking color. Some have no signs of fruit in them at all. Others are filled with gummy pellets designed to simulate fruit segments. But Bella Napoli's strawberry and blueberry jelly actually have real pieces of fruit. The strawberry is just a little bit better, but both are heads and shoulders above the mean.
Substantial: Bella Napoli's Chocolate Iced Cake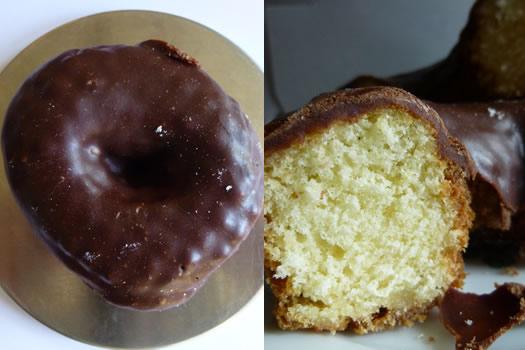 Sometimes you want a donut that turns everything up to eleven. Bella Napoli takes its excellent cake donut and makes it even better with a thick coating of chocolate icing. It's 100 grams of joy and a celebration of flavor, in an easy-to-eat package. This is better than any of the chocolate glazed donuts tried over the course of this series, and may be one of my favorites on this list.
____
Whew.
That's one helluva dozen. The only problem is that you might not want to share them. Although, if you get three of your friends to join you, and cut all the donuts into quarters, you'll be able to try them all. That's only the equivalent of three donuts per person. How hard could it be?
Let me tell you. It's harder than you think. Do yourself a favor and take it slow. Me? I think I might be taking a break from donuts for a while.
But I may go back to Schuyler for just one more of their old fashioned donuts before I do.
Daniel B. is the proprietor of the FUSSYlittleBLOG.
More from The Best Dozen:
+ The Best Dozen: Numbers
+ Dunkin' Donuts
+ Nibble in Troy
+ Hannaford
+ Schuyler Bakery in Watervliet
+ Cider Belly in Albany
+ ShopRite in Colonie
+ Stewart's
+ Cookie Factory in Troy
+ Market Bistro in Latham
+ Park Side Eatery in Saratoga Springs
+ Bella Napoli in Troy
Hi there. Comments have been closed for this item. Still have something to say? Contact us.