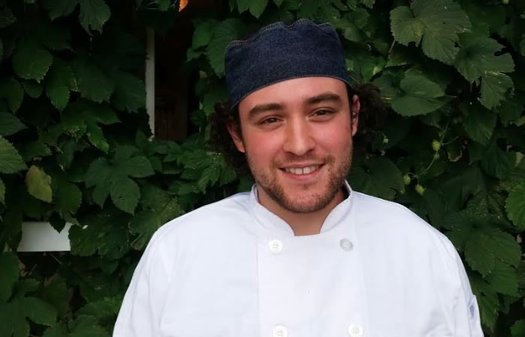 Gifts and giving are on most everyone's mind this month. So we're asking people to share some thoughts on presents, past and present, charities, and wishes for the next year.
Next up: Rob Handel has been cooking since his grandmother first set him to cracking eggs and peeling potatoes in her resort kitchen as a child. Since then he has broadened his culinary horizons through research and travel, as well as periods of formal study in biology, chemistry, and culinary arts.
Rob is currently the executive chef at The Bees Knees Café at Heather Ridge Farm, where he creates both classic dishes and unique preparations pairing the meat and poultry raised on the farm with local produce, cheeses, dairy, and foraged goods. When not in the kitchen, Rob can be found in the woods foraging mushrooms and wild foods, or tending to his own small home farm.
What gifts would you like to get this year?
I like to use Christmas as an opportunity to catch up on all the great cookbooks that have come out during the year. This year I'm looking forward to getting Hank Shaw's Buck, Buck, Moose, Vivian Howard's Deep Run Roots: Stories and Recipes from My Corner of the South, and Lior Lev Sercaz's The Spice Companion: A Guide to the World of Spices.
What gifts would you like to give this year?
I usually give a lot of homemade gifts. I spend much of the summer up until all hours of the morning canning, fermenting, and dehydrating, and that allows me to give homemade jams, cocktail cherries, pickles, and foraged mushroom soup mixes to friends and family.
Another favorite gift that I like to give is Heather Ridge Farm "Patent" Root Beer Syrup. It's a root beer concentrate that I designed that's based on a 19th century recipe and utilizes fifteen different roots, barks, herbs, and spices.
What charity would you like to support?
My charity of choice is the NY Capital Region chapter of GLSEN (Gay, Lesbian, and Straight Education Network). They're a great organization that advocates and provides programming for gay, lesbian, transgendered, and queer students throughout eight counties in the Capital District.
What is your most memorable gift?
My most memorable gift was receiving my father's set of Foxfire books. The Foxfire collection was a series of books written by high school students in rural Georgia during the seventies. The students interviewed and photographed people in the Appalachians who were still living traditional rural lives, and wrote about it in the books.
Part storytelling and part instructional, these books got me out into the woods foraging for wild spring greens, making lye from wood ash to turn into soap, and generally inspired me to pursue many of the self reliance interests that I treasure today.
What is your wish for the New Year?
My wish for the New Year is that people get sick of the words "curated," "taste maker," and "creative" as a noun.
____
Compiled by Deanna Fox.
More holiday gifts 2016
+ Jamel Mosely
+ Nicki Brown
+ Paul Curran
+ Kim Neaton
+ Jeff Smith
+ Aray M. Till
+ Jeff Krenn
+ Jennifer Maher