Items tagged with 'Greene County'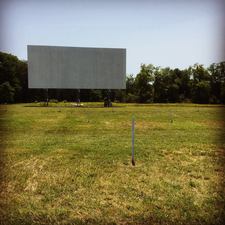 Some quick follow-up: The effort to revive the Greenville Drive-In successfully met its Kickstarter goal and the drive-in theater on Route 32 re-opened in July. (Greenville is in northern Greene County, right on the boarder with Albany County.)
The theater has been showing classic films, and this coming weekend it's showing Ant-Man. It's also hosting special events, such as a screening of the documentary Going Attractions: The Definitive Story of the American Drive-In Movie on August 12. The doc's director, April Wright, will be there for a pre-show Q&A.
Something else that caught our eye: The Greenville Drive-In is also hosting video game nights in which people can play games on the theater's 80-foot screen. One of those nights is tonight (August 3) -- they'll be playing Bakugan Battle Brawlers.
photo via Greenville Drive-In FB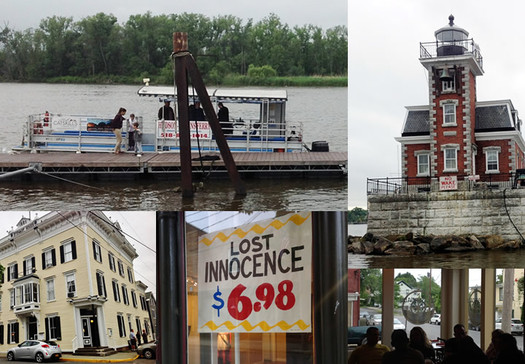 By Duncan Crary
Ahead of the Rail, River, Hudson II tour this coming weekend, we have a series of posts focusing on the Hudson River this week.
Last summer, in anticipation of AOA's Rail, River Hudson trip, I made the case that "How you get there matters, because getting there is half the fun." This time around, I'll add that getting there by boat will make any location feel more exotic.
Here in the Capital Region we have a few cruise boats that offer roundtrip sightseeing and/or party cruises (like the Dutch Apple II in Albany, The Captain JP II in Troy and the The Caldwell Belle in Schuylerville). These are all great ways for the public to experience our rivers by boat. But except for special events, these local cruisers are rarely used for commuting between destinations. And while there's been a lot of talk over the years of bringing water taxis to Albany, we're still waiting to see that happen.
You don't have to go too far downriver, though, to find public water transit. For the past three years, the Hudson-Athens Ferry has been carrying people between that city and village, across the Hudson River.
Two weeks ago, I finally made it onboard with a fellow traveler from Troy. Here are a few notes from our adventure...
River Week is sponsored by: Albany County Convention and Visitors Bureau, Downtown Albany BID, Dutch Apple Cruises, Harmony Mills, Hudson River Greenway, Nine Pin Cider, Sweet Sue's, and Downtown Troy BID.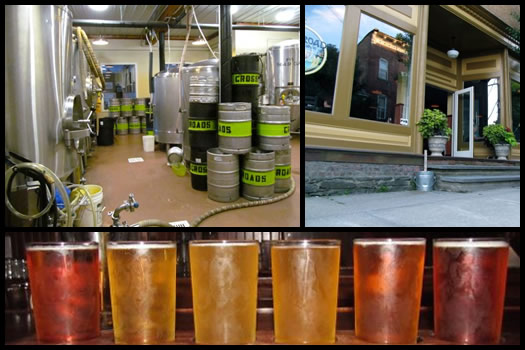 By Casey Normile
Ken Landin never meant to put his brewery in Athens.
The owner of Crossroads Brewing Company looked at about 100 other locations before he ever thought of what now seems obvious -- the town where he'd been vacationing for over 20 years.
The Greene County brewery is now producing some high quality brews, and it's creating an interest in Athens as a destination for beer-loving tourists.
Is it a little out of the way? Sure. But for beer lovers, it's worth the trip.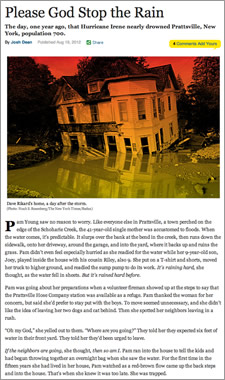 The current issue of New York Magazine includes an article by Josh Dean about the Irene flooding in Prattsville a year ago. It's a series of scenes from the day the water rose higher than anyone living had ever witnessed before -- and the stories are harrowing.
When the boys began to scream awful things like "I don't want to die!," Pam tried to distract them with song ("Rain, rain, go away") and then prayer ("Please, God, stop the rain"). Even the dogs were quivering, and they stuck close to the boys when Pam went back inside the house to call her daughter's boyfriend and--because she refused to break down in front of the children--to cry. It had been a terrible year already. She had been diagnosed with breast cancer and had only recently finished her final chemotherapy treatment. She was weak, physically and emotionally. When it dawned on her that she had some Valium in her purse, she took one.
Pam called 911 to ask when a boat was coming and was told that the first one had been dispatched. It never arrived. She later learned it had capsized, tossing its rescuers overboard. When she called back, she asked what she should use as a flotation device if she had to do the unthinkable and jump into the raging waters. The man replied that he would have someone call her back with an answer. No one ever did.
Before her phone finally died, well into the afternoon, Pam Young posted a message on Facebook: "Somebody please save us."
Prattsville was probably the hardest hit place in the entire state. But, amazingly, no one died.
The town is still rebuilding. And as a display of resilience residents have organized the first MudFest this weekend:
On Aug. 28, 2011, life dealt the people of Prattsville, NY mud--and plenty of it--they vowed then and there to create the First Annual MudFest the following year. MudFest is a celebration of all-things mud. Visitors to MudFest will find themselves surrounded by mud drinks, mud ice cream, mud pies (the kind you can eat), mud games, mud sculptures, and you guessed it, mud! ...
So come get dirty or stay clean, but come to celebrate the strength and adversity after a year of recovery and rebuilding in Prattsville!!
[via Watershed Post]
Earlier on AOA: Windham, after Irene
screengrab: NY Mag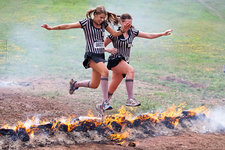 The annual Warrior Dash at Windham Mountain is this Saturday and Sunday. The 3.2 "hellish" miles include 12 obstacles -- among them, fire, bridges, and mud (a lot of mud). Some people wear costumes. It's a little (or a lot) crazy.
Registration is still open -- but it closes Tuesday at midnight. The entry fee is now $90 for Saturday and $80 for Sunday.
Here's a photoset by Sebastien from last year's race. And here are race recaps from Jen, Silvia, and Diana.
Earlier on AOA: Ask AOA: Where to train for the Warrior Dash?
photo: Sebastien Barre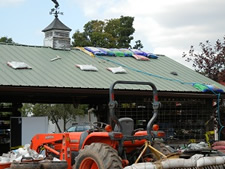 Harrowing: Brian Young, the owner of Young's General Store in Prattsville, recounts how his family survived the Irene flooding there, in an email to customers:
For 4+ hours I clung to our shed roof with my parents, brother, and 3 dogs as we watched everything crumble and float away. My brother and I were lucky enough to pull my parents out of a window in our storage barn, then get them to our store. It was only then, when we thought we were safe, that our 100-year old building (that my Grandpa bought in 1957) started to creak and give-way.
It was at this time, surrounded by my family and our dogs on the porch of our busines, that I honestly had thoughts that this was it and some (if not all) of us might not make it. "If this building caves in," I thought "We'll all be swept down stream instantly." We then swam/waded (the water was about 4.5-5ft deep) to a shed in our store parking lot where the current wasn't as rapid (supposedly the water was moving about 35-45mph next to our store). After clinging for 3-hours to bags of potting soil that we had thrown up there for the dogs to hold on to, we swam back into the store and stayed there until we could make it to dry land late that Sunday night.
While I was up on the roof (2nd from top picture on left), I looked at my parents clinging to each other with that look of death in their eyes (if you've ever seen the scene in Titanic where the older couple are holding onto each other watching the water lap around their feet, then you know what I'm talking about).
The email ultimately turns into a message of hope and a call to rebuild.
Also: happy hour continues at the Prattsville Tavern -- even though there's no bar. [NYT]
Also also: here's the Prattsville recovery fund.
[via @aschae]
photo: Young's General Store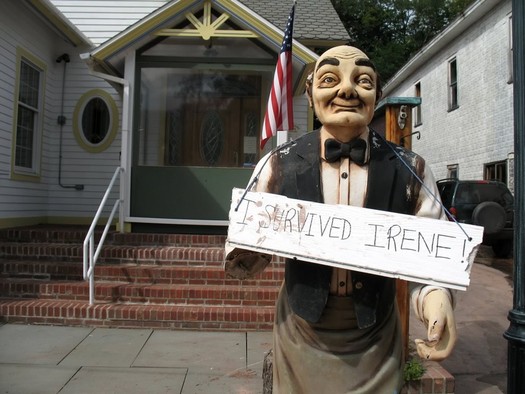 As bad as the Irene flooding was in parts of the immediate Capital Region, it was even worse in sections of Schoharie and Greene counties. You might have read some of the reports -- almost a foot of rain, entire villages devastated. It's another thing to see it up close.
Here's a snapshot of one place -- Windham, in Greene County -- after Irene.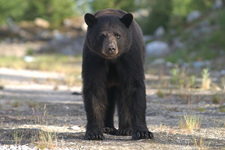 The state Department of Environmental Conservation has set up a bear trap near the northern Greene County home of the woman who was knocked down by a bear Wednesday. A DEC spokesman tells the TU that the agency will kill the first large adult bear it catches in the trap -- even though they can't be sure they'll get the bear that attacked the woman. [AP/Fox23] [Daily Mail] [TU]
So, bears apparently do not enjoy due process. And the policy seems so blunt (and, you know, kind of vengeful) that we almost wonder if something got mixed up in its communication. Because what if DEC catches a bear, kills it, and then another bear (perhaps the bear) comes back and harasses someone again. Does DEC set another trap, and kill another bear (and so on and so on) until the bear encounters stop?
And get this: a 2002 survey conducted for DEC of New York State residents north of NYC reported that more than half of respondents disagreed that bears who repeatedly caused problems for people should be killed -- and the survey even noted that "identifying specific problem bears can be difficult." About 65 percent of respondents said they supported relocating problem bears after negative conditioning. (Here's more info from the DEC about black bear management.)
Bears that become habituated to humans are a serious problem. And it's a problem that humans often help cause (that's not to say that's what happened in this most recent case). As Roland Kays, the State Museum's curator of mammals, explained to us a few years back:
So please don't feed the animals. You're causing problems for all your neighbors. And by trying to help the animal, you could end up getting it killed. What happens is that a bear becomes a nuisance and it gets shot. And the person whose fault that was was the person who started feeding it.
It's illegal to feed bears in New York State -- even indirectly, if you've been given notice.
The DEC reported last month that black bear populations are "thriving" in the state and "represent a great resource for all New Yorkers."
Update: The woman was attacked told Fox23 that she thinks the bear should not be killed.
Earlier on AOA: Foxes and fishers and bears, oh my!
photo: Flickr user peupleloup