Items tagged with 'New York City'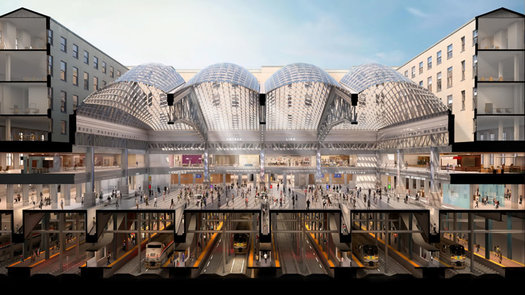 The Cuomo admin announced Thursday that construction is starting on the Moynihan Train Hall, which serve as the new station for Amtrak trains in New York City. The $1.6 billion project is expected to be finished in 2020.
The train hall will be in the Farley Building -- a post office complex -- across the street from Penn Station. Former New York US Senator Daniel Patrick Moynihan proposed the trains-at-Farley idea decades ago, and there was a plan dating back as far as 10 years ago for the construction of a "Moynihan Station" on the site. Now a version of the idea is finally happening.
An underground concourse will connect Moynihan to Penn Station. The train hall will also serve the Long Island Rail Road.
This is of interest here, of course, because NYP is by far the most popular destination from Albany-Rensselaer. And Albany-Rensselaer is one of the nation's 9th busiest train station, with more than 825,000 "on offs" each year. Also: Penn Station is depressing.
Here are new renderings, along with an animated promo video....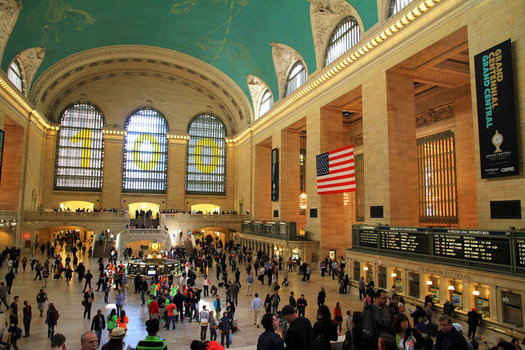 Amtrak is now running a handful of trains between Albany-Rensselaer and Grand Central in New York City, instead of Penn Station. The modified schedule will be in place through September 1.
The temporary re-routing of the select Empire Service trains is a result of the track repair work at Penn Station. A bunch of different services and lines are affected by the work, so if you're heading to NYC or connecting through it, be sure to check ahead. [NYT]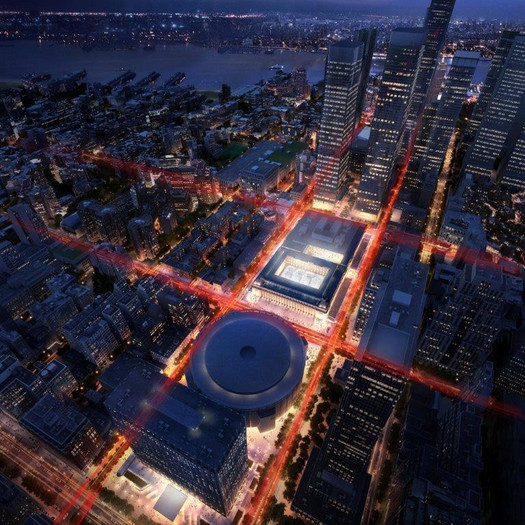 Andrew Cuomo's Tour of Major Infrastructure Project Renderings leading up to next week's State of the State power point address yesterday laid out his admin's plan for redeveloping Penn Station. And that's of interest here because NYP is the destination for so many train rides out of Albany-Rensselaer.
Cuomo is proposing a two-part plan for the Penn Station redevelopment: moving the train station portion of the facility across 8th Ave to a new station at the current post office building there, and then redeveloping the current Penn Station space as a subway hub. And there would be a new name for the two-part complex: Empire State Station.
Here are a few more bits and some renderings...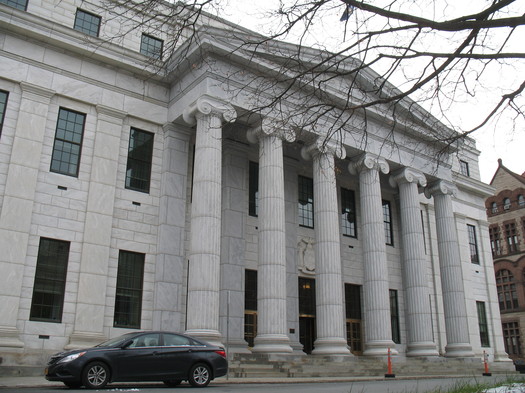 New York State's highest court -- the Court of Appeals -- issued a decision today that blocks New York City's much-talked about attempt to cap the size of containers for sodas and other sugary beverages at certain outlets. The 4-2 ruling rejected an appeal of lower court decisions by the city's Department of Health and Mental Hygiene.
There are a lot of issues that intersect at the point of a 16-ounce soda -- health, business, personal liberty -- but the court's ruling was focused on... separation of powers.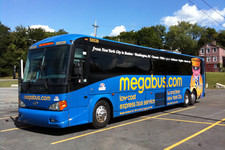 The Megabus will be offering service from Saratoga to both New York City and Burlington, starting April 2. The currently posted schedule has Saratoga > NYC trips leaving at 7 pm, and Saratoga > Burlington trips leaving at noon. Tickets are currently $4 (as with all Megabus trips, that price will go up as date gets closer).
The Megabus website doesn't have a confirmed stop for Saratoga yet -- it says booked customer will get an email. The stop in Burlington is near the UVM campus. (Its website also says its departure stop in NYC will be moving mid-February.)
Megabus doesn't currently offer service between Albany and Burlington, so that's a new local connection on the bus line's map. And as Matthew Loiacono point out today, you can now tour the Northeast from here on Megabus (see his comment).
[via Saratogian]
Earlier on AOA: The last time we ran through all the options for getting to/from New York City, Megabus was one of the best.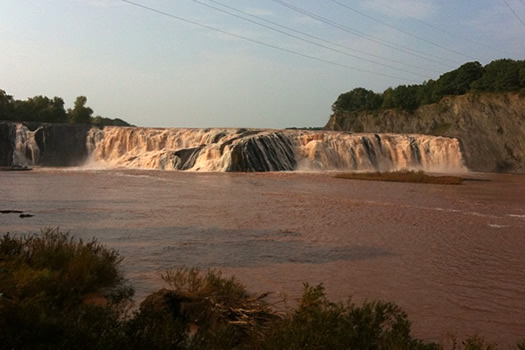 From a post on NYT's City Room Wednesday:
Have any New Yorkers noticed, over the past couple days, that the Hudson River -- at least parts of it -- seems to have turned red? ...
John Lipscombe, director of the water quality program for the conservation group Riverkeeper, said the reddish color came from suspended sediment from upstate rivers. Mr. Lipscombe said he watched several rivers wash into the Hudson the day after the storm hit. "They were torrents, and they were red," he said.
He added: "The reddish clay is part of the geology of the Catskill area, and when that kind of rain causes a scouring of the river banks, an enormous amount of red clay and other dirt washes into the Hudson. This has happened before but it was pretty dramatic this time."
This past weekend the Cohoes Falls (above) looked like they were running with chocolate (the smell was something rather less appetizing, along the lines of dead fish and backed-up sewer). And when we were in Windham a few days after Irene, the Batavia Kill was running a deep red/brown -- the mud left behind had turned into a reddish dust that stuck to seemingly everything.
This has apparently been an issue of concern for New Yorkers. Twitter is full of people remarking on the color. Speculation: the Hudson has an STD, Irene took a dump in the river, possible apocalypse.
Update: A video clip from shortly after Irene...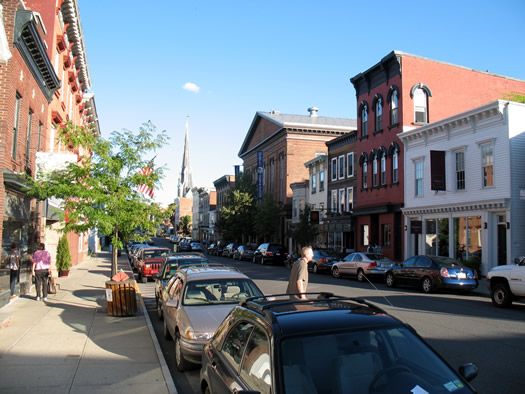 The NYT's Peter Applebome has a interesting story today about the "Brooklynization of the Hudson Valley, the steady hipness creep with its locavore cuisine, its Williamsburgian bars, its Gyrotonic exercise, feng shui consultants and deep clay art therapy and, most of all, its recent arrivals from New York City."
Prominently featured is the Basilica Hudson, which is co-owned by Melissa Auf der Mauer (yep, the same):
The Basilica is the kind of space and scene that the artist and musician Patti Smith (no stranger to Hudson) had in mind a few months ago when she advised young artists that "New York has closed itself off to the young and the struggling" and that they should find their futures someplace else, like Poughkeepsie.
"A bunch of my friends from Montreal came to visit and they said, 'You told us you moved to a small town, but you didn't tell us you moved to a magic David Lynch town. What is this place?' " Ms. Auf der Maur said. ...
Not long ago, Hudson was notorious for drugs, prostitution and post-industrial torpor. Now, Warren Street, with its antique stores, galleries and hip eateries, is a vision of the Hudson Valley reborn. And it was the scene of perhaps the last great battle between the old industrial Hudson Valley and the new one, when a coalition of interest groups came together to defeat a proposed coal-fired cement plant with a 40-story smokestack capable of producing two million tons of cement a year. Opponents said it would be an environmental disaster that would cut off access to the river and go against everything Hudson was becoming. They made an overwhelming case. But in the housing projects and poor neighborhoods just off Warren Street, strangers in the new landscape, it doesn't seem so clear.
It's easy to snark about this "trend" (we're surprised Gawker hasn't already taken a shot at it) -- but it's been going on for years, especially in places such as Beacon and Cold Spring (we worked on a story about just that during the middle of the last decade). And it seems like every time we're in Hudson now, we overhear someone talking about how they're up from NYC or moved from the City or how some place in Hudson is like some other place -- in the City.
The NYT article does a good job highlighting some of the problems related to the -ization -- specifically, "it takes more than art, farm stands and caffeine to make an economy work." Definitely worth reading -- some of it is applicable the core Capital Region, too.
[via @DanielleSanzone]
Earlier on AOA:
+ 12 hours in Columbia County
+ Etsy to Hudson
+ Albany-NYC: strong potential for high-speed rail? (note Tim's comment)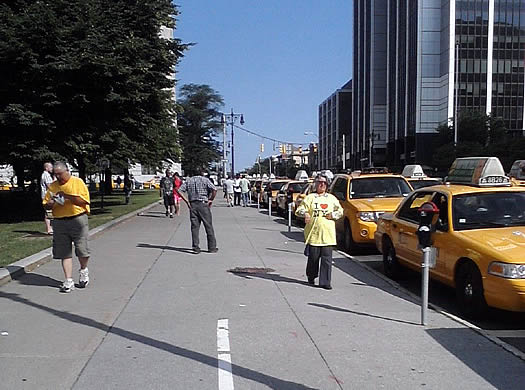 Summer emails:
NYC taxis have invaded downtown Albany! Apparently they're in town for some sort of protest, but it was strange sight. The photos (attached) doesn't do it justice.
There was a mass taxi sighting at the Exit 24 tolls this morning, too.
The cabs are part of a rally against legislation that would let livery drivers in the city pick up passengers who hail them in northern Manhattan and the four non-Manhattan boroughs (the cabs are upset because they say the law would cut into their business). The Bloomberg admin is pushing the legislation, and apparently it's trying to route around a city council traffic jam. [NY Post] [NYT] [Gothamist]
More photos via Summer after the jump.
Update: Sean reports that many of the taxis were ticketed.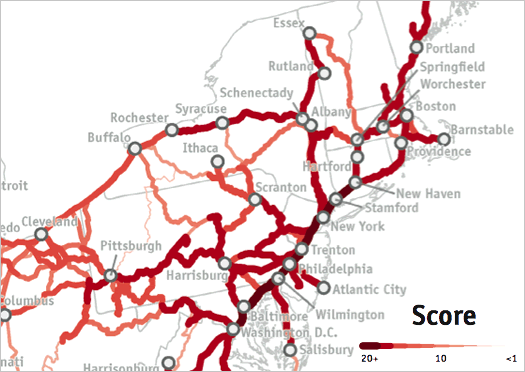 New York City to Albany ranks as one of the corridors with the most potential for high-speed rail, according to a report from a planning/policy org called America 2050.
The report assigned scores to almost 8000 rail corridors (of less than 600 miles) across the country based on group of factors including population, employment, and transit ridership. The NYC-Albany corridor ranked in the top one percent of all routes in the nation.
For some comparison, Washington DC-NYC was the top ranked route with a score of 20.15. The NYC-Albany route scored 19.29.
The report includes some really delicious transit nerding. Transportation Nation has a further breakdown of the results, including some thoughts on the effect of national politics (and circumstance) on current high-speed rail projects (or, how Florida could end up with the nation's first high-speed rail corridor [or not]).
As we understand the way these scores were calculated, corridors with already strong ridership tend to score best. So it's not surprising that NYC-Albany scored well -- the Empire Service is the fifth most-traveled route in the entire Amtrak system.
So, what could high-speed rail mean for Albany? Well, it could open the possibility of getting from Albany to Manhattan in about an hour (potentially). That's a commute for some people.
(Thanks, Kizzi!)
Earlier on AOA:
+ The slow line to high-speed rail
+ The best way to get from Albany to NYC?
image adapted from "High Speed Rail in America" by America 2050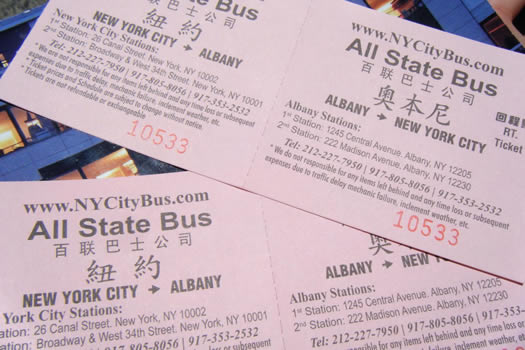 The NY City Bus line has raised its Albany-New York City fare to $20 each way. When we talked to a rep this afternoon, he said the $10 fares had been a promotional rate (not entirely surprising... it was really cheap). He said there's now a $5 discount when you book a roundtrip.
Thirty-five bucks to get to and from NYC isn't a bad deal. But it's a lost closer to the Megabus fare (anywhere from a few bucks if you're really lucky, to about $50) and the Dragon Deluxe (running its own $35 promotion right now).
Kalyn recently talked with a few people (among them, Albany Jane) about their NY City Bus experience -- and they sounded reasonably happy. Though, as a few commenters noted, the extra bucks for the Megabus do you get a few extras (air conditioning, wifi).
Good to know: NY City Bus is planning to start service from Saratoga Springs. The fare currently listed on the schedule is $20. The listed pickup point is near the Saratoga Springs Visitor Center on Broadway.
The rep we spoke with said they're hoping start the service August 1, but it could be later. He said their website would have the date when it's confirmed.
(Thanks, Andrew)
Earlier on AOA:
+ What's the new $10 bus ride to New York like?
+ NY City Bus -- competition for the MegaBus?
+ The best way to get from Albany to NYC?
photo: Albany Jane


By Kalyn Belsha
As of today, the NY City Bus -- which runs between Albany and New York for just $10 each way -- has been up and running for a month.
So we thought now would be a good time to track down some people who've ridden the bus to give us the scoop...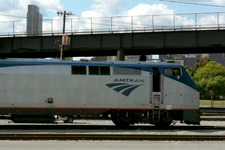 One of Amtrak's "weekly specials" right now is Albany-Rensselaer to/from New York Penn during parts of July.
When we checked Amtrak's website this morning, it quoted us a $27.75 fare for:
+ afternoon trips (leave 3:05 pm) Monday-Thursday starting July 12
+ morning trips (leave 7:05 am) Saturdays starting July 10
That's about $10 cheaper than the usual lowest price (make sure you go through the weekly specials section). And, of course, you'll probably need to get back -- the return fare is $37 and up.
By the way: The weekly specials page includes routes in other states -- and they have much cooler names than "Empire Service." Michigan has a "Wolverine" line, Florida a "Silver Meteor" and California a "California Zephyr."
(Thanks, Jessica R!)
Earlier on AOA: The best way to get from Albany to NYC?

A new bus service between Albany and NYC started up today. The aptly-named NY City Bus is selling one-way rides to/from the city for $10.
That's cheap -- even cheaper than the MegaBus in many cases. A round trip ride on the MegaBus this week will cost you $60 if you bought now. (You can get it for as little as $18 if you book the same ride for a month from now.)
We had never heard of NY City Bus until recently, so we did a little bit of poking around -- and it looks like the bus line has a lot of similarities to the DragonDeluxe line. There are so many similarities that we wonder if it's connected to the Dragon. It shares the same pick-up (91 Colvin Avenue and 102 Central Ave in Albany) and drop-off (26 Canal Street and near Port Authority Bus Terminal in Manhattan). And the two services seem to use one of the same operators (All State). The NY City Bus corporation was registered this past March and the listed address in Chinatown in Manhattan is different from that of the company that runs Dragon Deluxe, according to the listing on file with the state.
The Dragon Deluxe fare is roundtrip fare is more expensive -- $40 vs. $20. The NY City Bus site doesn't list the $20 fare as a promotion or sale or anything like that.
The NY City Bus lists a handful of routes around the country. Has anyone ridden it before? Anyone have the scoop?
Earlier on AOA: We broke down the travel options between Albany and NYC by price, time and ease.
image: NY City Bus