Items tagged with 'Trader Joe's'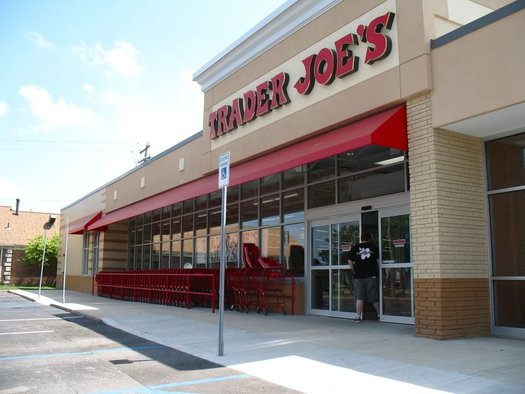 As you surely know by now, the new Trader Joe's on Wolf Road opens this Friday. The store is the first TJ's in this area -- the first in all of upstate New York, in fact -- and the opening will probably be jammed. There are people around here who have been anticipating this day for years.
We got inside the store this week ahead of the opening for a preview. So let's get to it...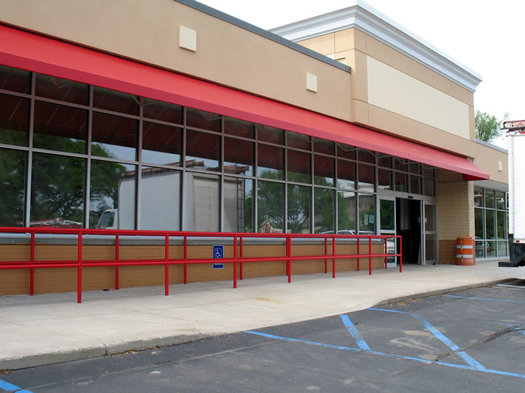 Update: The store opened August 3 as planned. Here was a preview tour we got that week.
____
The opening date for the Trader Joe's on Wolf Road is August 3 (a Friday), the company announced in a press release today. The store will open at 8 am that day. (Odds there will be a line before it opens: good. Odds people will be camping out: not bad.)

The company also says it will start accepting applications for jobs on June 18. "Interested individuals need to apply in person and can obtain an application on site or online."
Full press release post jump.
Prediction pool: No one had August 3 in the Supermarket Week Trader Joe's prediction pool. But Amy and Jenna both had August 1, which turned out to be a pretty good guess.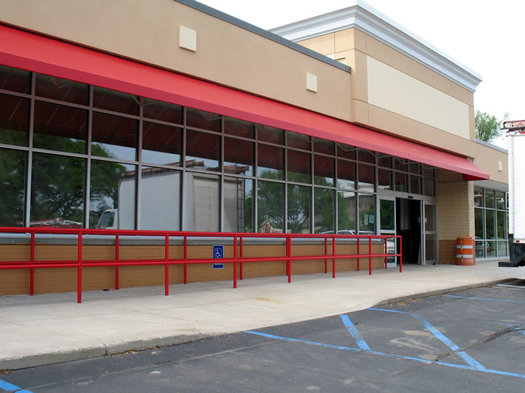 It's Supermarket Week again on AOA. All this week we'll have posts comparing, thinking, and talking about supermarkets. Hey, we all have to eat.
Update: The contest is now closed, but you'd still like to guess, go for it. Your guess just won't be part of the contest.
We don't know when the Trader Joe's on Wolf Road will open. If we did, we'd tell you.
So, let's have some fun. In the comments, guess the date you think the store will open. If you're correct, we'll give you a $25 gift card to TJ's. (please see details below)
We stopped by the store's location this week and peeked in the windows. The floor is now in, as are some of the shelving units (photo post jump). The company has said it plans to open the store during the second quarter of 2012 -- though things might have been slowed by a permit snag (now resolved).
Important: All comments must be submitted by noon on Thursday (May 31, 2012) to be considered. One entry per person. You must enter a valid email address (that you check regularly) with your comment (seriously, we want to give you gift card if you win). Please include the month and day you think the store will open. We will consider that all dates are for 2012 unless specifically mentioned otherwise. "Opening day" will be the first day the store is open for shopping to the general public as stated by the company. (If an opening date is announced before the entry deadline May 31 at noon -- the game's over and there will be no winner.) If multiple people pick the date correctly, a winner will be picked at random from the correct entries. The winner will be notified via email and must respond within 24 hours of being notified.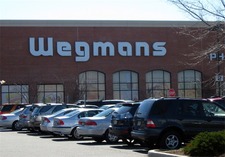 Not surprising: Wegmans was again the #1 ranked supermarket in Consumer Reports annual survey of its readers with a score of 88.
Number two? Trader Joe's (again) with a score of 86.
A lot of the other local chains didn't score that badly, though their ranks were a bit lower:
Hannaford ranked #19 (score 79) | Aldi #20 (79) | ShopRite #24 (78) | Price Chopper #30 (76) | Walmart #51 (69)
Fresh Market wasn't included in the rankings.
CR says the survey is a measure of "overall satisfaction" -- and differences of fewer than five points in a supermarket score are not meaningful. Also: "These findings represent the experiences of our readers, not necessarily those of the general population."
About Trader Joe's... A few people have asked if there's an opening date, yet. As of two weeks ago, the company said it still didn't have a date.
Earlier on AOA:
+ Albany ShopRite opening in April
+ Trader Joe's confirms Wolf Road location
photo: Flickr user chrstine592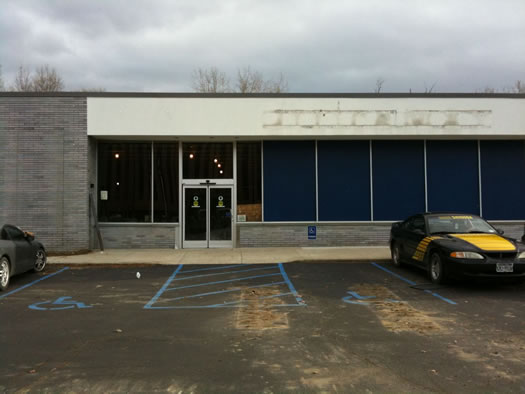 Trader Joe's has confirmed that it will be opening a store at 79 Wolf Road in Colonie. The company says the store will open during the 2nd quarter of this year. The grocery store will be approximately 13,000 square feet.
Commence whatever ceremony you had planned.
A tip of the hat to the Business Review's Michael DeMasi for first reporting the news today. And to the TU's Chris Churchill for first identifying the site back in November.
The strip mall where the TJ's is being built formerly housed an Office Max. When we stopped by last week to peek through the windows, the interior had been gutted to the dirt. A construction worker told us the space will be filled by a "a Chinese restaurant and a gourmet grocery store."
The Wolf Road Trader Joe's will not be carrying wine, says TJ's spokesperson Alison Mochizuki. This isn't surprising -- in New York State retailers are only allowed one location to sell wine and liquor, and TJ's has one in Manhattan.
As for why the company chose Albany -- and whether the We Want Trader Joe's in the Capital District group influenced the company, Mochizuki says in an email:
There's a lot of foodies in Albany! We consider ourselves the neighborhood grocery store and feel Albany is a wonderful community to be part of.
Although it is very nice to be wanted, wooing doesn't go into our decision making processes of selecting a location.
Full company press release after the jump -- and a bunch of reaction from people on Twitter...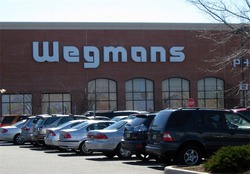 Consumer Reports has released supermarket rankings based on a survey of thousands of its readers (you need to be a CR subscriber to see the whole list). And the results are going to cause people in the Capital Region with already-established supermarket envy turn even a few more shades green.
(Paging Bruce Roter!)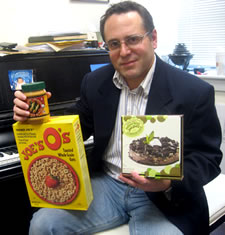 One of the best things about working on AOA this past year is that we've had the chance to meet a lot of interesting people. We'll be highlighting a handful of them between now and the start of 2009.
People in the Capital Region are passionate about their supermarkets. And maybe none more so than Bruce Roter.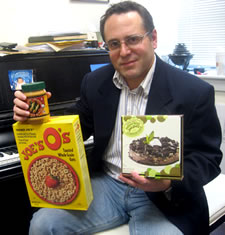 The TU has a report from a gathering this past weekend of the We Want Trader Joe's in the Capital District group. It seems the Legion of Bruce's persistence could be paying off. Maybe.
Bruce Roter tells the TU that a local TJ's store is now "no longer a question of if, but when." The evidence? An email from the Trader Joe's vice president of real estate, in which the VP states, "Albany does seem to have a lot of potential for Trader Joe's."
Hmm.
Earlier AOA coverage of the Trader Joe's campaign.
photo: CelinaBean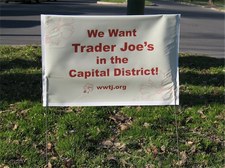 It seems there will be many chapters in the Capital Region Trader Joe's story. And in the latest installment, Rensselaer County legislator Brian Zweig (or someone claiming to be him) reports in a comment on the TU's business blog that he's been in touch with the somewhat secretive supermarket -- and an Albany TJ's is "likely." Eventually. Maybe.
Zweig also reports that "other high-end food retailers are also exploring entry into the Albany region." Hmm. Anyone want to venture a guess?
Earlier AOA items about Trader Joe's.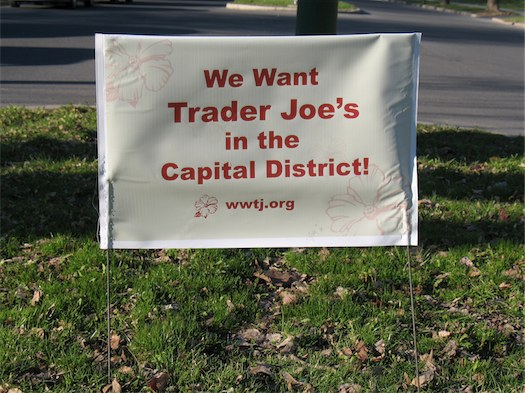 We'd heard about these yard signs, but almost didn't believe it until we saw this one planted in the grassy median at the corner of Manning and New Scotland in Albany.
If the mysterious Trader Joe's ever does land in the Capital Region, Bruce Roter is gonna have to turn that campaign infrastructure toward something else. Like the Senate. Or maybe the White House. We hear the Democrats are having some trouble settling on a candidate.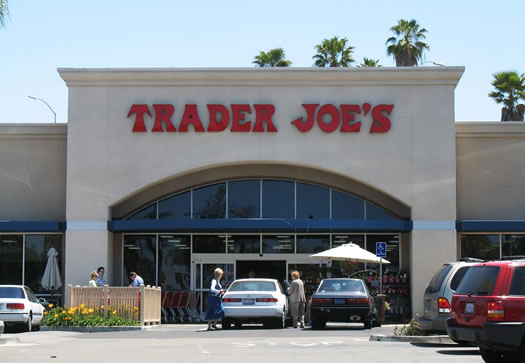 What do Trader Joe's and the National Security Agency have in common? On the surface not much, but try asking them a few questions. With all the buzz about getting Trader Joe's to come to A-Town, we thought we'd just give them a call and ask, once and for all: are they coming or not?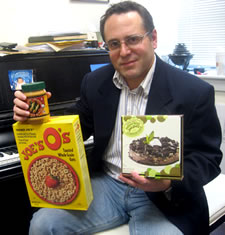 Our blog BFF CelinaBean has an interview with Bruce Roter, the organizer of the We Want Trader Joe's in the Capital District group. Here's a clip:

CB: There are a lot of causes out there to get involved in. Why Trader Joe's?

BR: I see it as a need, perhaps it was a personal need, but I just love shopping at Trader Joe's. And much to my delight, I've been joined by hundreds of other residents of the capital region who share that passion.

But to dispel any notion that this is what I do ever single moment of the day, that's not the case at all. I do have a real career and my real avocation is that of a composer. I compose orchestral music. I've written music which emulates the Middle East peace process, which celebrates first responders, so I'd like to think that I'm multi-dimensional....I've been commissioned by orchestras around the country including right here at home by the Albany Symphony Orchestra.

CB: So when did this Trader Joe's thing start for you?

BR: It began this past summer in mid-August when I was in the park talking to a friend. I was toying with starting a little club like this, and when I mentioned Trader Joe's there was this wonderful reaction on this friend's face. I knew that instantly that there were other kindred spirits in the Capital Region who would also be interested in this campaign.

And I seem to have simply given voice to all these other hundreds of other people including many professionals from our region. I've been emailed by doctors, lawyers, architects, business people, politicians, homemakers. The people who are part of this campaign really run the gamut of the fabric of this society in the Capital District.

As we recently found out, there's quite a clamor to bring a TJ's here.
photo: CelinaBean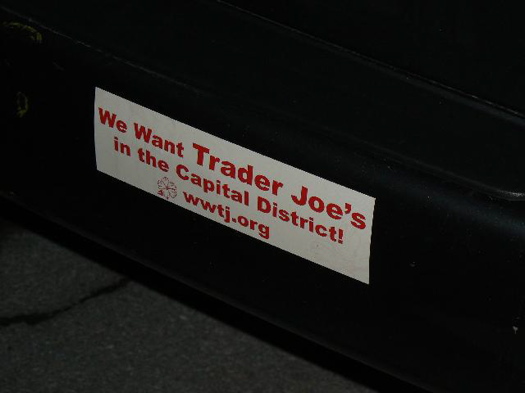 A guy named Jason stumbled upon this message in an area parking lot and passed it along to AOA. The site wwtj.org is part of a movement to bring this awesome alternative grocery store to the Capital Region.
We might need one of those bumper stickers.
(Thanks, Jason!)