Items tagged with 'William Kennedy'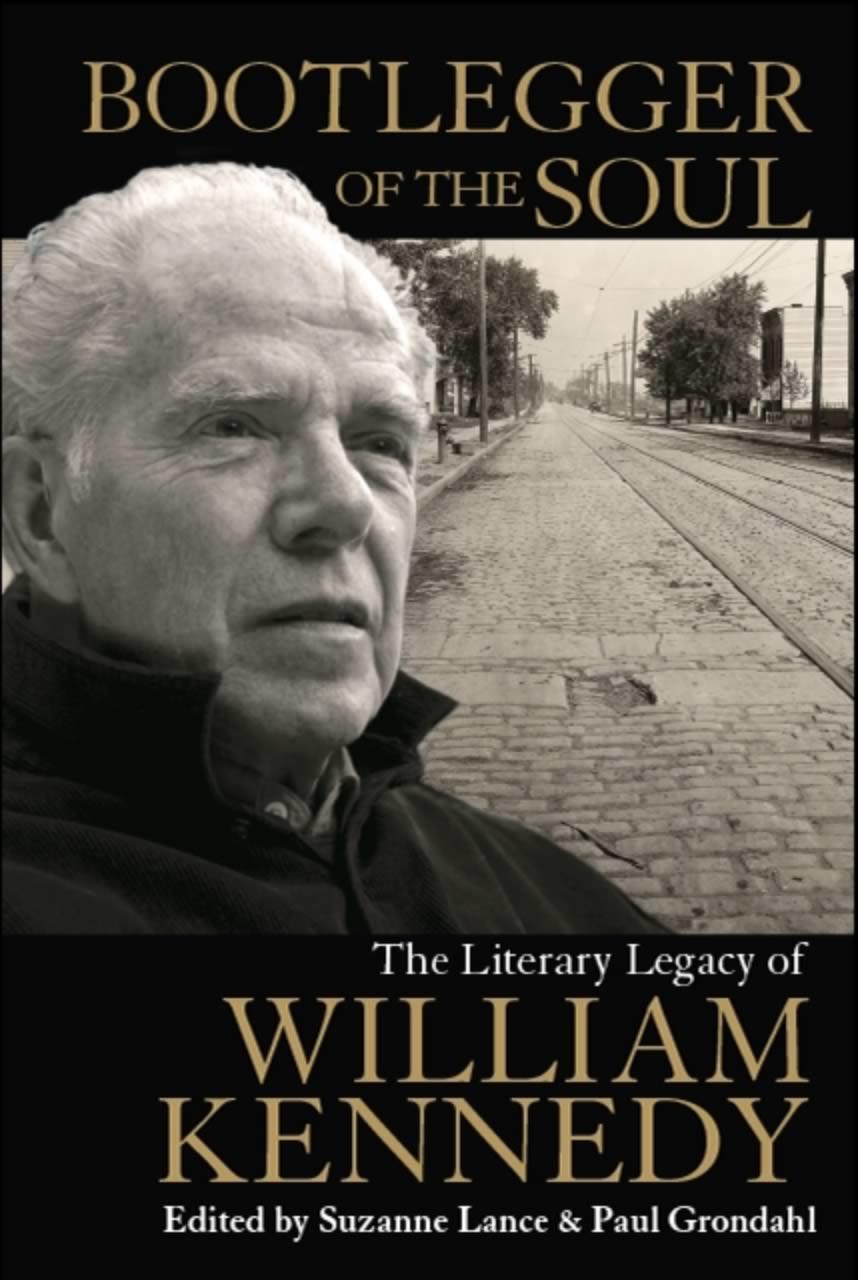 Relevant to your Albany literary interests: Bootlegger of the Soul: The Literary Legacy of William Kennedy is set to be this October.
It sounds very much like what it says on the label. Blurbage:
Until now, Pulitzer Prize-winning author William Kennedy's literary legacy has never been celebrated in one book. From novels such as Ironweed, Legs, and Billy Phelan's Greatest Game (the Albany Cycle) to Bootlegger of the Soul screenplays like The Cotton Club, as well as his many years of investigative journalistic work, Suzanne Lance and Paul Grondahl, have compiled reviews, essays, and interviews about Kennedy's contributions to the literary landscape in the new book from SUNY Press, Bootlegger of the Soul. Also included is original writing by the author himself--a play and a short story.
This collection, published in the author's ninetieth year, is a portrait of the award-winning writer whose work has put Albany, NY on the world's literary map.
Kennedy will be at the big Albany Book Festival at UAlbany on Saturday, September 29 from 2-2:45 pm for a book signing.
And he'll be appearing with Suzanne Lance and Paul Grondahl at bookshops around the area:
+ October 7: The Book House at Stuyesant Plaza 1 pm
+ October 11: Northshire Bookstore in Saratoga Springs 6 pm
+ October 13: The Open Door in Schenectady 1 pm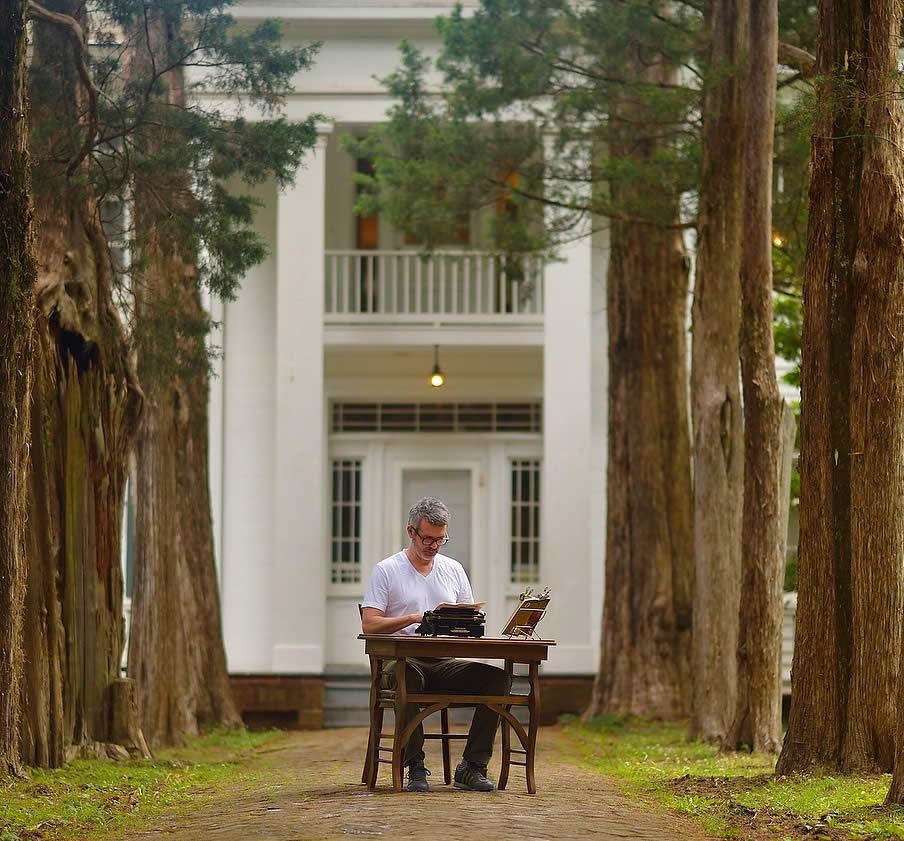 Gotta admit we don't know what to think about this, but if you see a guy typing on old-school typewriter outside the Albany Institute next week...
Performance artist Tim Youd will be at the museum Sunday and Tuesday-Saturday retyping William Kennedy's Ironweed as part of an ongoing project to retype famous novels in locations that are somehow significant to the author's work. Press release blurbage:
Employing the same make and model typewriter used by the author, Youd types each novel on a single sheet of paper, which is backed by an additional support sheet. The artist loads the two-ply paper through the typewriter repeatedly, until the entire novel has been retyped. As the typing progresses, the top sheet becomes saturated with ink and perforated from overuse, while the sheet underneath becomes embossed from indentation. Upon completion, the two pages are separated and mounted side by side as a framed diptych, recalling two pages of an open book with the words obscured. The diptych remains as a relic of the performance that embodies the novel, even though it is completely illegible.
According to the artist, "The genesis of the project came from my recognition that on a formal level, when you are looking at two pages of a book, you are looking at two rectangles of black text inside two larger rectangles of the white pages. I had the palpable desire to crush the words of the entire book into this formal language." It also becomes an investigation of memory, attention, and the act of reading. The artist explains, "We don't remember every word no matter how prodigious our memory--rather, we are left with some kind of layered impression."
Youd will be in the atrium of the Albany Institute, and if the weather is nice, outside on the museum's Washington Ave lawn. There's also a Thursday evening reception with samples of Albany Distilling Company's "Ironweed" products. See that link above for the schedule.
See also this Paul Grondahl article about the upcoming performance, including William Kennedy's quote at the end.
Youd is currently working through a Hudson Valley phase. He's at Olana this week, where he's retyping Light Years by James Salter.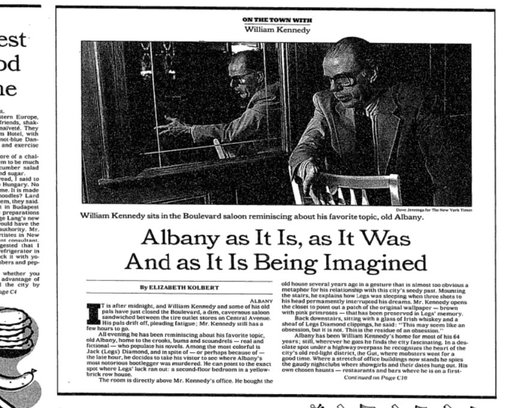 Totally random, but we tripped over this recently while searching for something and thought you might enjoy reading it: An Elizabeth Kolbert chronicle of a night out in Albany with William Kennedy in 1992, with stops at Cafe Capriccio, (what was then) The Boulevard on Central Ave, and the Dove Street row house where Legs Diamond was killed.
A clip:
Albany has been William Kennedy's home for most of his 64 years; still, wherever he goes he finds the city fascinating. In a desolate spot under a highway overpass he recognizes the heart of the city's old red-light district, the Gut, where mobsters went for a good time. Where a stretch of office buildings now stands he spies the gaudy nightclubs where showgirls and their dates hung out. His own chosen haunts -- restaurants and bars where he is on a first-name basis with the waiters -- are places whose metamorphoses he recounts with the enthusiasm of an archeologist let loose on the Acropolis.
Cafe Capriccio, an intimate restaurant tucked away in a nondescript section of downtown Albany, counts Mr. Kennedy as a regular, and it is there that many of his evenings, including this one, begin. "This was LoPresti's grocery," he said, heading into the restaurant for dinner. "To our right, that was the old Italian neighborhood.
"There were two theaters right here," he continued, gesturing toward a stretch of parking lot. "And one saloon after another, with shows and vaudeville acts and dancing. I remember when this was a wide-open city, an all-night city."
By the way: That new WHMT documentary about Kennedy -- Kennedy of Albany: A Writer and His City Premieres -- is available in full online.
screengrab from NYT Times Machine
A reminder that the new WHMT doc about William Kennedy -- Kennedy of Albany: A Writer and His City -- premieres tonight (Monday) at 9 pm. Blurbage:
Discover the life and legacy of William Kennedy as told by the Pulitzer Prize winning author himself. In this intimate documentary, learn about Kennedy's humble beginnings in his hometown of Albany, which would become the backdrop and fodder for much of his work, and his incredible career spanning nearly five decades.
That link includes a few clips from the hour-long documentary.
Presumably WMHT will also be showing the doc at other times in the future.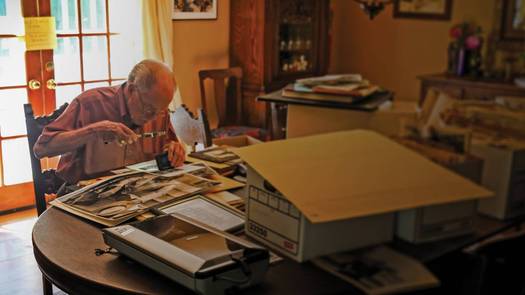 WMHT has a new documentary about William Kennedy -- Kennedy of Albany: A Writer and His City -- lined up to premiere June 29. Blurbage:
Discover the life and legacy of William Kennedy as told by the Pulitzer Prize winning author himself. In this intimate documentary, learn about Kennedy's humble beginnings in his hometown of Albany, which would become the backdrop and fodder for much of his work, and his incredible career spanning nearly five decades.
The doc premieres Monday, June 26 at 9 pm on WMHT.
There's also a preview screening Monday, June 19 at 6 pm at the WMHT studios in North Greenbush, with a discussion and reception following. Admission is free, but you must RSVP by June 16: rsvp@wmht.org or call 518-880-3400. (We're guessing it will be a popular event and could fill up.)
image: WMHT
The NYS Writers Institute's classic film series wraps up its fall season December 9 with a screening of Ironweed at UAlbany. It is, of course, the film adapted from the William Kennedy novel. Kennedy will be at the screening to talk about the story and answer questions ahead of time with Marion Roach.
Film blurbage:
Adapted for the screen by William Kennedy from his Pulitzer Prize-winning novel, IRONWEED tells the tale of Francis Phelan, a drifter who returns to his home city of Albany to make peace with a past that haunts him. Filmed at several Albany locations, it brought international attention to the Capital Region and earned Oscar nominations for both Jack Nicholson and Meryl Streep.
The event starts Friday, December 9 at 6:30 pm withe Kennedy talk and Q&A. The screening is at 7 pm. It's in Page Hall on the downtown UAlbany campus. It's free.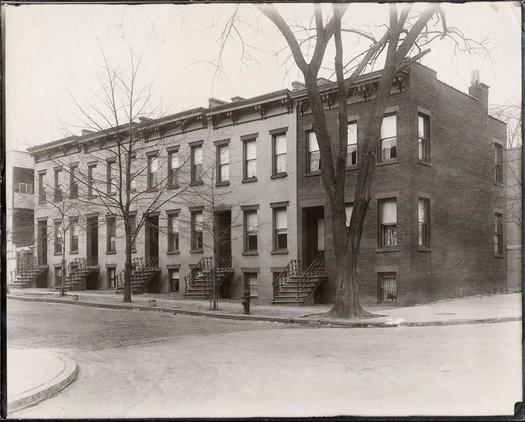 The Albany Institute is hosting a talk by William Kennedy about the intersections of the characters in his books and real Albany places on March 6. Blurbage:
Pulitzer Prize-winning novelist William Kennedy, who uses his hometown of Albany, New York, as the inspiration for his work, will present a slide show of historic Albany scenes that are featured prominently in the novels. He will discuss the ways in which his characters inhabit Albany's buildings and streets.
The event is at 2 pm on Sunday, March 6. It's free with museum admission. (We suspect this will be popular, so showing up a bit early to grab a seat is probably a good idea.)
AIHA advertises on AOA.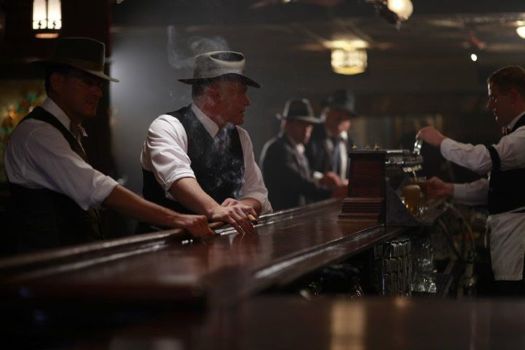 This has a high probability of being interesting/entertaining: William Kennedy is giving a "pub" lecture at the Midtown Tap and Tea Room in Albany March 11. The topic: Albany during Prohibition.
It's part of an ongoing series organized by the Historic Albany Foundation. Blurbage:
The Albany During Prohibition program will include a screening of Mr. Kennedy's short (30 min) film, William Kennedy's Prohibition Story, followed by a Q & A from the audience. Come sip a cocktail and listen to legendary storyteller Mr. Kennedy discuss Albany's most notorious gangster, Jack 'Legs' Diamond - a man who embodied the essence of public sentiment on Prohibition, and who may have provoked Albany's most powerful politician to blur the lines between the criminals and the authorities.
Tickets are $15 and reservations are required: call 518-465-0876, ext. 10. The event starts at 5:30 pm.
Earlier on AOA: William Kennedy's Prohibition Story
still: WMHT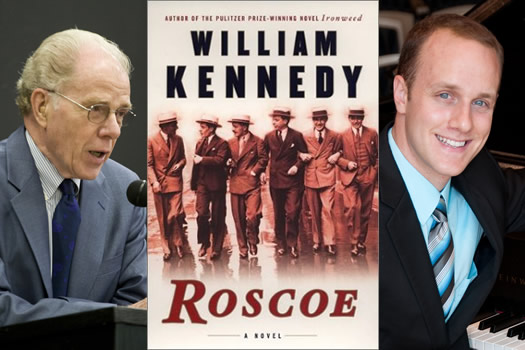 Interesting: Composer Evan Mack -- a professor of music theory and piano at Skidmore -- has worked out a two-year development deal with William Kennedy to create an opera version of Kennedy's novel Roscoe.
From a press release:
The story takes place in 1945, V-J-day. Roscoe Conway, after twenty-six years as the second in command of Albany's notorious political machine, decides to quit politics forever. But there's no way out, and only his Machiavellian imagination can help him cope with the erupting disasters. Every step leads back to the past -- to the early loss of his true love, the takeover of city hall, the machine's fight with FDR and Al Smith to elect a governor, and the methodical assassination of gangster Jack (Legs) Diamond. "Thick with crime, passion, and backroom banter" (The New Yorker), Roscoe is an odyssey of great scope and linguistic verve, a deadly, comic masterpiece from one of America's most important writers.
"I feel certain that Roscoe would be delighted by this development in his history," said author William Kennedy. "His life was grandly operatic in its high drama and its sweeping dimension. Roscoe was attuned to the music of the spheres."
This would be Mack's third opera. He'll be collaborating with librettist Joshua McGuire.
Speaking of William Kennedy and Skidmore... The date for his reading at Skidmore as part of NYS Summer Writers Institute is July 19 -- 8 pm in Palamountain Hall.
photos: William Kennedy - Phil Scalia; Evan Mack - Michael Brooks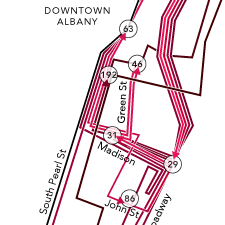 Fun/literary/nerdy: A map/pictorial-of-what's-there-now of locations in Albany mentioned in William Kennedy's Ironweed, as compiled by artist Dorothy Gambrell at her Very Small Array site.
That's a small clip on the right.
The novel is set during the Depression, so the walk through (streetview through?) makes use of this 1877 (and pre-787) overlay of Albany streets.
[via the mysterious Albany Bagel Co.]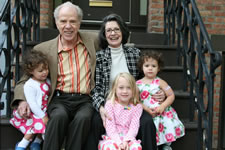 In the latest episode of Duncan Crary's A Small American City podcast, William Kennedy talks about growing up in North Albany, how the city changed, how his family ended up in the suburbs -- and about his grandkids living in... a city.
I never wanted to do that, you know. I always resisted the idea of moving any part of my life to the suburbs, and especially because of how strongly I loved the city, the center of the city. Albany was a vital, vital city. I mean, it was just full of people all the time, everyday, lunch hour you couldn't walk on the sidewalks. And Thursday nights everybody's shopping, and the weekends everybody's at the movies. There were seven movies downtown: it was the Palace, the Strand, and the Grand, and the Ritz, and the Leland, and the Royal ... the Paramount ...
And all that vital life, there was departments stores, and bowling alleys, and social clubs. And everything started in the late 40s/early 50s to close down. The federal tax on nightclubs, and they went bust. And then television came in, and everybody stayed home, they didn't go to the movies. And the movies went crazy trying to figure out how to ... get people to come back to the movies. But the movies were everything for us -- 3,000 people at 11 o'clock at night outside the Palace, coming out of these various theaters ... And they'd go all over the place ... The place was full of night clubs, great restaurants -- all night restaurants -- and pool rooms. (laughs) I was especially fond of the pool rooms because my uncle and my father, he was a good pool player...
Anyway, but that whole urban environment was in decline in the years when I was just coming into manhood and starting to work at the Times Union at my first reporting job on the city side of the news ... and then suddenly the city just sort of imploded, you know. And the '60s came...
I went away in the middle '50s... I went to Puerto Rico to work on a newspaper. I was bored with the town. It was boring. There wasn't enough action.
While in Puerto Rico, Kennedy met his wife and got married, moved to Miami, moved back to San Juan. And they came back to Albany in 1963.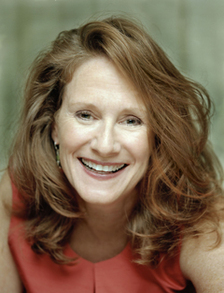 Local writer Marion Roach was on the public radio program Studio 360 this past Friday talking about how reading William Kennedy's Legs helped bring her to Albany:
Roach was enthralled, then shocked to discover that Kennedy lived and worked in Albany, a city she only knew from grumbling Times reporters. "No one ever who worked covering the legislature wanted to spend an extra second in Albany," she remembers. "It was one of those places that people talked about as being completely moribund."
Kennedy's achievement, far from the centers of literary glamor, planted a seed for Roach. "I think that we are so sure that most serious artists live in New York, Paris, London," she says, "that I needed to be told, that art is here, art is everywhere. Write from where you are, or go where you want to write." When Roach was assigned her first big article [in 1983], she went to upstate New York to do the work. She stayed, and lives today near Albany.
The audio segment is embedded after the jump. In it she mentions the guy "she kind of met halfway" and married. As you probably know, he's Rex Smith, the editor of the Times Union.
Marion Roach teaches a series of very popular classes on writing at the Arts Center of the Capital Region. One of them starts this Wednesday.

Andy Rooney's last commentary on 60 Minutes, this past October.
From 1995, here's a clip from aWilliam Kennedy introduction of Andy Rooney:
On page 14 of his new book, My War, Andy Rooney writes this sentence. "One of my dominating characteristics has always been that I'm not strange." Now that's a lie. Andy Rooney is as strange as charcoaled peaches or potato ice cream, which he invented. Oh sure, he looks normal, and you can understand every word he says and he's a Giants fan. When I first met him I never suspected he was strange. We were at a dinner party in the penthouse of the Wellington Hotel, looking out at the South Mall, which was under construction, and we began swapping memories of Albany and the blues men we knew and we realized we could carry on with these stories for years to come, and so we have. We've become friends. I have several strange friends.
Some of the things Andy and I had in common were Hagaman's and Freihofer's, the two most famous bakeries in Albany years ago. He didn't like Hagaman's much, and neither did I. We both liked Freihofer's. We both went to a public school, he to School 14, which fell down, and I to School 20, which is still standing. We both remember our Albany childhoods vividly; he on Partridge Street in an upscale neighborhood that's come to be called The Pine Hills and me in North Albany, which has always been called "The North End." He remembers jumping from garage roof to garage roof when he was a kid. I remember jumping from box car to box car. We both grew to resent the mispronunciation of our city by outlanders. In his essay celebrating Albany's tricentennial, Andy wrote this: "It is my unhappy duty to report to you, Albanians, that Albany is not on the rest of the world's mind much. It has been my experience that at least half of those who have heard of the place pronounce it 'Albaynee.'" And he's absolutely correct. I've told people who perpetrate such pronunciation that if they repeat it, the police will escort them outside the city limits.
As you've no doubt heard, Rooney passed away this weekend. In the Times Union, Paul Grondahl wrote a good overview of Rooney's life, both here in Albany and everywhere else. As Grondahl remarked, "Kennedy, 83, and Rooney are the biggest literary talents Albany has produced in modern times."
Rooney still had a house in Rensselaerville. We heard a story many years ago that he could sometimes be seen out there "walking" his dog from a very slow moving car. It's one of the stories that's probably too weird to be true, but we always kind of hoped it was based in fact.
Of course, Rooney was most famous for his 60 Minutes commentaries. Here's one video list of "Andy Rooney's 10 Greatest Rants."