Items tagged with 'East Greenbush'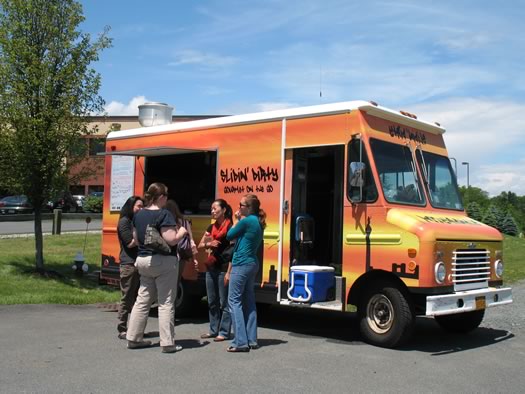 After hearing Danika and David rave about a food truck in downtown Troy -- "perhaps the best lunch in Troy" -- we figured it was worth tracking down. Also: we were hungry.
So today we caught up with the Slidin' Dirty food truck at the East Greenbush Tech Park and talked with its owners about sliders, fried avocado, tiny kitchens, and how the Capital Region could be a bit more food truck friendly.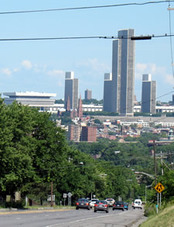 Melissa asks via Twitter:
In serious need of good lunch take-out suggestions in Rensselaer/East Greenbush. I was spoiled working down the street from the Iron Gate [in Albany]! I'd love a place with soups and salads and interesting sandwiches.
We are reasonably certain people in East Greenbush eat lunch. So there have to be at least few spots Melissa should try.
Got a suggestion? Please share!
Earlier on AOA:
+ Where to have lunch in downtown Troy?
+ Good lunch spots in downtown Albany?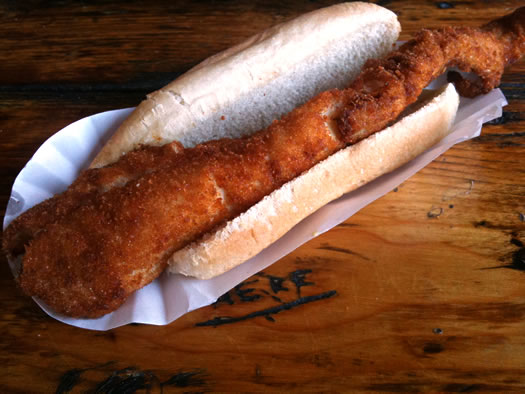 By Daniel B.
Fish fry is different from fried fish. If you grew up in the Capital Region, you would already know this. But there are countless transplants who come here from far and wide. Many of these people gaze upon our regional specialty with surprise and confusion.
Fried fish is simply a battered and fried filet of fish. Our fish fry is a foot-long thin piece of fried breaded fish, unceremoniously sitting in a plain white hotdog bun.
While most of the world is fish fry poor, we are lucky to have several restaurants around the area dedicated to this dish. Each is special in its own way and each has its dedicated followers. In many ways they remind me of the clam shacks around New England. They are casual places to enjoy tasty fried seafood on a warm summer's day.
But as opposed to the New England clam shacks, Capital Region fish fry is mostly a four-season affair. That is, except at Gene's in East Greenbush Rensselaer, which is only open in the spring and summer. And if you want a last taste of summer, you've got precious little time to get there.
New York State comptroller Tom DiNapoli now says the state's budget gap could be as big as $4.1 billion. David Paterson has said that he will release a slate of proposed budget cuts that would involve "pain." LG Richard Ravitch, who's helping Paterson with budget issues, says the plan will be "asking every agency in the government to cut back significantly." As bad as things might be this year, apparently the real problem is next year when the federal stimulus money ends. As one anonymous legislator told Liz Benjamin: "Then we're in deep sh*t." [TU] [NYT] [CapNews9] [Daily Politics]
Adrian Thomas, the Troy man charged with causing the death of his infant son, took the stand in his own defense yesterday -- and testified that he had lied during his videotaped interrogation by police. Thomas said he admitted to police that he slammed the child down so he "could go to the hospital and see my son and my wife." [Troy Record] [TU]
The Troy man shot in the head earlier this week has died. It's the third homicide of the year in Troy. The TPD says it's following leads. [Troy Record] [Fox23] [CapNews9]
Albany police have arrested two men -- one already in prison, the other 18 years old -- for a 2007 murder on Second Street. [TU]
The Lansingburgh High School student suspended for having a pocketknife in his car says he's been contacted by West Point and told the incident won't have any effect on his application to the service academy. [WTEN]
Steven Raucci, the now-retired Schenectady school district employee accused of arson, intimidation and harassment related to his former job, will receive a pension of $79,067 -- even if he's convicted. [TU]