Items tagged with 'Hurricane Irene'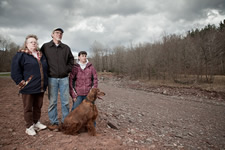 The Watershed Post has produced a package of stories about last year's Irene flooding called "Faces of the Flood." It's a collaboration between WP, photographer Christopher Auger-Domínguez, and staff and students from SUNY New Paltz's journalism program.
Here's a clip from one, about Bill Lonecke, who's house was swept away by the Batavia Kill:
I think people are frightened. I think people are angry. And I know people are frustrated. And I think the whole thing is communication. There appears to be a huge disconnect between the people who have been affected by this and the people who have some authority to fix it. Like when the Department of Environmental Conservation says: "Our policy is to let the stream find its natural course," and then it ignores you when you ask, "What about my house?" At the very least, the guy could have said something. I got nothing from the guy. He turned around as if I had insulted his entire family.
There are 12 profiles -- all interesting in some way.
photo: Christopher Auger-Domínguez / Watershed Post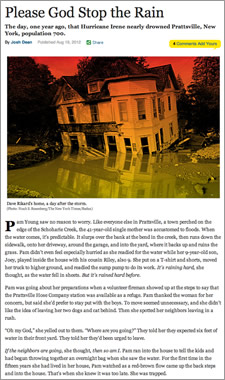 The current issue of New York Magazine includes an article by Josh Dean about the Irene flooding in Prattsville a year ago. It's a series of scenes from the day the water rose higher than anyone living had ever witnessed before -- and the stories are harrowing.
When the boys began to scream awful things like "I don't want to die!," Pam tried to distract them with song ("Rain, rain, go away") and then prayer ("Please, God, stop the rain"). Even the dogs were quivering, and they stuck close to the boys when Pam went back inside the house to call her daughter's boyfriend and--because she refused to break down in front of the children--to cry. It had been a terrible year already. She had been diagnosed with breast cancer and had only recently finished her final chemotherapy treatment. She was weak, physically and emotionally. When it dawned on her that she had some Valium in her purse, she took one.
Pam called 911 to ask when a boat was coming and was told that the first one had been dispatched. It never arrived. She later learned it had capsized, tossing its rescuers overboard. When she called back, she asked what she should use as a flotation device if she had to do the unthinkable and jump into the raging waters. The man replied that he would have someone call her back with an answer. No one ever did.
Before her phone finally died, well into the afternoon, Pam Young posted a message on Facebook: "Somebody please save us."
Prattsville was probably the hardest hit place in the entire state. But, amazingly, no one died.
The town is still rebuilding. And as a display of resilience residents have organized the first MudFest this weekend:
On Aug. 28, 2011, life dealt the people of Prattsville, NY mud--and plenty of it--they vowed then and there to create the First Annual MudFest the following year. MudFest is a celebration of all-things mud. Visitors to MudFest will find themselves surrounded by mud drinks, mud ice cream, mud pies (the kind you can eat), mud games, mud sculptures, and you guessed it, mud! ...
So come get dirty or stay clean, but come to celebrate the strength and adversity after a year of recovery and rebuilding in Prattsville!!
[via Watershed Post]
Earlier on AOA: Windham, after Irene
screengrab: NY Mag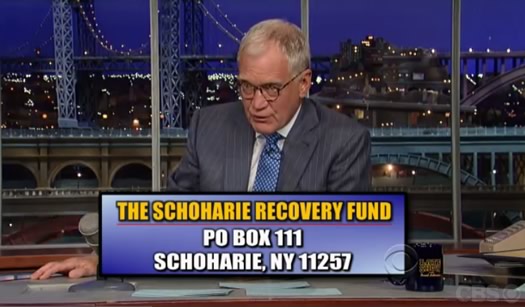 David Letterman spent about six minutes of his show last night talking about the village of Schoharie and the flood damage it's suffered. (The segment starts after the first commercial break, at 9:08. If you can figure out how to embed the clip, please share.)
Letterman pointed out that a lot of places outside the spotlight -- like Schoharie -- had suffered extensive damage without much attention because more populated areas, such as New York City, made it through relatively unaffected. He mentioned that the "tiny, tiny town" suffered $30 million in damages, and gave info about how people can contribute, including the Schoharie Recovery Fund:
Schoharie Recovery Fund P.O. Box 111 Schoharie, NY 12157
It wasn't all serious. Letterman cited the fact that 80 percent of the village had been under 4-8 feet of water. Then he cracked: "You know, if I'm in the town council meeting, I say, 'Well, I guess we don't have to raise money for the new pool.'"
This isn't the first time Schoharie has been prominently mentioned on the the Late Show. Back in 2002, the show filled its audience with people from the village and mayor John Borst read the night's Top 10 list. Letterman recalled that episode last night and explained that's why the show was trying to help the village, because of its "special connection" to the village. [Daily Gazette Google archive]
And, thankfully, Letterman didn't try to spell Schoharie.
screengrab: CBS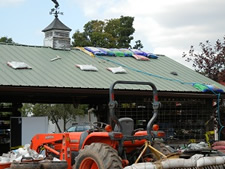 Harrowing: Brian Young, the owner of Young's General Store in Prattsville, recounts how his family survived the Irene flooding there, in an email to customers:
For 4+ hours I clung to our shed roof with my parents, brother, and 3 dogs as we watched everything crumble and float away. My brother and I were lucky enough to pull my parents out of a window in our storage barn, then get them to our store. It was only then, when we thought we were safe, that our 100-year old building (that my Grandpa bought in 1957) started to creak and give-way.
It was at this time, surrounded by my family and our dogs on the porch of our busines, that I honestly had thoughts that this was it and some (if not all) of us might not make it. "If this building caves in," I thought "We'll all be swept down stream instantly." We then swam/waded (the water was about 4.5-5ft deep) to a shed in our store parking lot where the current wasn't as rapid (supposedly the water was moving about 35-45mph next to our store). After clinging for 3-hours to bags of potting soil that we had thrown up there for the dogs to hold on to, we swam back into the store and stayed there until we could make it to dry land late that Sunday night.
While I was up on the roof (2nd from top picture on left), I looked at my parents clinging to each other with that look of death in their eyes (if you've ever seen the scene in Titanic where the older couple are holding onto each other watching the water lap around their feet, then you know what I'm talking about).
The email ultimately turns into a message of hope and a call to rebuild.
Also: happy hour continues at the Prattsville Tavern -- even though there's no bar. [NYT]
Also also: here's the Prattsville recovery fund.
[via @aschae]
photo: Young's General Store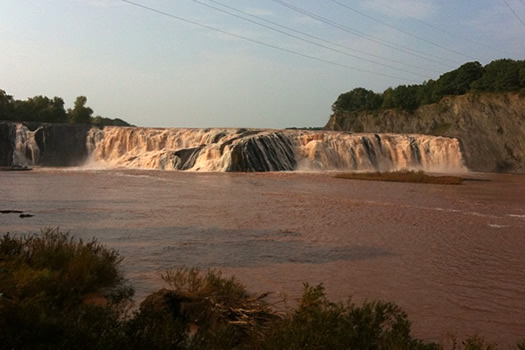 From a post on NYT's City Room Wednesday:
Have any New Yorkers noticed, over the past couple days, that the Hudson River -- at least parts of it -- seems to have turned red? ...
John Lipscombe, director of the water quality program for the conservation group Riverkeeper, said the reddish color came from suspended sediment from upstate rivers. Mr. Lipscombe said he watched several rivers wash into the Hudson the day after the storm hit. "They were torrents, and they were red," he said.
He added: "The reddish clay is part of the geology of the Catskill area, and when that kind of rain causes a scouring of the river banks, an enormous amount of red clay and other dirt washes into the Hudson. This has happened before but it was pretty dramatic this time."
This past weekend the Cohoes Falls (above) looked like they were running with chocolate (the smell was something rather less appetizing, along the lines of dead fish and backed-up sewer). And when we were in Windham a few days after Irene, the Batavia Kill was running a deep red/brown -- the mud left behind had turned into a reddish dust that stuck to seemingly everything.
This has apparently been an issue of concern for New Yorkers. Twitter is full of people remarking on the color. Speculation: the Hudson has an STD, Irene took a dump in the river, possible apocalypse.
Update: A video clip from shortly after Irene...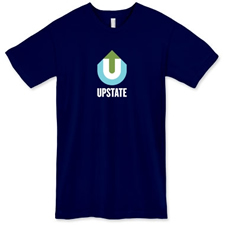 Casey emails:
A group of concerned upstaters (many of them Capitol denizens) have designed a T-shirt to promote upstate solidarity in the wake of the flooding. Check it out.
Any profits will go to charities providing disaster assistance in the affected regions.
We've all been posting "I am an Upstate American" on our Facebook pages today; on Wednesdsay, we'll change our status to the link above.
The t-shirts are $25 and up. We like the ones with the up arrow design (image right).
Update: Mr. Dave on his pride in being an Upstate American.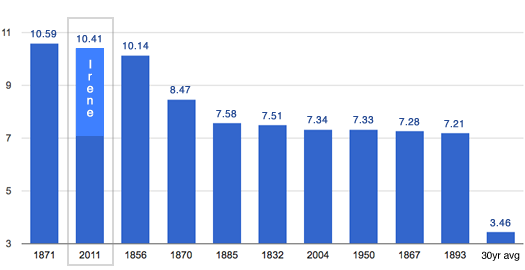 August 2011 was one of the wettest Augusts (by total precipitation) on record in Albany. In fact, this past August ranked #2 all time (or, at least, going back to 1826).
The rain from Irene made up a good a portion of that total. The NWS reported 4.69 inches of rain in Albany on August 28. Even without Irene, the month would have been unusually wet -- though not in the top 10.
Of course, your Irene total probably varies depending on where you were measuring. The NWS precipitation map reports heavier rainfall to the south -- especially in parts of central/south Greene County (probably one of the reasons the flooding was so bad there).
The map might even underestimate a bit -- its total for much of Albany County seems a bit low compared to the official report. And the Gazette reported this week that a rainfall total of 13.3 inches was recorded in East Durham (northern Greene County).
The rainfall map is after the jump.
(Thanks, Justin)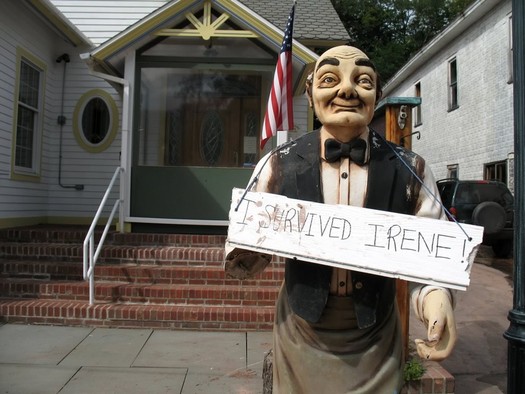 As bad as the Irene flooding was in parts of the immediate Capital Region, it was even worse in sections of Schoharie and Greene counties. You might have read some of the reports -- almost a foot of rain, entire villages devastated. It's another thing to see it up close.
Here's a snapshot of one place -- Windham, in Greene County -- after Irene.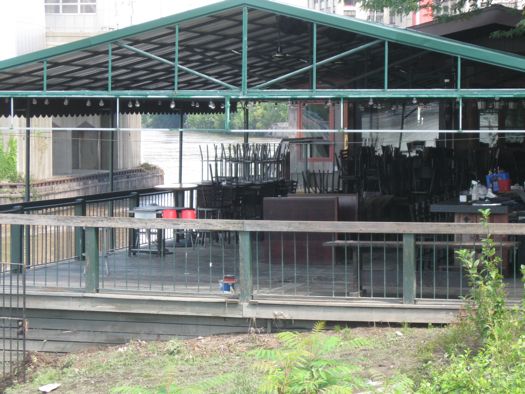 We stopped in Troy a while ago to see how things were shaping up.
The Dinosaur BBQ patio was out from underwater and crews were working on the clean-up. According to a recent tweet from Mayor Harry T. the Dino and other restaurants along the river are scheduled to be open by Friday afternoon. Ryans Wake is first, today at 4.
After the jump, a few more before/ after photos of the Collar City.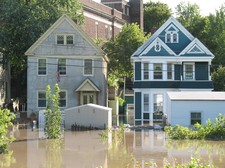 Updated September 7 at noon
Julie emailed this morning:
I just made a donation to the American Red Cross, but was wondering if there were other ways that I can help the victims of flooding.
We've collected a few ways after the jump. We're sure there are others -- so, if you know of way to help, please share it.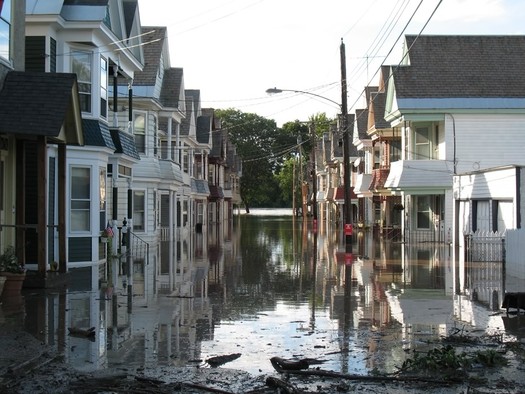 At one point Sunday, officials were projecting that Schenectady would see record flooding -- a once in 500 years flood.
Thankfully, the Mohawk River relented before reaching that mark. But there was still a lot of water. And the Stockade -- one of the Capital Region's greatest neighborhoods -- got hit hard. Walking around Monday afternoon it was heartbreaking to see so many of the picturesque streets half-filled with water.
The good news: the water was already receding. And when you're more than 300-years-old, what's a little (or a whole lot) of water? The Stockade will bounce back.
Many photos from the Stockade -- and a few from Jumpin' Jack's in Scotia -- after the jump.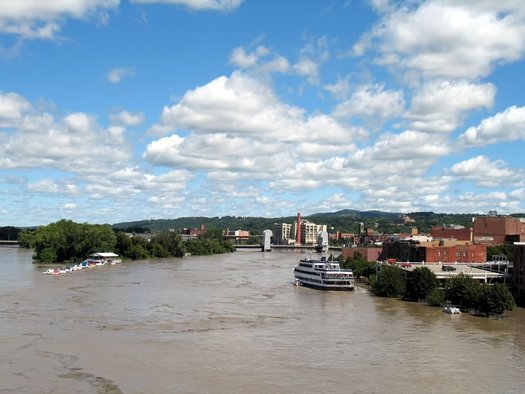 Downtown Troy was among the many local spots to get hit with flooding from all the Irene rain. The Hudson hit major flood stage there today -- running up against the backs of buildings, consuming parks, turning parking lots into beaches, and stranding boats. All the while odd and random things floated by.
It was a sight.
Here are a bunch of photos.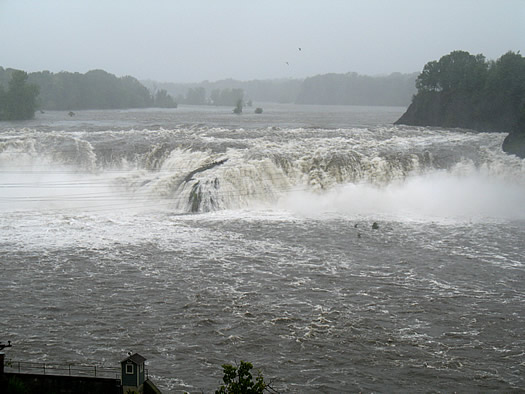 7:45 am Monday
The NWS reports Irene dropped 4.69 inches of rain on Albany Sunday (yep, a record for the date).
The rain has largely moved through the area -- the big concern now is flooding, though it appears the water won't rise as high as originally expected.
The National Weather Service is predicting moderate along the Mohawk River at Schenectady. That estimate is down from Sunday evening, when record flooding was projected. There's also moderate flooding projected for Cohoes, moderate flooding on the Hudson at Troy, and flooding on the Hudson at Albany.
+ Schenectady police are asking evacuated the Stockade Sunday night. [@TUCapCon]
+ Residents of Green Island were "strongly advised" to evacuate the village. [YNN Facebook]
+ Residents of Cohoes and Colonie near the Mohawk were advised to evacuate. [City of Cohoes]
+ Flooding in Troy along the Hudson and Poestenkill prompted a mandatory evacuate of some streets -- that mandatory ordered has been canceled after new flooding projections. [Troy Facebook] [@TroyMayor]
+ If you're having storm-related problems in the City of Albany call the Storm Command Center at 434-4522.
+ The Mohawk Hudson River Humane Society is open to hold pets for people who are evacuating. [MHRHS Facebook]
A local death
+ The Albany County Sheriff's Office says a New Scotland woman was swept away by the Onesquethaw Creek and died. [TU]
+ A mudslide did "significant damage" to multiple buildings in Troy near the Poestenkill (map). Said a resident of one of the buildings: "My kids were playing their games and all of a sudden I heard a bunch of screaming and then the house just started shaking, the walls started cracking, the windows started, like, tilting - they didn't bust or anything - and the floor started to, like, slide forward." [Troy Record] [CBS6]
Power outages
The wind kicked up again Sunday night, more trees and branches came down, and there were numerous reports on Twitter of new power outages.
National Grid is reporting about 69,000 customers without power in the core Capital Region. That's about 19 percent of customers in the four counties. (That'd down from about 23 percent Sunday night.)
Here is the page to report a power outage -- or call 1-800-867-5222.
Roads closed
There are a bunch of local roads that have been closed or narrowed because of flooding or down trees. You can map them on 511NY. [YNN]
Farther afield
In Schoharie County, the Gilboa Dam experienced "unprecedented" water levels -- but the NYC Department of the Environmental Protection (which manages the dam) says it's holding. The Catskills are in bad shape -- many villages have been deluged. The Watershed Post is all over it.