Items tagged with 'New York State Museum'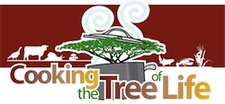 The popular Cooking the Tree of Life series is back at the State Museum February 8 with an evening about milk, cheese, and cheesecake. From the press release:
Dr. Jeremy Kirchman, the State Museum's evolutionary biologist, will lead the presentation, and Dr. Reid Ivy, creamery manager for the award-winning Old Chatham Sheepherding Co, will explain how cheese is made. Together they will consider the evolution of mammals, milk production, and the ingenious ways that humans (with help from bacteria) have used this mammalian adaptation to create some of our richest culinary pleasures. Dr. Ivy and Drue Spallholz from Albany's Honest Weight Food Co-op, will lead the audience in a cheese tasting. Lynn Beaumont from Albany's Cheesecake Machismo will be on hand to describe how to make cheesecake, and will offer the audience samples of cheesecake made at her shop. Fresh local milk from Clarksville's Meadowbrook Farms Dairy will also be available for sampling.
The program starts at 7 pm on February 8 (that's a Wednesday). Tickets are $5 at the door.
Earlier on AOA:
+ Old Chatham Sheepherding Company's Kinderhook Creek cheese
+ Milk delivery options in the Capital Region: Meadowbrook Farms Dairy
+ Cheesecake from Cheesecake Machismo
Jermayne Timmons, the teen convicted of firing the shot that killed Kathina Thomas, got the maximum sentence today -- 15 years to life. [TU]
Five members of the Westboro Baptist Church showed up this morning at Albany High School to publicize the church's anti-gay message. A counter protest of 300 people was also there. Rev. Charlie Muller, one of the counter-protesters, told Capital News 9 he was there to make the point that "Jesus never hated -- he loved." [TU] [CapNews9]
The head of the State Insurance Fund resigned yesterday, reportedly after the Times Union told him it was preparing a story about why his compensation ($185,400) was way higher than the level set by law ($120,800). The state inspector general this week announced that the agency is under investigation because of a whistleblower's accusation that the org had become have for political patronage. (Earlier on AOA: The $94,000 secretary.)
State Senate Republicans have proposed an alternative budget to David Paterson's plan. The Republicans' plan leans heavily on using federal stimulus money to cover the budget gap -- and doesn't include many of the tax and fee increases in the Paterson budget. [TU]
David Paterson said yesterday he will in fact take a 10 percent pay cut -- but he won't ask anyone else in state government to do so. Ten percent of Paterson's salary is $17,9000. [AP/CapNews9]
The attorney for Steven Raucci, who's now been charged with crimes in three different counties, says he will argue on Monday that his client should be allowed to go free on bail. Local law enforcement authorities have kept Raucci in jail by charging his serially on counts including arson, criminal mischief and terrorism. The Gazette found out via FOIL this week that Raucci made $129,364 with the Schenectady School District last year. [Daily Gazette] [Daily Gazette]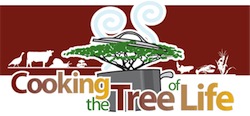 The New York State Museum's culinary celebration of Darwin's birthday continues tomorrow night with a focus on plants. Here's the blurb from the museum's release:

You don't have to be a vegetarian or a botanist to appreciate the diversity of life forms in the Kingdom Plantae. Chef Timothy Warnock, corporate chef for U.S. Foodservice, uses ingredients from across the botanical Tree of Life to create the most biodiverse meal you have ever seen. Dr. George Robinson, professor at the University of Albany, guides you through the 500 million-year-old plant Tree of Life.

Here's some video of last week's session about vertebrates.
We heard from a few people who went last week that these Tree of Life events are fun. But if you want to score samples (and who doesn't?), it pays to sit up towards the front. And eating a snack beforehand is probably a good idea, too.
Tomorrow's session start at 7 pm in the NYS Museum's Clark Auditorium. It's free. There are two more sessions this month: Invertebrates (Feb 18) and Yeast & Fungi (Feb 25).
Another potential snag in the deal behind the Luther Forest chip fab project: AMD has a technology sharing agreement with rival Intel that prohibits sharing the technology with a third party. So, does AMD's spin-off corporation count as a third party? AMD says it's not concerned. [TU]
Sandy Treadwell has announced that, if elected to Congress, he'll donate his salary to charity (roughly $165,000). Treadwell is, as they say, independently wealthy. He's already donated $2.5 million to his campaign. [TU]
Sheldon Silver apparently loves the frequent flyer miles. He's recently been criticized for booking flights from NYC to Albany through DC so he can rack up miles. Silver's people say the Assembly speaker will now be taking cheaper direct flights. [AP/TU]
Schenectady police say a woman was carjacked Wednesday night after the perp faked being run over as the woman backed out of a parking spot. The woman got out to see if the man was OK and that's when he made his move. [Daily Gazette]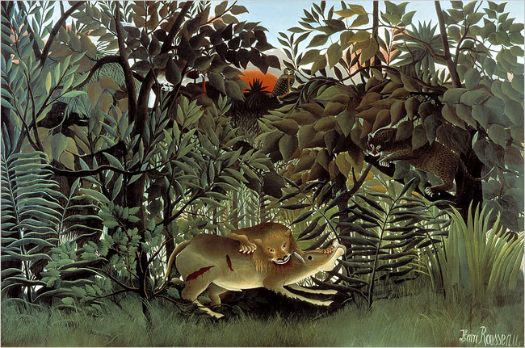 Here's something a little different for your lunch hour if you work around the ESP. The New York State Museum is starting a four week Thursday lunchtime film series today called "The Post-Impressionists." Blurb from the announcement:

At the close of the 19th century, artists freely explored the innovations of Impressionism by expanding on the use of color, light, subject, and texture. The 2008 film series examines how the Post-Impressionists helped to usher in a new era of art by paving the way for Modernism.

Today's film is about Henri Rousseau. The next three weeks will cover Paul Gauguin, Gustav Klimt, and Edvard Munch.
Each film is 50 minutes long and will start at noon in the NYS Museum's Huxley Theather. And, yep, you can bring your lunch.
Earlier on AOA: Three things to see now at the NYS Museum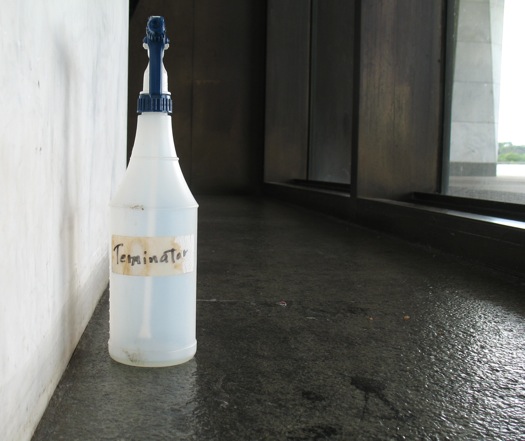 While wandering around the 4th floor of the State Museum recently, we noticed this bottle sitting by one of the windows. It made us laugh a little for a couple of reasons:
1. The stuff -- whatever it is -- is called "Terminator." It sounds like Formula 410 or something.
2. Something called "Terminator" is just randomly sitting out in the museum.
We poked around a little bit online to try to find out what this mystery agent might be, and this product looks like a good candidate. "A powerful and effective deodorizer and all-purpose cleaner with a crisp, fresh scent that will linger for days. Eliminates odors on contact. Ideal for use in locker rooms, meeting rooms, bathrooms, classrooms, shower rooms, closets, chutes and sick rooms."
Museums, too, apparently.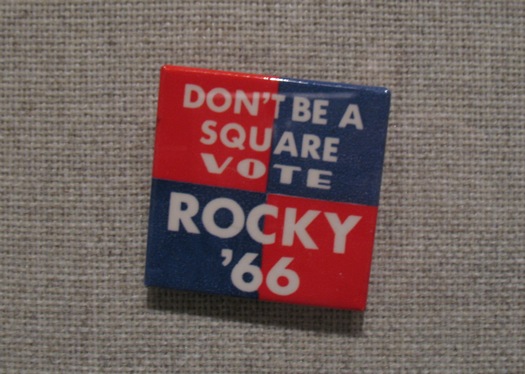 Heads up: the Latin American and Caribbean Art exhibit at the New York State Museum closes in two weeks.
We wouldn't go out of our way to see this exhibit as it seems the folks at MoMA were pretty stingy in deciding which "selected highlights" from their collection would make the trip up the Hudson. But we did enjoy seeing a few pieces, including Botero's Mona Lisa, Age Twelve (there's a Diego Rivera, too).
If you do stop by, be sure to take a few minutes to check out the great Nelson Rockefeller campaign memorabilia on the wall leading into the gallery. Campaign buttons were a lot more fun back in the day. (A few more of the pieces, including a Rockefeller potholder, are after the jump.)
And one more stop to make -- the Cohoes Mastodon is back on display. It's way in the back of the natural history section.
Any one of these things alone isn't really worth the trip, but all three aren't bad on on a rainy day.
By Jessica Pasko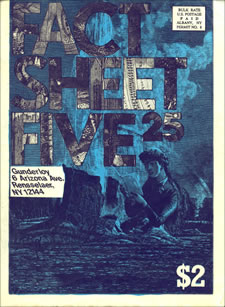 One of the biggest and most comprehensive collections of zines is located right here in the Capital Region. And it's at... the New York State Library? Yep, the New York State Library -- down on Madison Avenue. It has a collection that spans everything from science fiction to punk rock.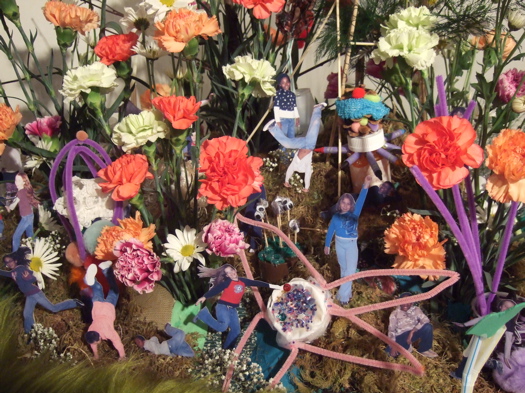 Yes, we know it's snowing. Yes, we know it's cold. But put that aside for a moment. If you want to forget that we have the rest of February and all of March left to face, you might want to check out New York in Bloom at The New York State Museum.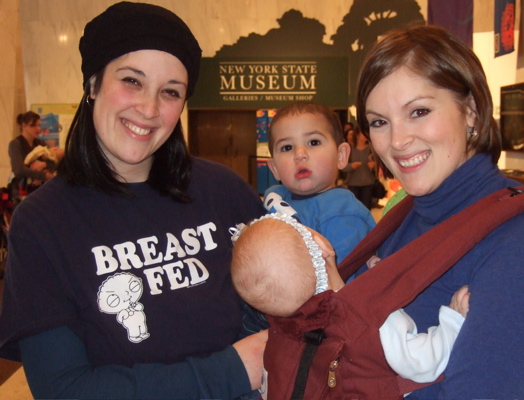 Kristen Kelly was back at the New York State Museum today. And she brought along a few friends. The young mom who was asked to stop nursing her child in public at the museum earlier this week was part of a "nurse-in" there this morning. A handful of young mothers and their nursing infants came along, and when the kids were hungry, they ate. The moms involved said they were treating it more as a show of support for Kristen and a day at the museum with their kids than a protest. They just wanted to remind people that nursing moms should not face the kind of discrimination that Kristen did. The director of the NYS museum has told local media outlets that the museum has no policy prohibiting breastfeeding anywhere in the building.
A plan to build wind turbines in the Adirondacks is catching opposition from local environmental groups -- aesthetics and mountainside ecological damage are among the concerns. [Post-Star]
New York Democratic Party leaders are watching the Clinton-Obama race and starting to wonder if the two candidates should "get their act together" (Charlie Rangel's words) and work something out. [NYT]
Remember that story about the two guys who accused Troy cops of roughing them up unnecessarily after a chase into Menands last month? One of those guys got arrested again Monday night. [Troy Record]
The mayor of Saratoga Springs is defending his choice to post bail for a local luxury home builder who's been accused of fraud. (It seems the sons of the two men are friends.) One of the people who says they've been defrauded says the mayor's face will soon be meeting egg. [TU]
An Albany woman says an employee at the New York State Museum told her to stop breastfeeding in public there. It seems the employee doesn't actually know the rules, though -- the museum has no prohibition against breast feeding anywhere in the building. [WNYT]