Items tagged with 'Rick Lazio'
Rick Lazio announced today that he's dropping out of the race for governor. Even though he had lost the Republican primary, he still had a spot on the Conservative line. [State of Politics YouTube]
Said Lazio: "While my heart beckons me forward, my head tells me that my continued presence on the Conservative line would simply lead to the election Andrew Cuomo..."
Not that Lazio's a fan of Paladino. He went on to criticize both candidates -- and many of the shots were aimed right at Paladino.
I look at the two major party candidates and I see flawed individuals -- flawed in terms of public character, flawed in terms of commitment to ideas and principles that will restore restore growth and pride to our great state ... I 'll be watching very closely to see if either candidate can prove to me -- and to New York -- that they can rise above the empty slogans and the name calling. ...
I strongly believe that Andrew Cuomo can not bring about change. But I remain unconvinced that Carl Paladino will bring the improvement that New Yorkers need, deserve and want.
The people deserve a civil campaign and a vibrant exchange on the challenges real New Yorkers face. They deserve leaders who are good, decent, responsible people who will put citizens first. They deserve real results from public servants who are accountable for what they say, how they say it, what they don't say and what they truly deliver.
As it happens, getting Lazio off the ballot isn't as simple him saying, "Thanks, you've all been wonderful, I'm out" -- and it looks like he'll be nominated for a state Supreme Court judgeship in order to complete the maneuver. [Daily Politics]
Lazio's exit should clear up the polling picture a bit. The polls from last week that included Lazio had him at 8 and 9 percent. That's not much -- but if Cuomo and Paladino are close, it could have made a difference.
Earlier on AOA: Rick Lazio finished as just a shot glass in AOA gubernatorial beer poll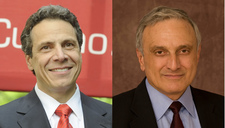 A Marist poll out this morning reports that Andrew Cuomo is leading Carl Paladino 52-33 in the race for governor. Rick Lazio registered at nine percent. The poll surveyed "likely voters" and the margin of error is 3.5.
So, to recap this week of conflicting polls:
Quinnipiac: Cuomo leads Paladino 49-43 (out Wednesday)
A poll of likely voters. Rick Lazio not included.
SurveyUSA: Cuomo leads Paladino 49-40 (out Wednesday)
A poll of likely voters. Rick Lazio not included.
Siena: Cuomo leads Paladino 57-24 (out Thursday)
A poll of registered voters. Rick Lazio included (8 percent).
Marist: Cuomo leads Paladino 52-33 (out Friday)
A poll of likely voters. Rick Lazio included (9 percent).
There's been a lot of talk this week about how these polls are put together -- whether Lazio should be included and whether the surveys should be of registered voters or "likely voters." Some experts have argued that it's too early to start sorting people people based on whether they're likely to vote. [FiveThirtyEight] [TU]
Election Day is now 39 days away.
By the way: AOA's completely unscientific "Who would you like to have a beer with?" poll showed Andrew Cuomo up on Carl Paladino 48-43 (Rick Lazio 9 percent). Of course, it should be noted that we didn't include a "none of the above -- please let me drink alone" option.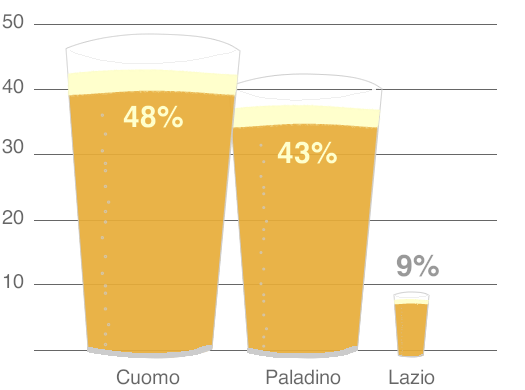 Yesterday Jeff suggested that we poll people on which of the major gubernatorial candidates they would most like to have a beer with. The utterly unscientific results are above (as of about 4:30 pm Thursday). More than 200 people voted.
It looks like a tight race to the bar. And you never know what's going to happen in a race that close. (Will one of the candidates buy? Come on, Carl! You're worth $150 million!)
This could be (probably is) coincidental, but the beer poll results actually match up pretty well with this week's Q Poll that showed Paladino trailing Cuomo, 49-43.
Earlier on AOA:
+ Siena poll: Cuomo still has a big lead
+ Cuomo vs. Paladino -- stop the landslide?
Fine print: This is a completely unscientific poll. Results have been rounded. Margin of error? Depends on how much you drink.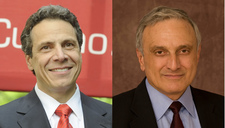 The Siena poll out this morning reports that Andrew Cuomo leads Carl Paladino 57-24 in the race for governor (margin of error +/- 3.5). And Rick Lazio registers at... eight.
So, that's quite a different result from yesterday's Quinnipiac poll that reported Cuomo was ahead by just six points. And a Survey USA poll also out yesterday reported Cuomo was ahead by nine points.
There are a few differences between the Siena poll and the other two. First, Siena included Rick Lazio and the others did not. And the Siena poll surveyed registered voters, while the others surveyed "likely" voters.
Polling data uber-nerd Nate Silver examined the likely voter issue after Wendnesday's surprising Q Poll result. Likely voter models tend to favor Republicans a bit. But after talking with people at Quinnipiac, Silver concluded it probably doesn't explain Paladino's surge in the poll.
So... who knows where things are at right now. There are still 40 days before Election Day, which is plenty of time for the situation to change. Let's hope for a debate or two. Or at least a more interesting exchange between the candidates than a Photoshop competition.
A few other bits from the Siena poll
+ Chuck Schumer leads Jay Townsend 64-30.
+ Kirsten Gillibrand leads Joe DioGuardi 57-31 (though, that Survey USA poll only had her up 45-44)
+ No one knows who's running for attorney general. Both candidates -- Eric Schneiderman and Dan Donovan -- have don't know/no opinion scores over 60. The same thing goes for the comptroller matchup between Tom DiNapoli and Harry Wilson.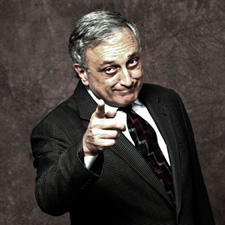 Rick Lazio and Carl Paladino are in "a virtual dead heat" for tomorrow's Republican primary for governor, according to a Siena poll of likely primary voters out this past weekend. Lazio leads Paladino 43-42 -- but that's within the 4 point margin of error.
The Siena poll reports that support for the two candidates is skewed geographically. Lazio, who's from Long Island, has a 55-30 lead among downstate Republicans. And Paladino, who's from Buffalo, leads 53-32 percent among upstate Republicans.
Paladino has picked up a lot of ground with Republican voters over the last month. A mid-August Siena poll had Lazio leading 43-30 among Republicans (they both were way behind in hypothetical matchups with Andrew Cuomo). It seems Paladino's angry-guy-taking-a-baseball-bat-to-the-establishment message is resonating with some people. Or maybe it's the campaign mailers that smell like garbage. [NYT] [NYT]
Paladino was in the Capital Region Sunday. He accepted separate endorsements from the Tea Party and Troy mayor Harry Tutunjian. [WTEN] [Troy Record]
Earlier on AOA:
+ Who is Carl Paladino?
+ Carl Paladino is one of those people who won't stop forwarding crap
image via Paladino campaign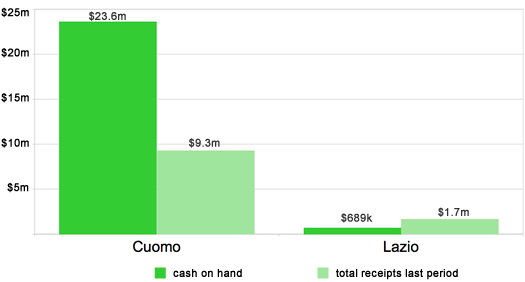 Things are looking pretty good for Andrew Cuomo -- and pretty bad for Rick Lazio.
Cuomo's campaign reported yesterday that it has $23.6 million in cash on hand. Lazio's campaign? Almost $689k. Yep, that's thousand.
And in the Siena poll out this week, Cuomo was ahead of Lazio 60-28 in a hypothetical gubernatorial matchup. (Carl Paladino, who's trying to get on the ballot to challenge Lazio in a Republican primary, doesn't fare any better -- he loses 64-23 against Cuomo.)
With a lead like that, we might take an RV campaign vacation, too.
campaign finance totals via the NYS Board of Elections
"... there is reasonable cause to believe that Governor Paterson solicited, received and accepted an unlawful gift; and falsely testified under oath that he had always intended to pay for the tickets for his son and his son's friend when, in fact, the Governor's intention was to receive and accept the tickets without paying for them until a press inquiry caused him to submit a backdated check as payment for the tickets."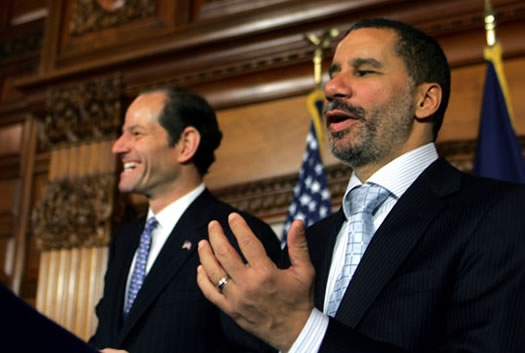 We've read (too) much of the reaction to David Paterson's decision to exit the race for the governor.
Here are a bunch of the quick-scan highlights -- about lame duck status, Paterson's work habits, calls for resignation, the budget, Andrew Cuomo and... yet another SNL skit.