Items tagged with 'Whole Foods'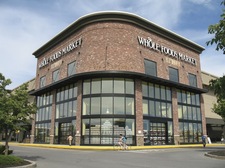 A little bit of number gawking*: Whole Foods announced last week that it would be donating $11,303 to Capital District Community Gardens based on opening day sales at its new store at Colonie Center. The donation was 5 percent of sales from that day.
So, that donation figure points to Whole Foods doing something like $225,000 in sales that day. That seems like a pretty good first day.
For some perspective, Whole Foods stores averaged $719,000 in sales per week during the first quarter of this year, according to the company.
Of course, the opening day for a location is probably always going to be an outlier. But the (guessed) sales total points to the level of interest and shopping visits the opening was able to generate.
*We don't even know if number gawking is possible. Number noodling?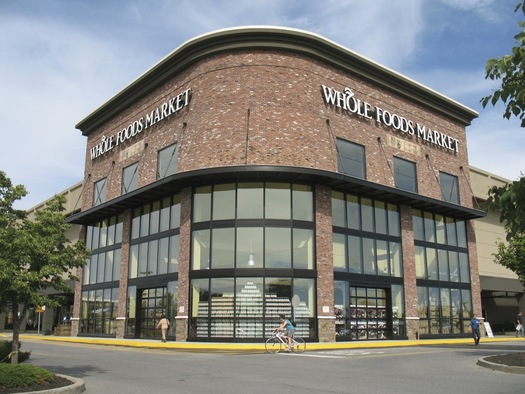 The long awaited Whole Foods at Colonie Center opens this Wednesday.
We figured a lot of people will be curious, so we stopped by for the media tour Monday afternoon.
Here are a bunch of photos and a few thoughts...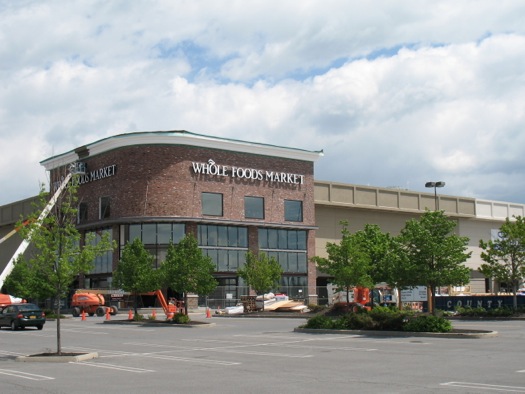 Whole Foods announced today that its new store at Colonie Center will open June 18 at 9 am.
The new store is in the mall's southwest corner -- the company is leasing space from the Sears there. (The facade recently went up and is visible from both Central Ave and Wolf Road.) It was planned to be about 32,000 square feet -- that's about the same size as the new Honest Weight Food Co-op location or the Healthy Living Market that opened in Wilton.
As you know, it's the first Whole Foods in the area. (The current Whole Foods closest to the Capital Region is in Hadley, Massachusetts.) The company first announced its intent to open here in May of 2012.
Earlier on AOA:
+ Whole Foods is coming to Albany
+ Soapbox: Oh, Whole Foods, why Colonie Center?
+ Comparing the size of Capital Region supermarkets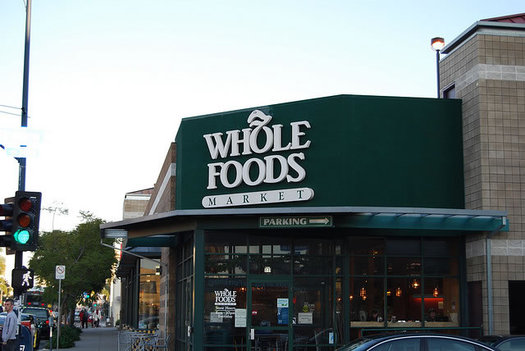 By Christine Hmiel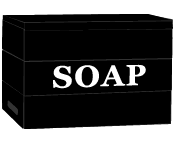 I'm happy that Whole Foods is expanding into our area.
I'll lamely admit that the so-called "grocery store wars" are exciting to me. I shop at Honest Weight Food Co-Op, farmers' markets, and belong to both a CSA and a CSB, but like many of you, I still buy a chunk of my weekly groceries from grocery stores. Having more options for buying affordable, healthy foods along with products for specialty and food-allergic diets is good for everyone.
Competition is good. Investment in our region is good.
The Colonie Center location for Whole Foods? Not good.
Not good at all.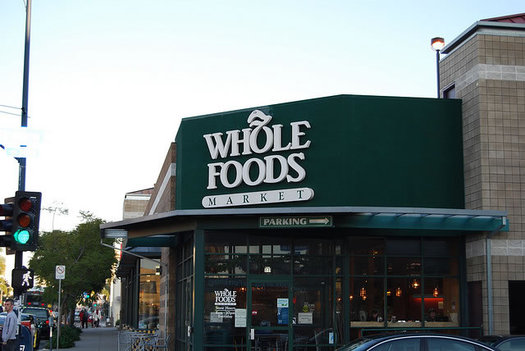 Updated 11:55 am May 3, 2012
Whole Foods announced in its quarterly earnings report yesterday that it has signed a lease for a store in the Albany, New York area. The company also mentioned it on its Twitter feed.
A spokesman for Whole Foods, Michael Sinatra, tells AOA the store will be at Colonie Center. He says the supermarket chain will be taking over a portion of the bottom floor of the Sears space there. The store is expected to be 32,000 square feet.
Sinatra says the target date for the store opening is late 2013 early 2014. The store is still "very much in the planning phase." It will be Whole Foods' first store in upstate New York. Sinatra says the company already works with a lot of farms in this region.
"We've had requests for sometime from that area, so we're excited to open there," Sinatra says. And in an follow up email: "Nothing in particular pushed us over the edge [in deciding to expand to Albany] other than tremendous support from the local community in having us come to Albany."
At tip of the hat to Business Review for first reporting the lease signing.
What about Sears?
The announcement prompts the question: What about Sears? Susan Spaccarelli, Colonie Center's marketing manager, told us this morning that Sears will not be leaving the mall -- but she couldn't share details because the mall has not received official confirmation of the deal. Spaccarelli said Sears owns its chunk of the mall, so any leasing deal would be between Whole Foods and Sears.
A spokesman for Sears, Chris Braithwaite, tells us the company plans to continue on as usual at the Colonie Center location -- it's just that part of its space will be turned over to Whole Foods. He says it's too early to tell what the product mix will be in the reconfigured space. Braithwaite says the Colonie Center store is one of the bigger Sears, though he declined to share its square footage.
Sears and Whole Foods have teamed up for a similar deal in at least one other location, in Greensboro, North Carolina.
Supermarket field is getting crowded
Either by coincidence or strategy, the Whole Foods will be going in just down the street from the new Trader Joe's on Wolf Road. TJ's hasn't announced when that store will open, but it probably won't be long -- the company has said it would be during this quarter.
Another angle in all this: the local supermarket field is getting crowded -- and competitive. ShopRite is investing significantly in this area with two (eventually four) new stores. A Vermont-based market called Healthy Living -- which is a bit like Whole Foods -- is planning to open a store in Wilton. The relatively new Fresh Market in Latham has apparently been very well. The Honest Weight Food Co-op is looking to move ahead on its planned location in Albany. And the established players, Price Chopper especially, appear to be trying to step up their game.
Wegmans could cause a mass medical emergency right now with any sort of nod toward this area. Thousands would probably succumb to supermarket hysteria-induced fainting.
After the jump, much reaction -- a lot of it not positive -- from Twitter and Facebook.
(Thanks, Alex!)
photo: Flickr user Roebot