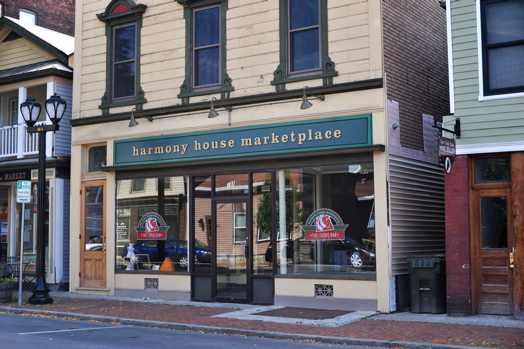 By Jessica Pasko
The AOA elves are back to help you with your holiday shopping. For the next couple of weeks we'll be bringing you fun, interesting, local gift ideas for the holiday season.
This next suggestion just might be my favorite -- the gift of wine and cheese.
Sure, New York doesn't appear to be any closer to allowing wine to be sold in grocery stores, but that doesn't mean there's no place to go for both wine and cheese.
After all, what pairs better with a nice cheese than a bottle of wine? And you can pick up local varieties of both at the Harmony House Marketplace in Cohoes.
The Wine Seller there sells wines and hard ciders from about 100 wineries in the state. I'm admittedly not a huge fan of a lot of New York wines usually, because I tend to think they're too sweet. But I really like a lot of the wines produced by the Hudson-Chatham winery in Columbia County, including the cabernet franc.
New York also produces a lot of sparkling wines, which to me seem perfect for celebrating the holidays. There are also some great fruity wines and ports that while too intense to drink with a meal, would make a great aperitif along with a bit of cheese, of course. Or you could venture off the wine path and go for one of the awesome hard ciders from Slyboro Cider House. The "Hidden Star" variety, a sparkling and semi-dry cider, is a personal fave.
Located in the same Harmony House Marketplace is cheesemaker Sean O'Connor, of R&G Cheesemakers (background). He currently makes about a dozen varieties of cheese on a regular basis, including a goat mozzarella, a Camembert and a maple chipotle goat cheese.
Oh, and while you're there, you might want to also pick yourself up a little gift at the Bake House. The in-house made breads and cookies look pretty tempting. After all, it's the holidays!
What is it: New York wines and locally-made cheeses
Who's it for: Your foodie friends, wine and cheese lovers all around
How much: That depends on the wine you choose, of course, but the cheese runs from about $4-6. Slyboro's products run from about $10 to $20.
Where to buy: Harmony House Marketplace and the Wine Seller,
190 Remsen Street, Cohoes. For hours: call 238-2232
Other gift ideas from this year:
+ Hudson Valley Seed Packets
+ Capital Region Etsy: jewelry
+ Adirondack carbon reduction certificates
+ Capital Region Etsy: clothing
+ Capital Region Etsy: kid stuff
+ The gift of garlic
+ Capital Region Etsy: other stuff
+ Run, We Must shirts and hoodies
+ Locally-roasted coffee
Find It
Harmony House Marketplace
190 Remsen Street
Cohoes, NY 12047
Hi there. Comments have been closed for this item. Still have something to say? Contact us.