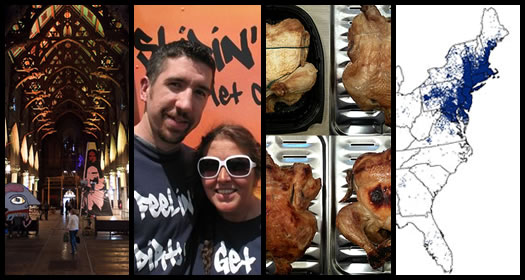 Here are a few highlights from the past week on AOA:
+ Soapbox: Noah Sheetz highlight some of the urban agriculture project's in Albany South End.
+ Trader Joe's announced an opening date for the Wolf Road store.
+ We got the scoop on whether those milk cartons with the plastic spout are recyclable or not.
+ Daniel says you should try the Nature's Place rotisserie chicken at Hannaford (and follow his heating instructions).
+ Ned asked about where to buy vintage (and whimsical) cuff links. (We're still looking for a few answers on this one.)
+ A startup brewing company has proposed turning the former St. Joseph's Church in Albany's Ten Broeck Triangle into a brewery. It prompted some good discussion.
+ We gave away tickets to the wild game dinner at The City Beer Hall June 14 by asking people: What's something wild about the Capital Region?
+ What was up in the Neighborhood this week: bullying, the Approach, seafood, powerful women, baby animals, a secret pond, radish-induced memories, whacky things, an insect lollipop, Mountain Jam, Burlington, Bennington, the Adirondacks, bike parking, tea time, 28 Tables, Peebles Island, beautiful sunsets, and the return of Mr. Dave.
+ We animated a map of Lyme disease's spread through the Northeast.
+ The dates for this year's Restoration Festival were announced -- and the first headliner: The Kamikaze Hearts.
+ A few of the items found on Craigslist this week: impressions at the dentist, the beer man's smile, a dairy goat, and Harold the Monster.
+ We checked out a new gourmet food truck.
+ It's strawberry season! Here's an updated list of pick your own spots around the Capital Region.
+ And thanks to everyone who voted for us in the TU poll!
If you'd just like the whole week unfiltered, check our listing of the last seven days of AOA.
Thanks to everyone who posted a comment or shared a photo or idea this week!
St. Joseph's photo: Sebastien Barre
maps: Centers for Disease Control and Prevention