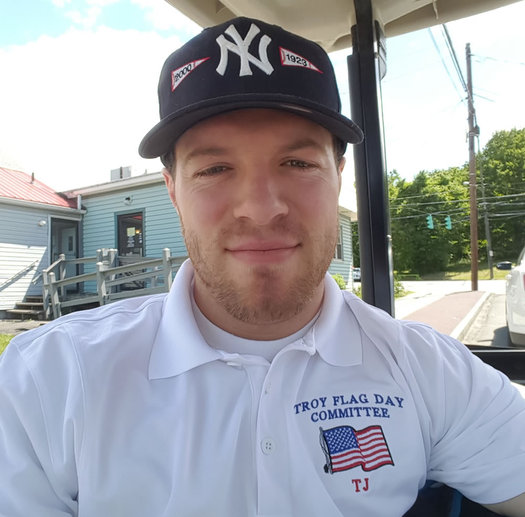 Gifts and giving are on most everyone's mind this month. So we're asking people to share some thoughts on presents, past and present, charities, and wishes for the next year.
Next up: T.J. Kennedy is a Rensselaer County native who spends most of his time studying urban planning at UAlbany and fixing bureaucratic malfunctions within the New York State government. T.J.'s a part-time progressive activist, spreading love and striving to make the world a better place. He's also a lover of all things Upstate New York.
What gifts would you like to get this year?
I have always wanted a nice cast iron skillet for cooking so hopefully someone answers that wish. I would also like for President Trump to be impeached but I guess that's more of a gift for 2017.
Aside from material items, I have a lot of renovation projects around the house and property that I could really use some help with from family and friends.
What gifts would you like to give this year?
This year, I would like to give the gift of backrubs. And not so much a back massage, because everyone loves back massages, but just a backrub. A backrub is something that makes everyone feels loved and warm and fuzzy. It's the easiest and most cost-efficient gift of gratitude a broke joke like me can entertain. I've never been turned down for a good backrub and I'll never turn down a good backrub. Even a quick pat on the back can give someone a boost of energy and confidence. Those kind gifts are my favorite!
What charity would you like to support?
The charity that I'd like to support is Margination, Inc. of North Troy. They're really fighting the good fight in the deep trenches of poverty, with a refreshing and inspiring approach to neighborhood revitalization and community empowerment. This core group of activists has overcome so much adversity since leaving it all behind to move to Troy. I'm excited to support them now more than ever and excited what the next year has in store.
What is your most memorable gift?
My most memorable gift is probably when my father came home with a fluffy white alley cat kitten that I would call my own. This came at a tough time for me personally and that cat turned out to be more like a dog (I like dogs more than cats).
A memorable gift that I've given is a 6-foot-long italian mix monster sub from Deli & Brew in South Troy for my mom's birthday recently. This sub was more massive than me and anyone else at the party. I still get high-fives for showing up with that hero, although I may have set the bar too high for what's expected of me to show up with at other parties.
What is your wish for the New Year?
For the New Year, my wish is that everyone in Troy helps to make this upcoming Troy Flag Day Parade the best ever. 2017 marks the 50th annual parade, and I will be pouring my heart into it with my involvement on the planning committee. The Troy Flag Day Parade is also asking the public to submit memorabilia for its future exhibit in the Rensselaer County Historical Society.
I also hope to finally graduate from University at Albany with my Master's Degree in Regional Planning.
____
Compiled by Deanna Fox.
More holiday gifts 2016
+ Jamel Mosely
+ Nicki Brown
+ Paul Curran
+ Kim Neaton
+ Jeff Smith
+ Aray M. Till
+ Jeff Krenn
+ Jennifer Maher
+ Rob Handel
+ Amy Klein
Hi there. Comments have been closed for this item. Still have something to say? Contact us.