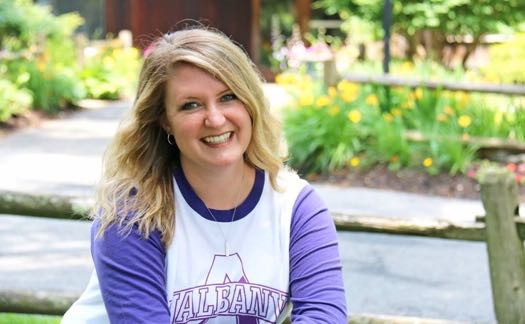 Gifts and giving are on most everyone's mind this month. So we're again asking people to share some thoughts on presents, past and present, charities -- and wishes for the next year.
Today we meet Stephanie Snyder.
Stephanie was born and raised in West Virginia, and relocated to the Capital Region in 2011 when her husband, Todd, began teaching at Siena College. She's team UAlbany, and manages communications and marketing for the Alumni Association. She, Todd, and their 4 year-old son, Huntington Jay, live in South Colonie.
What gifts would you like to get this year?
Anything that's colorful -- I'm an art supply hoarder, but there's something truly exciting about a new set of watercolors or a handful of Tombow Brush Pens that inspires me to eventually create something funky and cool!
I'll also be gifting myself a whole pan of my own buffalo chicken dip, because usually, I make it for everyone else but not for myself! In addition, any object printed with a llama, unicorn, or goat would make me happy.
What gifts would you like to give this year?
I love giving books, journals, and pens/pencils. They wrap up nicely, people enjoy them, and I honestly believe reading, writing, and journaling are some of the most beneficial things a person can do for themselves.
What is the most memorable gift you have ever received?
Memorable is the key word here, so I'm going with the book Madonna by biographer Andrew Morton, back in 2001. I was a junior in high school, and after being a fan of her music throughout my childhood, I loved reading the nitty gritty about her life. It was one of the first biographies I ever read. (Thanks, mom!)
What charity would you like to support?
My student experience at Marshall University changed my life. And now, working in higher ed, I see the need for, and benefit of, supporting student scholarships and programs, both at my alma mater and at UAlbany. The New York State Writers Institute is a local gem, and I hope to support it more in the coming years.
What is your wish for the new year?
Adventure, prosperity, a lot of creating, and a successful transition for my preschooler as he moves into kindergarten!
More holiday gifts
+ Holiday gifts: Imani McCalmon
+ Holiday gifts: T'chaka Anghelos Sikelianos
+ Holiday Gifts: Danika Atkins
+ Holiday gifts: Anasha Cummings
+ Holiday gifts: Josh Coletto
+ Holiday gifts: Roni Choudhury
+ Holiday gifts: Alexandra Stafford
+ Holiday gifts: Jammella Anderson
+ Holiday gifts: Hali Bey Ramdene
+ Holiday gifts: Kristin Jackson
+ Holiday gifts: Evelyn Melendez
+ Holiday gifts: Nick Foster
+ Holiday gifts: Jason Vengersammy