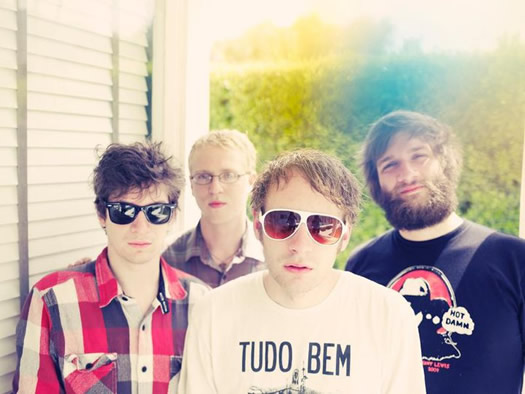 Irene isn't slated to get here until Sunday, and there's plenty of good stuff to do before then.
After the jump you'll find some stuff that looked good to us-- from music festivals and Traver's weekend to baseball and ice cream. If you've got something else in mind, add it to the list.
And whatever you're up to, have a wonderful weekend.
TNO
This should be a perfect night for Troy Night Out. There's a swing party withNitro Jive in Monument Square at 7, Latin music in the River Street lot, and Sea of Trees plays a free show at Design it Together (286 River Street) at 8:30 as part of the Fletcher and the Hendersons release. As usual, stores and galleries are open late with all kinds of art, music and performance. Here's the full schedule of events. Oh, and Daisy Baker's will host the official/unofficial TNO after party.
Restoration Festival
It's Restoration Festival weekend. The two day music festival at St. Joseph's in Albany starts Saturday. Headliners include Deer Tick and Titus Andronicus (on Saturday), and A Hawk & A Hacksaw and The Music Tapes (on Sunday). Also: a bunch of good local bands: Alta Mira, The Red Lions, Barons in the Attic, Scientific Maps, Railbird, Slender Shoulders, Stompin Jug Ramblers, Swamp Baby, We are Jeneric, Matthew Carefully's Undone Ensemble, and Sgt Dunbar. Last year's festival was a lot of fun. And if you haven't seen St. Joseph's, it's an impressive space.
Advance tickets are $20 (single day) and $30 (both days). At the event tickets are $30 for one day and $40 for the weekend.
51BassCamp
The 51BassCamp electronic music festival gets underway today at Solid Rock Ranch in Northville. (It was originally scheduled for Ballston Spa but outgrew the space.) More than 100 bands are slated to appear including Break Science, Brothers Past and Run DMT. $75 advance, $95 at the event. Single day passes for Saturday are $60 on site only.
More music
+ The Boston Symphony Orchestra performs an in concert version of George Gershwin's Porgy and Bess tonight at Tanglewood. 8:30, $9-$91
+ The Holmes Brothers are at Helsinki Hudson tonight. "[D]eeply uplifting gospel-drenched blues, street corner doo-wop, ballads, R&B, country and funk, filled with the rhythm that makes you want to get up on your feel and dance because the spirit moves you." 9 pm - $25
+ The Tichy Boys play the roof of Skidmore's Tang Museum tonight for the weekly Upbeat on the Roof show. 7 pm - free
+ The Hearing Aides have an album release party at Hudson River Coffee House with Olivia Quillio and Immune Friction. free
+ Bluestock starts today at Hunter Mountain. Buddy Guy, Robert Cray Band, Elvin Bishop and more. Tickets start at $50
+ MaryLeigh and the Fauves are at Putnam Den on Saturday. Later that night at PD: DJ Trumastr. 9 pm
+ On Sunday night the top 11 contestants from American Idol season 10 will be singing at the TU Center. $45 - $65
The Daytrotter Barnstormer tour stop originally scheduled for a farm in Ghent on Saturday has apparently been moved to Brooklyn.
Experimental Music and Dance
Tonight at MASS MoCA there's a "a night of wild sonic exploration" with Roomful of Teeth -- a vocal ensemble dedicated to bringing traditional styles of singing from around the world to MASS MoCA. 8 pm - $15
On Saturday, choreographer John Jasperse presents a new work for six dancers that "create a space where the supremacy of the intellect is humbled into a state of awe, where you lose yourself in the transformative power of pure visceral experience." 8 pm - $15
Travers Day
Saturday is the 142nd running of the Travers at the Saratoga Race Course. The Travers is the biggest race of the Saratoga season -- one of (if not the) biggest crowds of the year will be there Saturday (last year's crowd topped 45k). And the winners of the Preakness and Belmont are both scheduled to run this year. Tickets on Travers Day are a bit more expensive than usual -- the clubhouse is $10, grandstand is $5, and entry for breakfast is not free (clubhouse admission fee).
Earlier: Who was that Travers guy anyway?
Travers Eve Festival
As a warm up to Travers Day, Saratoga is throwing a Travers Eve party tonight. There will be bands all along broadway, jockeys will be signing autographs and downtown businesses will have Race Course-themed giveaways. If you don't mind the crowds, there's some great people watching during the Saratoga Season. Try to score a table on a patio and watch the swells go by. Free
Roller Derby
The Hellions of Troy take on the Boston Derby Dames' Boston B Party! on Saturday night at 7 at Rollerama in Schenectady.$10 in advance; $12 at the door.
Washington County Fair
The Washington County Fair is already underway at the fairgrounds in Greenwich with animals, rodeo, fair food, music, exhbits and a midway. $10 adults, under 14 free.
Beer
Proctors has its first Beer Festival lined up for Friday night, which it's touting as "a huge Pub Crawl in one fabulous location." The festival includes tastings from 21 regional breweries (and a few nationals), plus food from local eateries. Tickets are $25 ahead, $30 at the door ($10 for designated drivers).
LatinFest
On Saturday from 11-6 Price Chopper is hosting the annual Albany Latin Festival Washington Park. (Rain location: Corning Preserve Boat Launch, under I-787). Music, food, crafts and other activities. 11-6. free
Theater
+ This is closing weekend for the Williamstown Theater Festival's Ten Cents a Dance. The new musical, featuring songs from Rodgers and Hart, picked up a great review in the NYT.
+ The Berkshire Theater Festival continues with Finian's Rainbow, a production of the festival's "pre-professional" company, and Tennessee Williams' Period of Adjustment.
+ Shakespeare and Company in Lenox continues its schedule of Shakespeare (including Romeo and Juliet) and non-Shakespeare (including Red Hot Patriot: The Kick-Ass Wit of Molly Ivins).
Improv
Mop & Bucket Company has a show Underground at Proctors tonight. 8 pm - $14, $6 students/seniors
Muscle Cars
The Saratoga Auto Museum has a factory muscle car show on the lawn of the museum this Saturday from 10 -3. free
Baseball
The Tri-City Valley Cats have a home game on Sunday at 5PM. Weather permitting.
Art on the farm
Mabee Farms hosts their 8th Annual Arts & Crafts Festival on Saturday from 7 to 9.
Art
+ Union College's pulp fiction exhibit continues at Mandeville Gallery in the Nott Memorial.
+ This is the last weekend for The Albany Institute of History and Art's Free Friday and Half Price Saturday admissions for the summer. On Saturday they're openinging First in the Hearts of his Countrymen, a new exhibit about George Washington.
+ Pissarro's People, portraits by impressionist Camille Pissarro, is the big exhibit this summer at The Clark, but while you're there, be sure and check out Spaces: Photographs by Candida Hofer and Thomas Struth. The large scale photographs kind of bent our minds recently. The photos examine how people interact with spaces, history and the passage of time.
+ The Hyde Collection's big summer exhibit, New York New York: The 20th Century, includes over 60 works of art that depict New York City and human interaction with it.
+ This is the last week to catch Forgive us our Trespasses, the urban exploration show at The Albany Barn's Stage One. The exhibit, with photos from o Sebastien Barre, Paul Gallo and Darren Ketchum will be open on Sunday from 9-1 (stop by before Rest Fest).
Staycation
Did you ever get the feeling that you wanted to go, but still get the feeling that you wanted to stay? Well, Here are a few close to home ideas that will make you feel like you've had a vacation.
Farmers' markets
Local farmers' markets are overflowing with seasonal goodness right now. Here are a few you can visit this weekend:
Saturday: Troy, Saratoga, Delmar.
** There will be no Schenectady Greenmarket this week due to Hurricane Irene.
Take a swim
Summer is slipping away -- get your laps in while you can. Here's a list of local beaches or pools you can try on Saturday.
Factory Tours
Take a trip to Burlington, Vermont and stop along the way to see how ice cream, teddy bears, and beer are made.
More road trips
Take a shopping trip to Northampton or spend 12 hours in Ulster County, Bennington, Vermont, Columbia County Schoharie County .
Drive-in
Malta: Spy Kids/Smurfs, Conan/Planet of the Apes
Jericho: Planet of the Apes/Fright Night
Hollywood: Smurfs/Planet of the Apes
Ice Cream!
Take a trip to Chatham to try some Golden Organics ice cream, head over to The Snowman for a Boston Milkshake. If you're up for a challenge, take the AOA Ice Cream Tour or make a stop on Daniel's Tour de Soft Serve. Did we mention you're running out of summer?
Brunch
Relax with a nice cold mimosa or Bloody Mary over brunch (one of our current favs is The Iron Gate on Washington Ave in Albany. Get a table outside if you can) or enjoy a great diner breakfast.
Hurricane Party
Shop for some tropical cocktail ingredients and good food, batten down the hatches and watch the storm from your window.
photo via Deer Tick Facebook
Say Something!
We'd really like you to take part in the conversation here at All Over Albany. But we do have a few rules here. Don't worry, they're easy. The first: be kind. The second: treat everyone else with the same respect you'd like to see in return. Cool? Great, post away. Comments are moderated so it might take a little while for your comment to show up. Thanks for being patient.