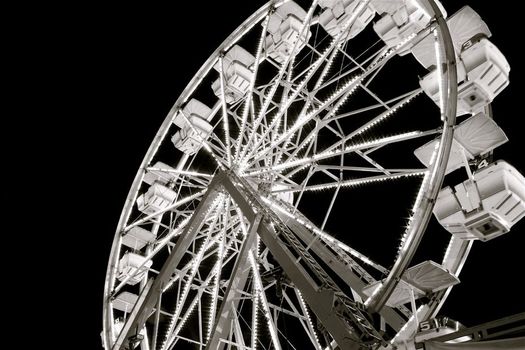 Hello, weekend! We've missed you.
It should be a bit cooler but mostly sunny this weekend. At least once we get through Friday.
Got plans, yet? You're not lacking for options -- from the Altamont Fair, to Proctors' animation festival, to the Valley Cats.
Doing something that isn't on our list? Share with the crowd.
And no matter what you're up to, have a fantastic weekend!

The Fair
The Altamont Fair -- the county fair for Albany, Schenectady, and Greene counties -- continues this weekend. It includes all the usual county fair fare: rides, games, shows, ag displays, racing pigs. The fair runs through Sunday. Tickets are $15 and include shows, parking, and unlimited rides (kids under 3 feet tall are free).
Animation festival
Proctors' annual animation continues through Sunday. The festival includes all sorts of animated work, from mass market kids stuff (Happy Feet Two) to award-winning (Oscar nominated shorts) to adult stuff (Chico and Rita) to the cheesy (Transformers: The Movie (1986)). individual screenings are $5 adults / $3 kids
Comedy
Stories
Storytelling comic Ophira Eisenberg is at MASS MoCA Saturday. 8 pm - $12 ahead / $16 day of / $10 students
Improv
Mop and Bucket Company closes its run of "You Never Know" at Proctors on Friday night. They'll be back in a few weeks with "Theater Sports." 8 pm - $14, $6 students and seniors
The Track
+ Friday is "Fabulous Fillies Day" -- women dressed in pink get in free.
+ Sunday's giveaway is a Saratoga beer glass.
The orchestra
+ Friday is "Sinatra and Beyond" night.
+ And Saturday's closing performance is the "Tchaikovsky Spectacular."
Saratoga Arts Celebration
The 2nd annual Saratoga Arts Celebration is a juried fine art and fine crafts festival near the reflecting pool and The Hall of Springs in the Spa State Park. Demonstrations, art talks, performances, children's activities, food and more. Saturday and Sunday 10 am to 5 pm, rain or shine - free
Merchant Mash-up
Schenectady shops become restaurants serving up all kinds of samples, and restaurants become shops where you can browse between courses, in the Electric City Merchant Mash-up. Friday 5 pm-8 pm
The Figgs
Still kicking, The Figgs are playing two shows in the Capital Region this week as part of a 25th anniversary celebration:
+ Friday at Valentine's 9 pm - $10
+ Saturday at Putnam Den 10 pm - $10
Music
Friday: John Prine and Lucinda Williams at The Palace
Two mainstays of American country/folk. 8 pm - $47 and up
Friday: Zongo Junction at Red Square
Afrobeat from Brooklyn. 8 pm
Friday: Albany Public Library Garage Band Series
This time with Henry's Rifle, and Complicated Shirt. 6-8 pm - free
Saturday: SAWFest Music Festival at Salem Art Works
My Pet Dragon, Railbird, The City Never Sleeps, The Black Ships, Eric Margan and more. 5 pm - $20
Saturday: John Williams' 80th Birthday Celebration at Tanglewood
Boston Pops honor the famous composer. 8:30 pm - $21 and up
Saturday: Girl Talk at Mountain Park (Holyoke, MA)
Mashup master. 7 pm - $25
Baseball
The ValleyCats are at home this weekend with games on Friday and Saturday at 7pm and Sunday at 5 pm. Saturday is Star Wars night with fireworks. $5.50 - $11.50
Theater
The packed summer theater festival season continues. A few highlights for this week:
+ Park Playhouse II closes its second summer musical of the season, Hairspray. Saturday and Sunday at 8pm - Free
+ The Local Actors Guild of Saratoga is doing Chicago at The Arts Center of Saratoga (320 Broadway) Friday and Saturday at 8 pm and Sunday afternoon at 2 pm. $20
Round Lake Arts and Crafts Festival
Crafters and vendors will be in the village of Round Lake this weekend. The village is a fun place to walk, with gingerbread homes and the giant pipe organ. Saturday 9 am-5 pm, Sunday 9 am-4 pm - free
Corn Maze
Fort Ticonderoga has opened one of the first corn mazes of the season. It's a six-acre maze with clues and a scavenger hunt. Open 9:30-4:30. $17.50 for adults, Seniors $14, kids $8. Under 5 free.
Puppet People
The Puppet People are doing a free show on Saturday night in Scotia's Freedom Park. 7:30 pm
Swimming
Pool season will be over before you know it. Check the forecast and find the right time to hit up a local pool or a beach while you can.
Drive-In
You're also running out of drive-in season, too. Drive-ins around the area: Jericho (Ice Age, The Dark Knight Rises) | Malta (Ice Age, The Bourne Legacy; The Expendables 2, Total Recall) | The Hollywood (ParaNorman, Diary of a Wimpy Kid: Dog Days)
Museums
A bunch of exhibitions at regional museums will be closing in the next month or so. Now's a good time to see them -- or you might miss them.
Great, Strange, and Rarely Seen: The Albany Institute's exhibition of pieces from its collection that are rarely on theldisplay closes August 26.
The Clark: Many of the exhibits related to the Clark's display of artifacts from China close during either August or September. (And if you're in Williamstown, you can check out the Williams College Museum of Art, as well.)
Artists of the Mohawk Hudson Region: The UAlbany Art Museum's exhibition of regional artists closes September 8.
Fence Select: This year's Fence Select show at the Arts Center of the Capital Region recently opened -- but it closes August 31
Farmers' markets
The outdoor seasons for farmers' markets are in full swing in Troy (Saturday), Delmar (Saturday), Saratoga (Saturday), and Schenectady (Sunday).
Troy Flea
Troy Flea, the TightKnit Saturday market that includes "handmade, vintage and antique art and goods," continues its season. It's on the block of River Street in Troy south of the farmers' market. Saturday 9 am-2 pm
Ice Cream
Check out one of the 12 staples at The Ice Cream Man, or the winners of Daniel B's Tour de Hard Cream or one of these stops on the AOA Ice Cream Tour.
Road trip
Get out of town: a shopping trip to Northampton could be fun. Or maybe a visit to a brewery or cheese farm. Or take a trip out to Western Mass and stop in at the Berkshire Botanical Garden.
Brunch
It's one of the best ways to spend a lazy weekend morning. Here are a few fun brunch options and some great diner breakfast stops.
SPAC advertises on AOA.
MopCo is an AOA advertiser
The Saratoga Race Course, SPAC, Albany Public Library, and the Palace also advertise on AOA.
photo: Kimberly Dunham
Hi there. Comments have been closed for this item. Still have something to say? Contact us.