Items tagged with 'Schoharie County'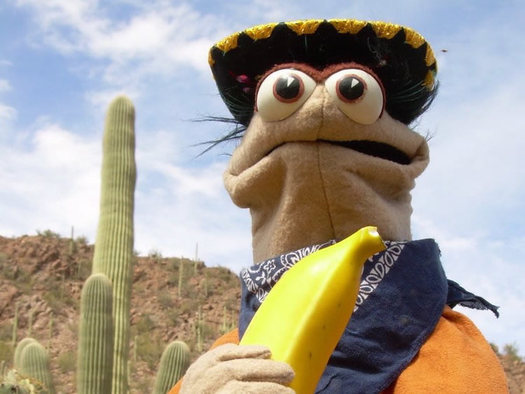 The West Fulton Puppet Festival returns to its eponymous hamlet in Schoharie County July 7-8. Now in its third year, the festival includes performances of all sorts of puppetry. Some condensed blurbage:
The 2017 West Fulton Puppet Festival will feature work suitable for the whole family by puppetry artists, and one circus performer, from New York, Maine and Florida, playing in rotation throughout the two-day Festival. The lineup includes Double Image Theater Lab's I Laid an Egg, join Margot and her imaginary friend, Egg, as they take us on a surprising journey into the wonderful world of make-believe ... Morgan Kelly's Island Turtle, explore the coastal ecosystems through the eyes of a child and includes a post-show workshop ... Seano Presents: Shakespeare's Clowns! performed by former Ringling Bros. Barnum & Bailey circus clown Sean Fagan, it's part poetry, puppetry, parade, and play ... and the award-winning Frogtown Mountain Puppeteers, who ride into town with their wild west cowboy adventure The Legend of the Banana Kid ... Andy Gaukel's Schweinehund--a live puppetry and animation piece inspired by the life of Nazi concentration camp survivor, Pierre Seel--will round-out the Festival with a special presentation for adult audiences only ...
The Festival takes place in and around West Fulton Park, and utilizes The Hall at Panther Creek Arts, plus non-traditional performance spaces, including nearby barns, the Historic Schoolhouse, and a circus tent.
Here's the schedule of events. Admission for the puppet performances is free, but tickets are required. They're available on site the day of, starting with the beginning of each day.
West Fulton is a hamlet in the town of Fulton -- it's pretty much right in the center of Schoharie County, just about an hour from Albany.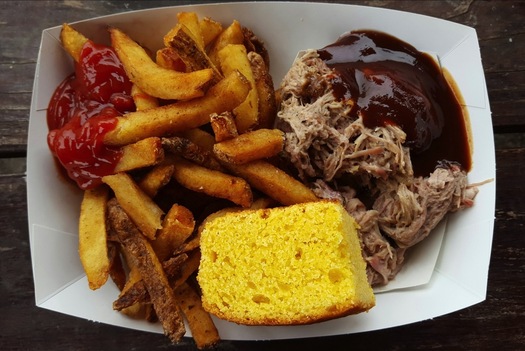 By Deanna Fox
Here's my theory on where to find good food: If the parking lot is full of a diverse array of cars, from luxury SUVs to old jalopies, the likelihood good food will be there is high.
Middleburgers, an old food trailer given a permanent home in the middle of a field, is a great example of that. Many times I have driven by, but never ventured to stop. That finally changed last month after a hike up Vroman's Nose, when I initially drove past, saw the bevy of cars in the gravel lot, and swiftly pulled a U-turn to check it out.
Good barbecue isn't hard to find in Upstate New York; great barbecue, however, is another matter entirely. And if Middleburgers -- aptly named and found in the town of Middleburgh -- is any indication, an overlooked field is the best place to find it.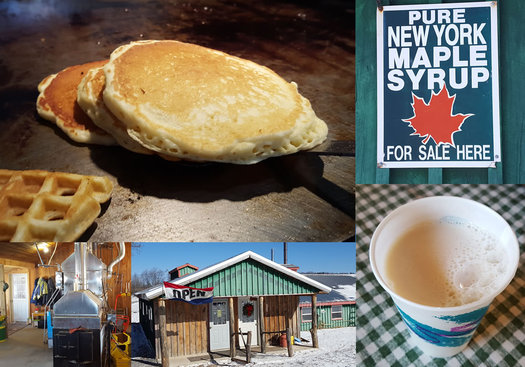 By Deanna Fox
I recently had dinner with a group of friends -- all but one of us an "outsider" to Albany, growing up elsewhere -- about what it is that makes the city so alluring to us. Why we feel Albany is primed for a resurgence as a modern city where young(ish) people like us can thrive, have families, lay down roots. (And by Albany, what we really meant is both the city and the surrounding area we refer to as the Capital Region.)
Part of the appeal, for us, is the fact that there is just so much to do here. Within a three hour drive, we can experience mountains, lake, ocean, cities, other countries. And in considerably less time, we can be transported to the bucolic countryside for leisurely weekend drives that highlight the agricultural and small-town economies that give the Capital Region much of its charm.
Case in point: Sharon Springs. The town lies on the historic byway of US Route 20 and was once a hotspot for the out-of-towners looking for healing qualities in the town's natural springs. And there are plenty of farms surrounding the tiny town center that offer a plethora agricultural products that city-folk are more than happy to bring home.
Like maple syrup. And really, what's the point of maple syrup if you can't have a good pancake to sop it up with?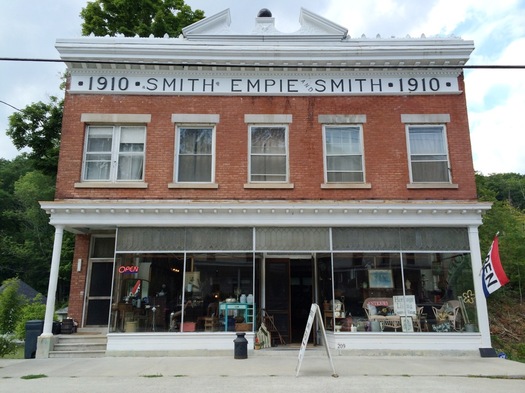 Sometimes you just want to get out of town for the afternoon. A quick trip to Sharon Springs is an easy way to do that -- and you can still be back by evening.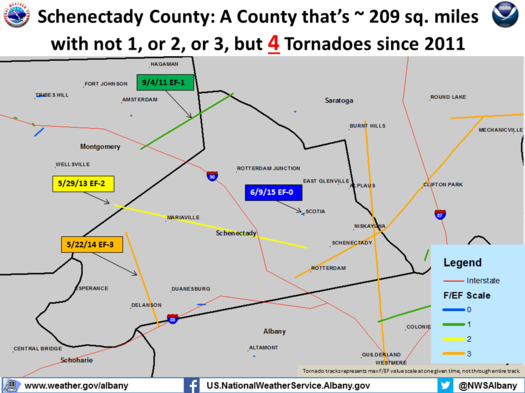 Unfortunate weather quirk: Since 1950 seven tornadoes have touched down in Schenectady -- four of them since 2011.
The National Weather Service Albany office pointed out that bit today as it shared the above map. It depicts the paths of those seven tornadoes. The labeled paths are the four since-2011 tornadoes, including this week's small tornado and microburst in Scotia.
By the way: The NWS Albany office has a page that collects info about significant weather events in the area. It's worth a look if you're a weather nerd.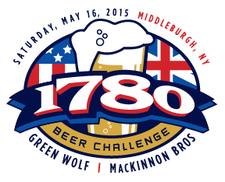 This could be fun: The Middleburgh Library, the Albany Ale Project, and Green Wolf Brewing Company are collaborating for an event called "The 1780 Beer Challenge and Revolutionary War Festival" on May 16 in Middleburgh. Event blurbage:
The day's activities include a Revolutionary War encampment, colonial brewing and cooking demonstrations, 18th century toys and games for kids, talks on the history of beer and hops in upstate New York and the Schoharie Valley, a Schoharie Valley hops display at the Library, beer samples from Green Wolf and MacKinnon Brothers, and Green Wolf brewery tours. Middleburgers BBQ and Under the Nose gift shop and bakery will be offering barbeque and baked goods for sale, and Craig Gravina and Alan McLeod will be selling and signing copies of their book Upper Hudson ValleyBeer. The day culminates in "The 1780 Beer Challenge", cask tapping and tasting!
The Albany Ale Project, Green Wolf Brewing Co., and MacKinnon Brothers Brewing Co. have issued each other a challenge. A beer-infused re-enactment of the 1780 stand off in Middleburgh between New York's Loyalist raiders and the Albany County Militia--this time with hops, grain, and yeast, instead of muskets and cannons!
The Albany Ale Project's Craig Gravina, of Albany, is working with Green Wolf, while his partner--and Kingston, Ontario native--Alan McLeod is working with MacKinnon Brothers [Brewing Co. of Ontario] to create two Revolutionary War-era inspired beers--both made from locally-sourced, traditional late 18th-century ingredients and historical brewing techniques. The beers will be blind judged against each other by WNYT NewsChannel 13's morning anchor Phil Bayly, food and drinks writer Deanna Fox, and Middleburgh Library Director Teresa Pavoldi. The winner receives bragging rights and the official "1780 Beer Challenge Champion" barrelhead. The loser must hoist their opponent's flag in their respective brewery or taproom. There will also be a "People's Choice" vote for best beer.
The 1780 Beer Challenge is from 1-5 pm on Saturday, May 16. It's an all-ages event Tickets are $15 -- that includes beer sampling tickets and a Green Wolf sampler glass. Tickets for non-drinkers are $10. And kids under 15 are free.
And while you're out in Middleburgh, you can make your way up Vroman's Nose.
Earlier on AOA: Resurrecting a beer, and part of Albany's history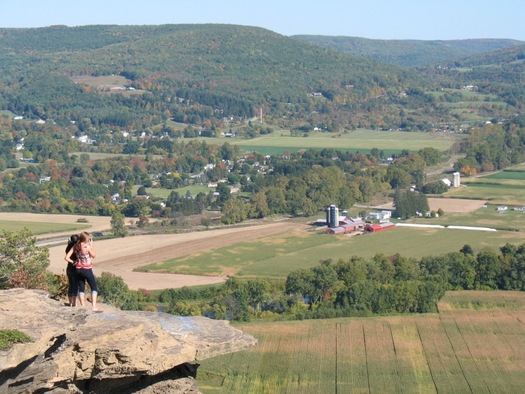 If you're looking for a quick day trip, especially as the leaves turn this fall, here's a good bet: Vroman's Nose.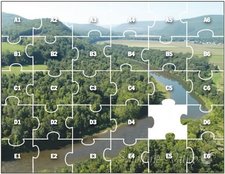 In an effort to get people exploring the Schoharie Valley this summer -- and see how the area is recovery from Irene -- SALT* has created a puzzle. A $5 donation gets it started, and then the puzzle pieces are available free at museums, shops, farms, and other locations around the county.
There are 30 puzzle pieces. SALT figures it's about a 65 mile round trip to collect them all. There are prizes for the 1st, 50th, and 100th people to complete the puzzle. (They're taking completed puzzle submissions via email.)
The puzzling starts this weekend (May 11).
* SALT = Schoharie Area Long Term, a disaster recovery coalition focused on getting restoring Schoharie and northern Greene counties from damage from Irene and Lee in 2011.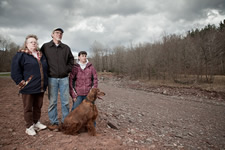 The Watershed Post has produced a package of stories about last year's Irene flooding called "Faces of the Flood." It's a collaboration between WP, photographer Christopher Auger-Domínguez, and staff and students from SUNY New Paltz's journalism program.
Here's a clip from one, about Bill Lonecke, who's house was swept away by the Batavia Kill:
I think people are frightened. I think people are angry. And I know people are frustrated. And I think the whole thing is communication. There appears to be a huge disconnect between the people who have been affected by this and the people who have some authority to fix it. Like when the Department of Environmental Conservation says: "Our policy is to let the stream find its natural course," and then it ignores you when you ask, "What about my house?" At the very least, the guy could have said something. I got nothing from the guy. He turned around as if I had insulted his entire family.
There are 12 profiles -- all interesting in some way.
photo: Christopher Auger-Domínguez / Watershed Post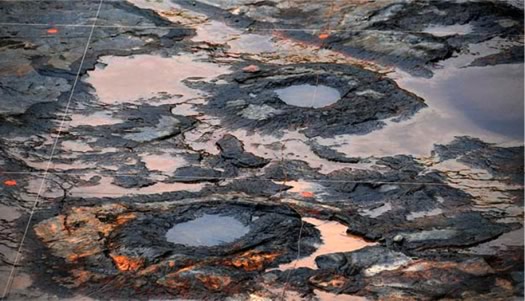 A group that includes researchers from the State Museum reported in Nature today that it's found evidence of the world's oldest forest floor in Schoharie County. And in this case old means really old -- almost 400 million years ago. The paper made the cover of Nature. [Nature] [NYS Museum]
The spot in Schoharie County -- Gilboa, specifically -- has been notable to paleobotanists for more than a century because of fossilized tree stumps that were found there. The construction of the New York City reservoir system in the 1920s helped uncover more fossils, including foliage imprints. The specimens became known as the "world's oldest trees." Scientists have continued to find other fossil remains that have helped them piece together what these ancient trees probably looked like. In 2007 this same research team -- which includes researchers from Binghamton University and Cardiff University in Wales, as well as the State Museum -- reported that it had found the crown of one of these trees. [Wikipedia] [Gilboa Museum] [Gilboa Museum] [National Geographic] [Nature]
This new discovery helps the researchers piece together what the whole scene looked like.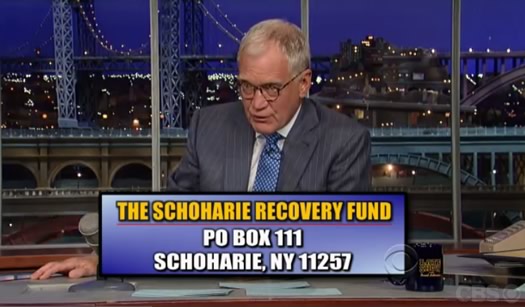 David Letterman spent about six minutes of his show last night talking about the village of Schoharie and the flood damage it's suffered. (The segment starts after the first commercial break, at 9:08. If you can figure out how to embed the clip, please share.)
Letterman pointed out that a lot of places outside the spotlight -- like Schoharie -- had suffered extensive damage without much attention because more populated areas, such as New York City, made it through relatively unaffected. He mentioned that the "tiny, tiny town" suffered $30 million in damages, and gave info about how people can contribute, including the Schoharie Recovery Fund:
Schoharie Recovery Fund P.O. Box 111 Schoharie, NY 12157
It wasn't all serious. Letterman cited the fact that 80 percent of the village had been under 4-8 feet of water. Then he cracked: "You know, if I'm in the town council meeting, I say, 'Well, I guess we don't have to raise money for the new pool.'"
This isn't the first time Schoharie has been prominently mentioned on the the Late Show. Back in 2002, the show filled its audience with people from the village and mayor John Borst read the night's Top 10 list. Letterman recalled that episode last night and explained that's why the show was trying to help the village, because of its "special connection" to the village. [Daily Gazette Google archive]
And, thankfully, Letterman didn't try to spell Schoharie.
screengrab: CBS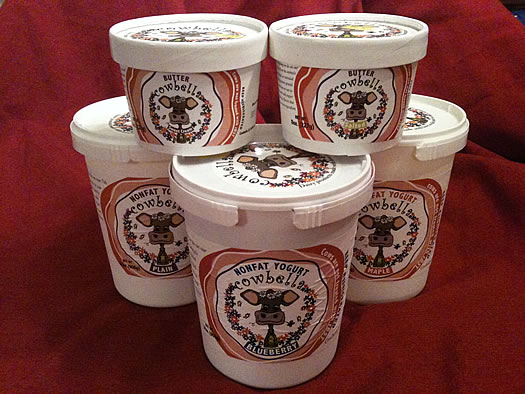 By Daniel B.
You aren't off the hook from eating local this month just because Irene blew through the region. Yes, she brought with her devastating rains that wiped out many local farms. Schoharie County was especially hard hit, and there are a couple a benefits later this month to raise money in support of the Schoharie County Community Action Program.
Still, all the news out of Schoharie County isn't bad. Cowbella made it through. When Gail Peake and Shannon Mason's ancestors established the Danforth Jersey Farm almost 200 years and seven generations ago, they chose a safe site. That means despite the floods we can all still enjoy their butters and nonfat yogurts produced under the Cowbella label.
Consider yourself lucky, because these ladies are doing it right.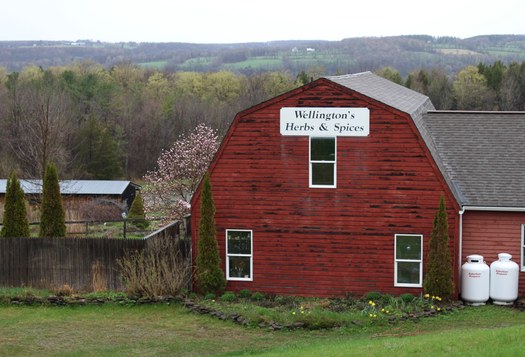 By Liz Clancy Lerner
Carolyn and Frederick Wellington are passionate people who love to share their passion.
Twelve years ago they retired from their jobs in health care and higher education to open Wellington's Herbs and Spices - a 45 acre farm, store and tea shop in Schoharie. And they haven't stopped working since.
Now they grow and sell fresh and dried herbs, certified organic vegetables, baked goods and lots of specialty items (think lavender vinegar and lemon verbena sugar). They also build community.
They converted one of their barns to a showroom for local artists, and transformed another part into meeting space for local non-profits.
Their newest program, one that they're starting this year, allows other people to work on the farm, in exchange for organic vegetables.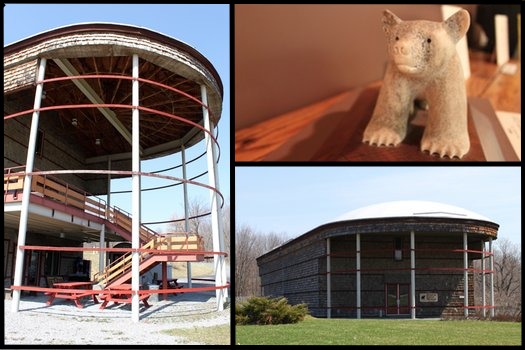 By Liz Clancy Lerner
In 1979 Chris Johanssen was working on research for a doctorate on Iroquois arts and crafts when Stan and Tam Hill -- two local Iroquois -- suggested she create a museum.
The next year, with lots of community support, the Iroquois Indian Museum opened. What was once housed in an upper floor of the Old Stone Fort Museum complex, now has its own modern, multi-functional space in Howes Cave.
And here, the space is part of the exhibit.