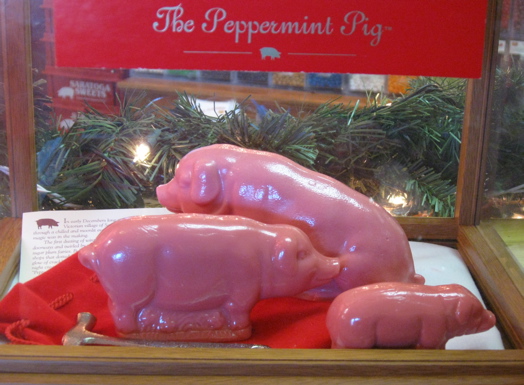 OK, here it is -- Christmas minus 4 days and counting. If you're not done shopping yet, you may be starting to feel a familiar holiday panic setting in.
But there's still a little time to avoid Wolf Road gridlock and still score some unique holiday gifts.
After the jump -- all in one place -- a rundown of AOA's favorite local holiday gifts from Christmases past and present. Take a quick look, then get out there and get it done!
Ready? Go!
Stuff to eat/drink
+ A Brewery Ommegang gift pack
+ NY wines and cheeses from Harmony House Marketplace.
+ Locally roasted coffee
+ Saratoga Garlic Aioli
+ The gift of meat from Rolf's Pork Store.
+ The Peppermint Pig from Saratoga Sweets
+ Candy from Uncle Sam's or The Chocolate Gecko.
+ Pet treats from Sherry's Kitchen
Stuff to do
+ Movie passes for The Spectrum.
+ Memberships to one of the local children's museums.
+ Gift certificates to The Albany Art Room
+ Gift certificates to Albany's Indoor Rock Gym
Stuff to wear
+ Run We Must hoodies and shirts.
+ Jewelryfrom Elissa Halloran Designs
Other fun Stuff
+ Hand cream from Menges and Curtis
+ Seeds in pretty packets from the Hudson Valley Seed Library.
+ Carbon reduction certificates from the Adirondack Council
+ Puppets, art, jewelry and other unique gifts from local museum shops.
+ Give some local history with books about the Capital Region.
+ Vintage video games and consoles from Pastime Legends.
Stocking Stuffers
+ All kinds of great little stocking stuffers, from Southwest Sauces and marshmallows to earrings, to ornaments.
Holiday Cards
+ Adorable handmade holiday cards from the kids at the Delaware Avenue School.
Local Etsy
You might be out of time to order from a local Etsy shop -- but if you see something great, it might be worth a shot. Crystal collected a bunch of local finds this year: jewelry, clothing, kids stuff, other stuff.
Hi there. Comments have been closed for this item. Still have something to say? Contact us.