Items tagged with 'ShopRite'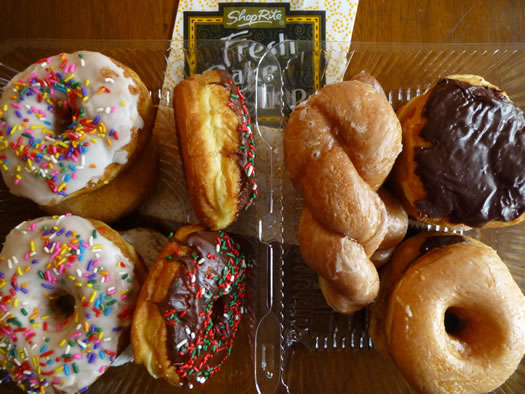 By Daniel B.
We've enlisted Daniel B. to survey Capital Region donuts -- and pick his favorites -- for a short series called The Best Dozen.
With donuts you can't judge a book by its cover. I learned this the hard way on a recent trip to rural Pennsylvania where I encountered some gorgeous local specimens. But they were terrible. Truly terrible. I'll spare you the gory details.
On a recent visit to the ShopRite on Central Avenue in Colonie, the donuts looked sad in a corner of the bakery case. I got there on a Sunday morning to find a selection only seven varieties deep. They seemed more of an afterthought or an obligation of the bakery, rather than something celebrated and fussed over.
Fortunately, they taste better than they look.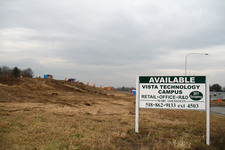 ShopRite announced today that its new store at the Vista Technology Campus in Slingerlands (on Route 85) will open September 30. (press release post jump)
The store is the third of four the chain is aiming to open in this area. A Niskayuna location opened a year ago and the Albany location opened in April. A fourth location is planned for Colonie. Coincidentally or not (probably not), all those spots are close to Price Chopper locations. In fact, the Slingerlands location is literally right across the road from the Chopper there. [Biz Review]
The chain says the new store will offer the "ShopRite from Home" delivery service. That's apparently been popular here -- the company is expanding its Niskayuna store to make more room for the service. [Biz Review]
Interesting non-grocery bit: ShopRite says the Slingerlands location will include a park and ride lot for CDTA routes #13 (New Scotland Ave) and #18 (Delaware Ave). Both those routes run into downtown Albany.
Earlier on AOA: Delivery! Comparing ShopRite from Home and Price Chopper Shops4U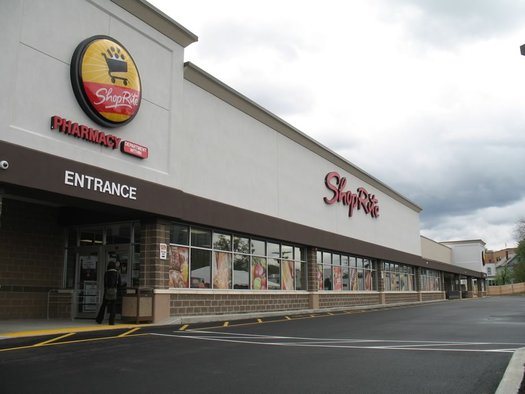 It's Supermarket Week again on AOA. All this week we'll have posts comparing, thinking, and talking about supermarkets. Hey, we all have to eat.
Yes, that grand tradition -- the Supermarket Showdown -- has returned. As we have for the past (gulp) four years, we price checked a basket of items across the local supermarket chains.
New this year: ShopRite.
Can it unseat Walmart, the four-time defending champ? And how have the other two players reacted to its arrival?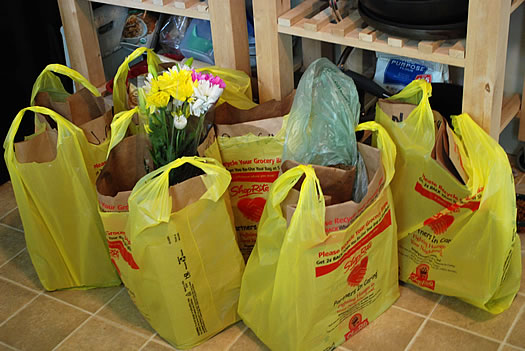 By Nicole Lemperle Correia
Supermarket Week is back on AOA. All this week we'll have posts comparing, thinking, and talking about supermarkets. Hey, we all have to eat.
I've been hearing a lot lately about home grocery delivery. The new Albany ShopRite offers home delivery, and the Westgate Price Chopper recently rolled out a similar service (and made sure we knew about it -- we received Price Chopper flyers advertising the service in the mail every day for weeks).
I've been intrigued by the idea. After my daughter was born last year many things changed within our family, including my work schedule and our income. I usually do each week's shopping on my Mondays off, with my one-year-old in tow. Sometimes this is awesome. Sometimes it means rushing through the store doing everything I can to stave off a toddler meltdown ("Here, hold this bag of beans. No no, don't eat the bag. Ok, now we have to give it to the lady to scan. She'll give it back! I promise!") And then there's the part where I do a circus routine to get the baby and the groceries in the house.
The idea of having someone else do the shopping -- and deliver the goods to my door -- is very appealing. So recently I gave each service a go.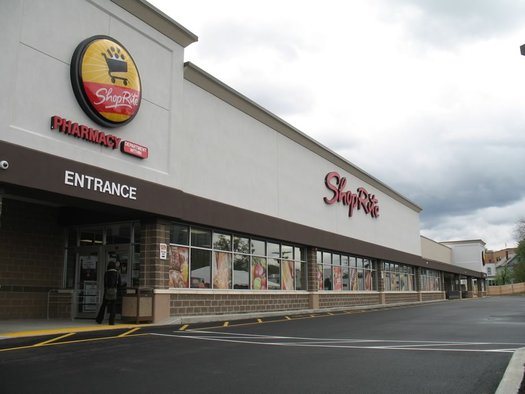 The new Albany ShopRite opens this Thursday. If the opening of the Niskayuna location is any indication, the scene will probably be a zoo. Such is the product of the Capital Region's apparent supermarket obsession.
We were invited to check out the new Albany store today, and went for two reasons: 1) to gawk at perfectly stocked aisles and 2) to maybe find out why ShopRite has decided to build four stores in the Albany area -- and why now.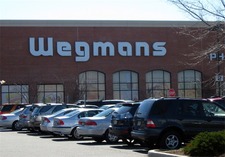 Not surprising: Wegmans was again the #1 ranked supermarket in Consumer Reports annual survey of its readers with a score of 88.
Number two? Trader Joe's (again) with a score of 86.
A lot of the other local chains didn't score that badly, though their ranks were a bit lower:
Hannaford ranked #19 (score 79) | Aldi #20 (79) | ShopRite #24 (78) | Price Chopper #30 (76) | Walmart #51 (69)
Fresh Market wasn't included in the rankings.
CR says the survey is a measure of "overall satisfaction" -- and differences of fewer than five points in a supermarket score are not meaningful. Also: "These findings represent the experiences of our readers, not necessarily those of the general population."
About Trader Joe's... A few people have asked if there's an opening date, yet. As of two weeks ago, the company said it still didn't have a date.
Earlier on AOA:
+ Albany ShopRite opening in April
+ Trader Joe's confirms Wolf Road location
photo: Flickr user chrstine592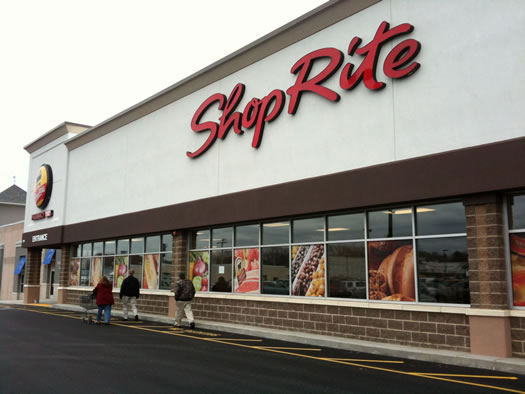 The new Albany ShopRite will open April 26, the company announced today. The store is at 709 Central Ave, on the site of the former OTB Tele-theater (a new version of which is now next door). Full press release after the jump.
We stopped by the store this past week to peek in the windows. The store looked more or less complete -- in fact, we noticed that some of the aisles were already stocked with products.
This will be the second ShopRite in the Capital Region. The company opened a store in Niskayuna last year, is building another in Slingerlands, and just got approval for a fourth store in the village of Colonie. [TU]
If the opening of the Niskayuna ShopRite is any indication, the scene surrounding the Albany store will be a zoo initially.
It'll be interesting to see how it affects competition -- Price Chopper and Hannaford are literally just down the street.
Earlier on AOA: A first look at ShopRite Niskayuna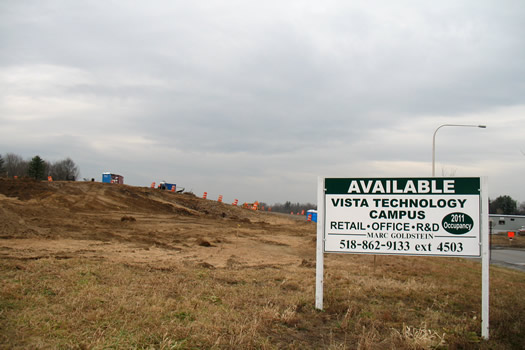 Thursday was the official groundbreaking for the Vista Technology Campus in Slingerlands. A lot of the attention was focused on one of the tenants already signed up: ShopRite. That makes three stores now officially announced/open for the area (there's a fourth planned for Colonie). ShopRite continues what appears to be a strategy to go to head-to-head with Price Chopper -- the Vista ShopRite is pretty much be right across the road from the Slingerlands Chopper. [Spotlight] [YNN]
Planning for the Vista site has been going on for a few years -- but Thursday's announcements would seem to indicate it's picking up momentum. It's a potentially significant development project. The site includes 150 acres of land planned for development. And the developer -- Columbia Development -- says its plan includes up 1.4 million square feet of office, research and manufacturing facilities, medical office, and retail space.
A few quick thoughts about all this...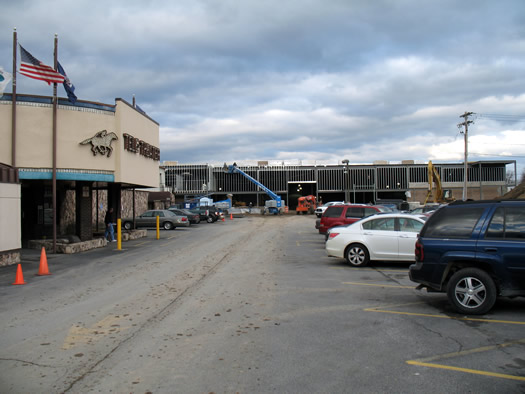 Update: This location is opening April 26, 2012.
Officials from ShopRite and the city of Albany will officially announce today the plans for a new ShopRite in Albany. The all-but-official project is being constructed at the back of the OTB Tele-theater property on Central Ave just to the east of Everett Road.
The supermarket company says it's planning for a spring 2012 opening. We stopped by the site yesterday -- the frame of the building is up, but there's still a lot of work ahead on the interior. (The current tele-theater, which stands very close to the new supermarket building, is slated to be demolished for a new OTB facility.) [TU]
The Albany location will be ShopRite's second store in the Capital Region. It opened a Niskayuna location in October. That new store -- right in Price Chopper's corporate backyard -- has set off what looks like the beginning of a supermarket war with Price Chopper, with competing sales, services, and even a lawsuit.
The (re)arrival of ShopRite in the Capital Region brings more competition to the supermarket scene here and that's almost never a bad thing for customers. This spot in Albany will be especially competitive -- Price Chopper and Hannaford are just up the street. There are rumors ShopRite is planning a total of four stores for this area.
More details from the press release are after the jump -- as are few more pics of the construction site.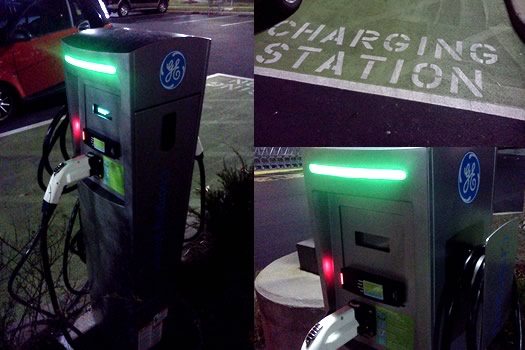 Kristofer spotted this electric vehicle charging station at the new ShopRite in Niskayuna. There are four spots in supermarket's parking lot designated for electric vehicles. Apparently Niskayuna town officials requested that ShopRite include the spots as part of its design for the store. [Spotlight]
The ShopRite charger brings the number of EV charging spots in the Capital Region to five, according to Dan Gibson at Our Energy Independence Community. In addition to ShopRite, there are stations at the Holiday Inn Express in downtown Albany, NYSERDA in Guilderland, the Saratoga Technology and Energy Park in Malta, and the HVCC Tec-Smart facility also in Malta.
Here's the thing, though: there are extraordinarily few electric cars on the road. The two currently for sale -- the Chevy Volt and Nissan Leaf -- are new on the market, and the technology -- especially for batteries -- could use some improvement. Most people probably aren't going to be keen to drive a car with a range of at most 100 miles in ideal conditions -- and much less in normal conditions. (To clarify: the Volt also has a gasoline engine, which can kick in after the batteries run out.) [NPR] [USA Today]
It's interesting/fitting that Niskayuna has an EV charging station made by GE, in an everything-new-is-old kind of way. Ace GE scientist Charles Steinmetz had an electric car all the way back in 1914. He used to drive it to his weekend home.
The Edison Exploratorium in Schenectady still has Steinmetz's electric car. There's video of it embedded after the jump.
(Thanks, Kristofer!)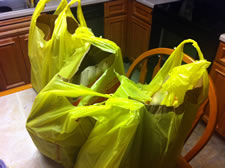 Check it out: Craig (Ellsass) gave ShopRite's home delivery service a try and wrote about the experience:
I love shopping online. I don't find much appeal in trekking to a traditional brick-and-mortar shop during whatever their hours happen to be, forcing a smile when the cashier mentions the weather, and waiting in endless lines. So it was with great excitement that I discovered that finally, in 2011, I can have groceries delivered to my suburban home for a reasonable price. Specifically, ShopRite in Niskayuna offers both in-store pickup (free) and at-home delivery at least as far as Latham (free until Thanksgiving for $50+ orders, otherwise a very fair $6.95 fee).
So how did it go? The ride was a little bumpy, likely due to ShopRite being very new in the area, but it all worked out well.
His post has lots of description, screengrabs, pics (those are his groceries on the right), and tips.
Price Chopper also now has a home-delivery service (hello, competition). Has anyone tried that?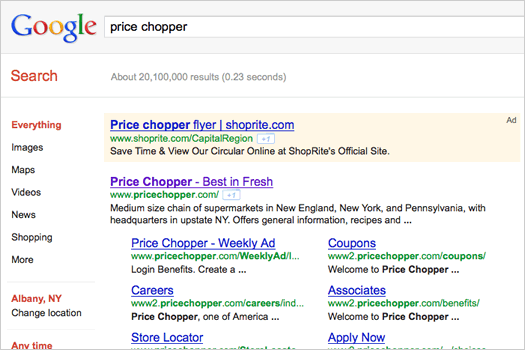 Updated at 3:30 pm after hearing from Wakefern/ShopRite.
The Golub Corp -- which owns Price Chopper -- is suing the cooperative behind ShopRite over ads the cooperative allegedly bought on Google, the Times Union first reported today. Golub is alleging trademark infringement, false designation of origin and unfair competition. (We pulled the filing -- it's embedded after the jump.)
We noticed the ads last week while looking up some stuff about Price Chopper. A search for "Price Chopper" on October 20 returned the regular search results -- and at the top: a text ad for ShopRite. We took a screengrab (above) and figured we might eventually use it as evidence in what appears to a supermarket war that's starting to heat up.

Golub saw the situation rather differently. From the filing:
Upon information and belief, Defendant Wakefern has infringed Plaintiff Golub's registered mark in interstate commerce by various acts, including purchasing keywords including or relating to the PRICE CHOPPER® mark and engaging in Internet advertising campaigns using the PRICE CHOPPER® mark, to sell, offer for sale and advertise Wakefern's retail grocery goods and/or services. Defendant's use of the PRICE CHOPPER® mark is without permission or authority of Plaintiff Golub and such use by Defendant is likely to cause confusion, to cause mistake and/or to deceive.
Golub alleges Wakefern also bought similar ads on Bing and Yahoo (and it includes screengrabs in the filing).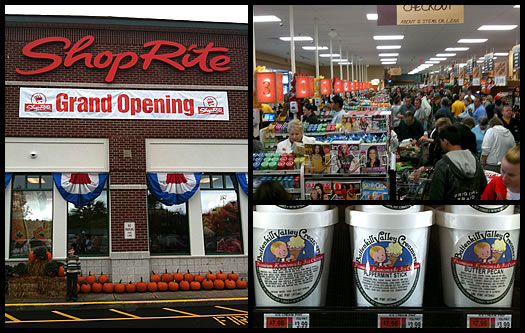 By Daniel B.
Our chief senior special supermarket correspondent checks in with a report from the grand opening of the new ShopRite in Niskayuna on Sunday.
What makes ShopRite different from all other markets? That was the primary question I focused on trying to solve as I wondered why this ordinarily quiet section of Niskayuna resembled Walmart on Black Friday.
Maybe it was even worse.
Traffic was snarled on Balltown Road headed up to the corner of Nott Street where the entrance to the newly christened ShopRite Square is located. Despite the throngs of people descending upon this newly arrived grocer, the parking lot at the nearby Price Chopper was also totally full.
The ShopRite parking lot however was over full. As people circled around trying to find a spot, you could see the road rage in their eyes. Cars were parked illegally all throughout the lot, and I was lucky to get a spot in its furthest recesses, behind the store between the dumpsters and the loading bay.
Inside proved to be a treasure trove of delights, but only for the most intrepid shoppers.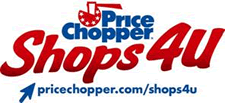 Price Chopper says it's rolling out an online shopping service called "Shops4U" next week at its Niskayuna store. From the press release:
To access Shops4U, Price Chopper customers simply go to the online ordering tab on www.pricechopper.com and pull down the menu for Shops4U. Once they register, customers can pick and choose from among tens of thousands of food items carried in their local Price Chopper store. Orders can be picked up at the store or delivered to homes, offices or community gathering spaces in the Niskayuna area.
In addition to the online component, Shops4U also allows customers to interact with specially trained Price Chopper teammates who will go through the store to select the best in fresh meat, produce and seafood, along with bakery and packaged grocery items. When a customer places an order online, the pick-up time is indicated. The order will be selected and ready at that time for pick up. The customer need only drive up to the designated pick-up parking spots in front of the Niskayuna store and call the phone number indicated on the sign there. The grocery order will be brought out to the car, where the guest can pay by credit card and drive off, without ever having to leave the car.
Delivery orders will be brought to the home, business or community gathering space by Price Chopper's professional delivery staff within a designated time period.
The service costs $10, plus another $5.99 for delivery (with a discount for the first order, and every fifth order after that). The full press release is pasted after the jump.
The company says it plans to eventually extend the service to all of its stores.
In what is almost surely not a coincidence, Shops4U is rolling out just before the planned grand opening of the new ShopRite in Niskayuna on October 2. And what's one of the services ShopRite's been touting: "ShopRite from Home," an order ahead and delivery service.
We're not buzzing with excitement over ShopRite coming (back) to the Capital Region -- but if it can prompt competition with the players already here (especially on price), that's not a bad thing.