Items tagged with 'trying the fill in the blank'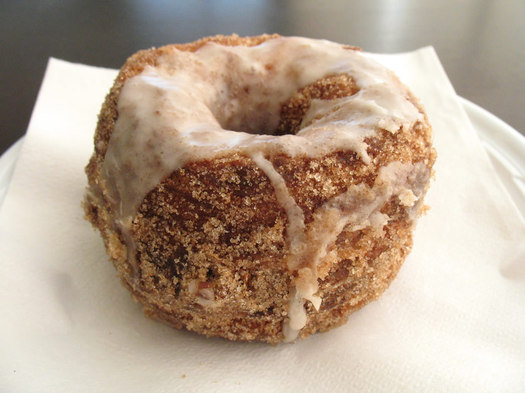 You might have seen the bit last week about Spencer's question -- and an off-hand comment from us -- leading to the creation of the apple cider croissant donut. Yep, read that correctly: it's a croissant donut -- like the now famous cronut -- mashed up with an apple cider donut.
The apple cider "crodo" is the creation of the Crisp Cannoli in East Greenbush. And after owner/baker Jason Grant gave us the heads up last week about its creation, we were left with just one course of action: We had to go try this thing.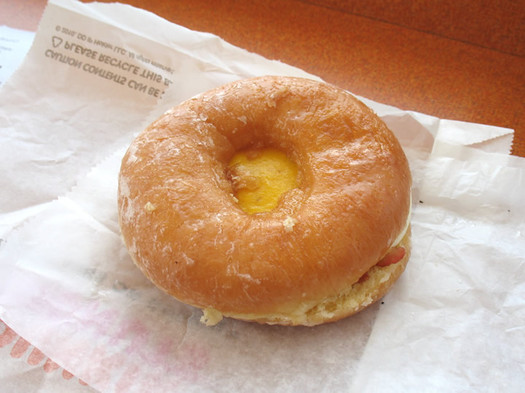 From the continuing, if irregular, series of trying things so you don't have to: the "Glazed Donut Breakfast Sandwich" from Dunkin' Donuts.
After passing posters for the egg-and-bacon-on-a-glazed-donut sandwich multiple times after its recent introduction, we stopped in yesterday to give it a shot.
And we lived to tell about it -- to you.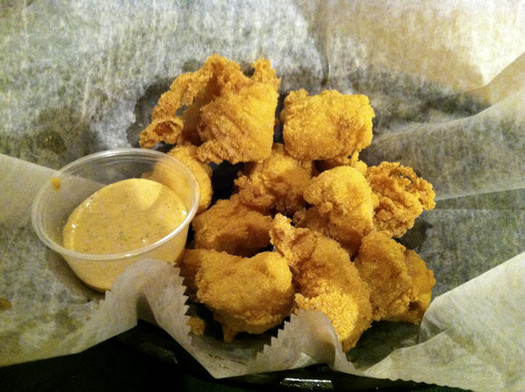 By Casey Normile
I'm not a big fan of seafood. But I don't really know my stance on reptile.
So I decided to try some alligator at Café NOLA in Schenectady.
The restaurant specializes in all things Cajun, with po' boys, etouffee, jambalaya, dirty rice, gumbo, beignets -- and my dinner: alligator bites.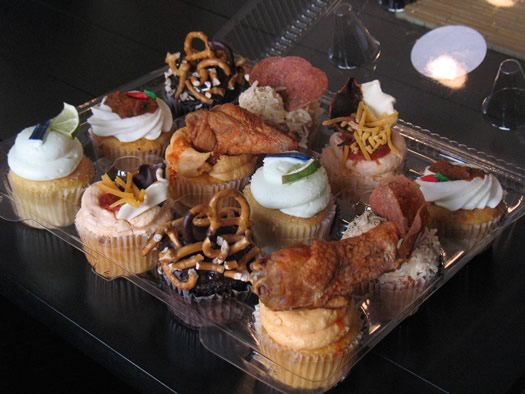 As you might have seen, Coccadotts in Colonie has followed up its Buffalo wing cupcake with a whole line of Super Bowl-themed cupcakes: salsa and chips, beer with lime, pepperoni pizza, cornbread and chili, and chocolate covered pretzel.
Because we know that you love nothing more than having us eat odd things so you don't have to, we got all six cupcakes this week and tried them.
That's right, Anderson Cooper, we had the guts to do something you didn't.
So, bring it on.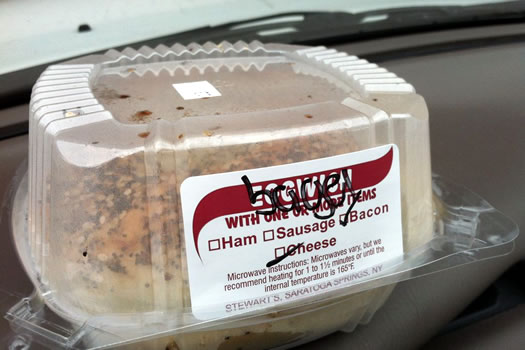 By Casey Normile
Stewart's is a local favorite, of course. Whenever you see their famous maroon and white signs, you know there's a place to get a cup of coffee, a buttered hard roll, snacks, or ice cream.
But a part of the Stewart's lineup I had never tried was their spinning shelves of hot food -- things like the eggwich, hamburger, and... pizza.
So I decided to try it.
By Casey Normile
Summer is usually s'more season. You gather around the campfire, stick in hand, and get ready to accidentally set some marshmallows on fire in the quest to get a perfectly golden brown 'mallow.
But the new Madison Station in Albany has decided to lengthen s'mores season by offering tableside make-your-own s'mores.
You don't have to sit out in the cold for a campfire, the ingredients are brought to your table, and you can accidentally overcook your marshmallows from the warmth of a café stool.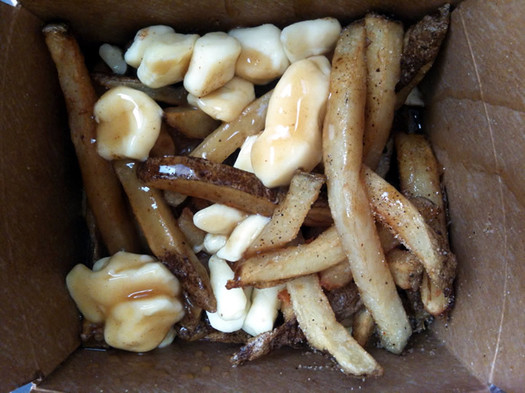 By Daniel B.
A new eatery recently opened up in the Crossgates mall food court: Montreal Poutine. It's in the space formerly occupied by the Hana Express.
The choices available at this particular food court have been uninspired, and I still mourn the loss of exceptions such as Full-Mi-Belly and Hot Dog Charlie's. Say what you will about mini hot dogs with meat sauce, they are one of our few regional specialties.
Anyway, when a new and shiny establishment pops up on the scene, especially one that offers this much beloved French-Canadian specialty that's surprisingly hard to find in these parts, I was compelled to give it a try.
So how did they do?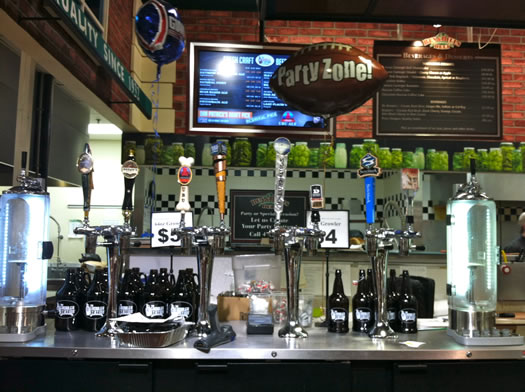 By Casey Normile
With a new ShopRite right across the street, the Slingerlands Price Chopper has upped its game. Among the upgrades at the remodeled store: a Growler Station Express.
It's pretty much what it sounds like -- a counter in the prepared foods section for getting growlers filled with craft beer. And it's the Chopper's first test of the concept.
So how does it work?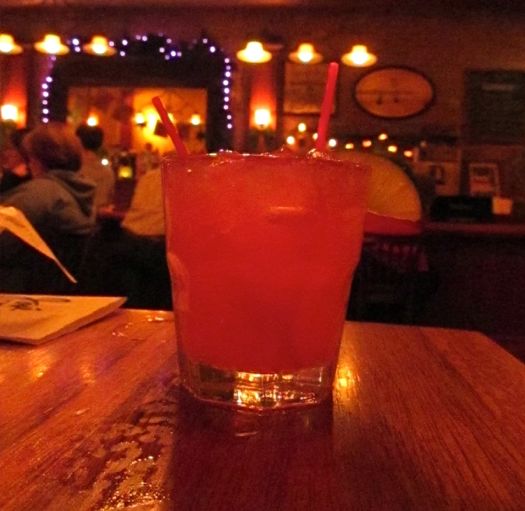 By Casey Normile
I have a very Irish mouth.
That is, I enjoy salt and can handle more than most in my food and drinks, but heat -- not so much. It took me years to be able to eat the pepperoni on my pizza. Then I trained to work my way up from mild to hot salsa and sriracha.
Next?
Jose Malone's watermelon habanero margarita.
A spicy Margarita? Yes.
I had to try it.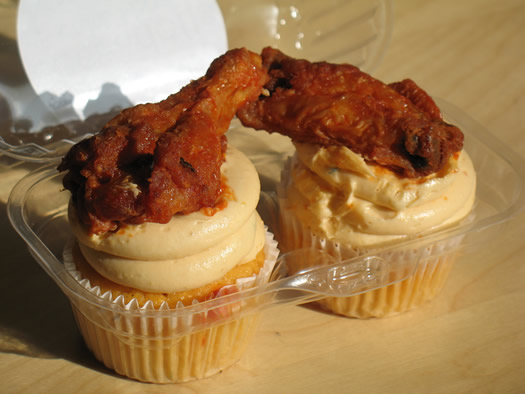 When we heard this week that local cake shop Coccadotts was making Buffalo chicken wing cupcakes for the Super Bowl, we were intrigued. Because... Buffalo chicken wing cupcakes. It seemed unnatural, possibly wrong -- and perhaps, in some weird way, maybe kind of good.
So we stopped by the bakery today to eat one.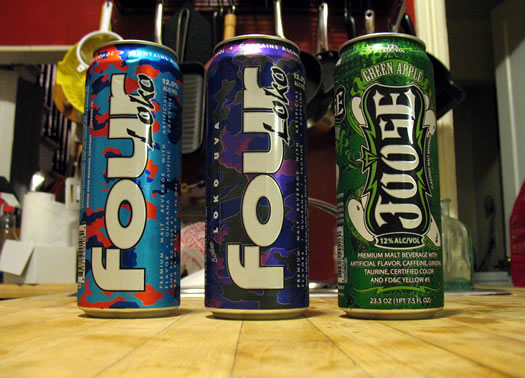 Updated: The FDA issued warning letters today to the makers of these drinks, indicating the caffeine is an "unsafe food additive."
____
For the last week or so, New York has been buzzing about caffeinated alcoholic beverages such Four Loko. Last week, Chuck Schumer urged the state Liquor Authority to ban the drinks. This week, the company that makes Four Loko voluntarily offered to remove the product from New York stores. Yesterday, Schumer announced the FDA would effectively ban the drinks. And then early this morning the company behind Four Loko said it's pulling the caffeine from the drinks.
Yet, with all this buzz, we hadn't talked to anyone who had -- you know -- actually tried the stuff. And while we admit, we'd never had a desire to try it before, the idea that we might not be able to made us wonder if we were missing something.
So -- while the drinks are still legal-- AOA bought a few, assembled a panel of tasters, and checked them out.
We've walked past the posters pitching Dunkin' Donuts "pancake bites" a bunch of times during the last week or so -- and each time, we thought, "Really? Who ever would ever get those?"
Well, today we got an answer: us. Really.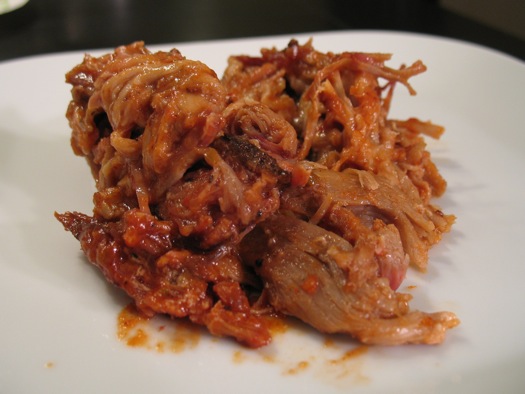 The first time we thought that it might have been a mirage. Then we saw it again, but no... it couldn't be. By the third trip, we believed it: you can buy Dinosaur Bar-B-Que pulled pork at Price Chopper.
Having stuffed ourselves many a time at the famed Syracuse barbecue joint, we had to give it a try.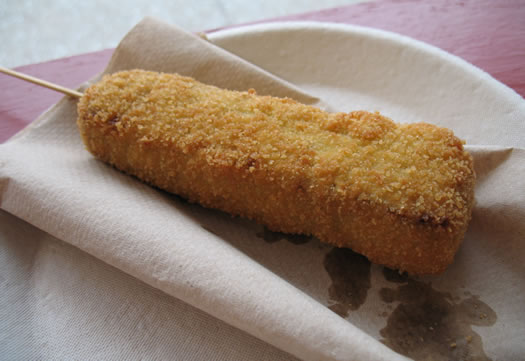 It was the sign inside the Capital Q Smokehouse that caught us: "Deep Fried Candy Bars, if Elvis were alive, he'd be eating one. Ask about one today!" How do you pass that up? The answer is: you can't. So we took the plunge and ordered a Snickers. A deep-fried Snickers.