Items tagged with 'Jeff Janssens'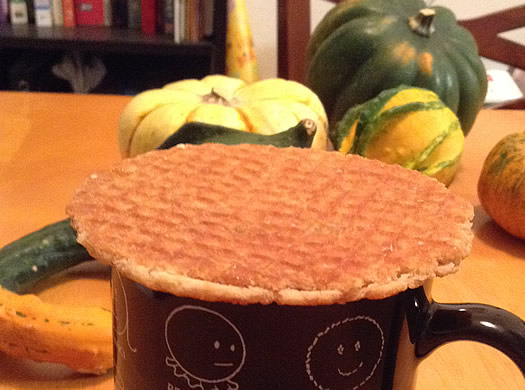 By Jeff Janssens
It's the season for giving and receiving, for eating and imbibing. And sometimes it's best when all those elements of the season are combined.
Even though a tin caramel corn or box of chocolates can be a much-appreciated gift this time of year, I'd like to offer a few alternative suggestions -- including local versions of some classics -- for you to stuff the stockings of loved ones with this year.
And if you don't have any stockings? I like to think these are all items that can be enjoyed, no matter the occasion.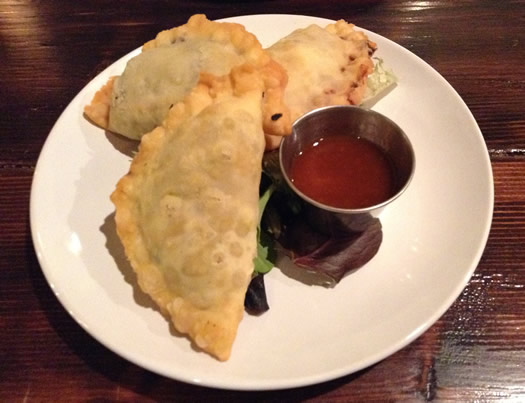 By Jeff Janssens
Umana Restaurant and Wine Bar in Albany opened on November 1, the end of a three-year project for owner Dale Davidson. The interior of the space was gutted during that time, and Davidson had some of the furnishings built for the restaurant in Haiti -- tables and chairs were constructed and hand-woven there -- and the walls were hand-painted to create a bright and inviting space.
While this is truly impressive -- and Umana is one of the most striking restaurant spaces in the entire area -- the menu is equally compelling. And the menu item that intrigued me most was the Samosa Trio.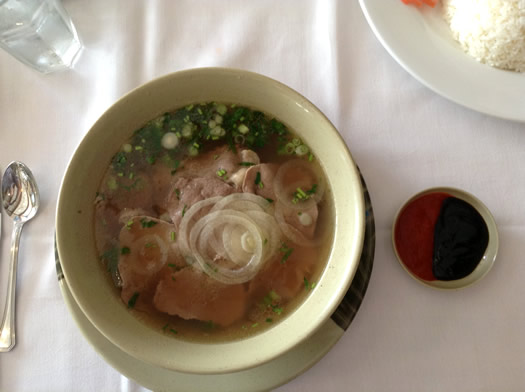 By Jeff Janssens
At some point over the past few weeks, I'd venture to say, we officially transitioned into soup weather. With gray skies and chilly winds blowing, there are few things as satisfying as getting out of the cold for a bowl of soup. For me, a large, steaming bowl of pho is the most satisfying soup in these conditions.
This traditional Vietnamese noodle soup can be found in a number of area restaurants, but in my opinion Kim's Restaurant in the Pine Hills neighborhood of Albany is making the best pho in the area.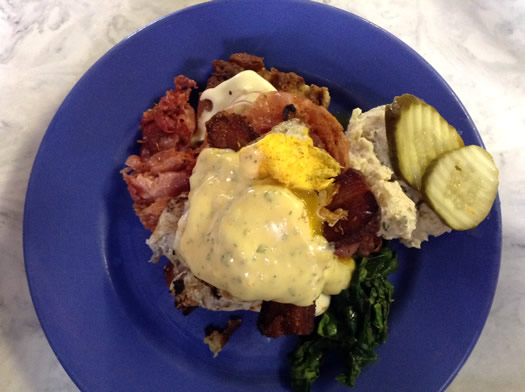 By Jeff Janssens
The Cajun Pork Belly and Crispy Prosciutto Open-Faced Panini from Illium Café in Troy is fatty, rich, heavy food. It packs such a punch that it's liable to knock you out for the rest of the afternoon, if not the entire winter.
Truth be told, a sandwich that features pork belly, prosciutto, a fried egg, hollandaise sauce, a savory bread pudding, and a creamy brie sauce is not something you want to be eating with much regularity. It may also seem, at first glance, to be an exercise in excess.
But once you taste this panini, you can't help but wonder how it was that you never before found all of these ingredients served together on a plate.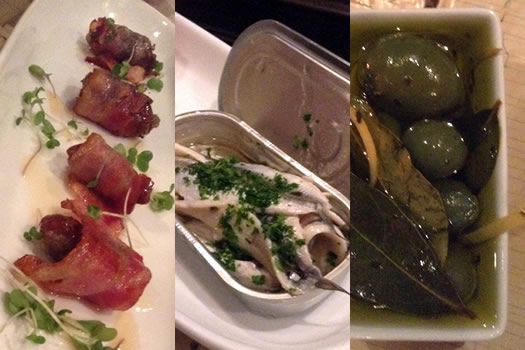 By Jeff Janssens
As a diner it's hard not to be skeptical of tapas. The term, referring to traditional small plate dishes from Spain, has been co-opted by some American restaurants as a fancy way of saying "appetizers." At other restaurants, you get the feeling that tapas might translate to "tiny portions that cost a lot of money but don't fill you up."
Thankfully, neither is true at Boca Bistro in Saratoga Springs. Their tapas menu is extensive and traditional. It's also not hard to fill up on these small plates at a reasonable price. These dishes feature assertive flavors, both from bold spicing and thoughtful showcasing of quality ingredients.
With so many appealing options on the tapas menu at Boca, the hardest part might be deciding where to start. Although the goal of Eat This! is generally to highlight just one dish, in this case I thought it might be most useful to detail a few of my favorites.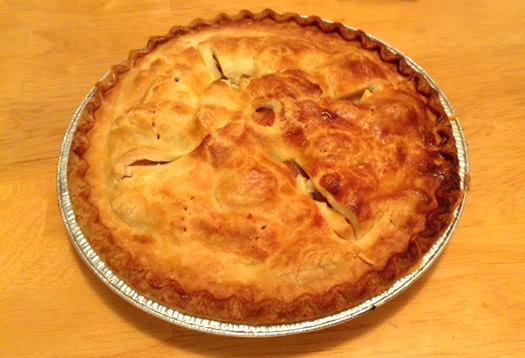 By Jeff Janssens
I know what you're thinking: "Apple pie? From a farm near Hudson?"
Apple pie is almost always at least good. And the best is inevitably made by your grandmother.
So why am I bothering?
Because I've come across a pie that is excellent in all regards. Every individual element -- the crust, the fruit, the filling -- is worth raving about.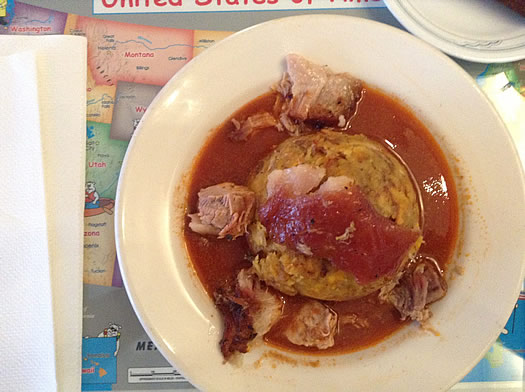 By Jeff Janssens
This summer, teaching incoming freshmen at UAlbany, I found my classes populated by a number of students whose families hailed from the Dominican Republic, Puerto Rico, and other Caribbean countries. In the downtime before class, talk frequently turned to food. These students were living away from the comforts of home, subsisting on a diet of dining hall cuisine. And so they reminisced: about their mothers' cooking, about the little place on the corner back in Queens or Spanish Harlem that made the best food.
Some students discovered the chicken at Mr. Pio Pio on their own, but they wanted more recommendations. Unfortunately, it wasn't until after the summer term ended that I got to check out Casa Dominicana on Central Avenue for one of the dishes my students raved about: mofongo.
And it's not just any mofongo. At Casa Dominicana, while there are several types on the menu, including shrimp and stewed catfish, it was the Mofongo de Chicharron -- mashed plantains with chunks of pork shoulder with crisped skin -- that made me want to proclaim this as a truly deserving Eat This! dish, not just for my former students, but for all Capital Region eaters.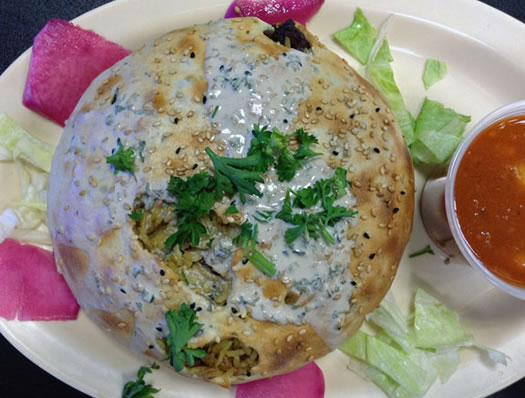 By Jeff Janssens
You hear the phrase "koozi sham" and the first thing to come to mind might be a product sold through late-night television infomercials.
In fact, Koozi Sham is a pot pie of sorts, with origins across the Middle East, its size and shape reminiscent of a curling stone -- and, I'd argue, more worth your money than any of those "As Seen on TV" products you might be tempted by.
It's also a rare dish of sorts; I'd never before seen it on the menu at a restaurant until I visited Oasis Mediterranean Café in Albany for the first time. But it's the kind of dish that is satisfying not only due to its size, but because of the complexities of tastes and textures it provides.
By Jeff Janssens
At first glance, it may seem like a novelty: cheesecake made by nuns. But to stop there, to nod and smile but not try the cheesecake, would be a mistake.
When it comes to the cheesecake made by the Nuns of New Skete, a group of five nuns living in a monastery in Cambridge, about an hour northeast of Albany, it would be foolish to not take their endeavors seriously. While the neighboring Monks of New Skete support themselves through dog breeding and training programs, the nuns have supported themselves for more than 30 years through baking.
I don't doubt the delectability of all their goods -- but it's the nuns' key lime cheesecake that stands out as a perfect summer treat.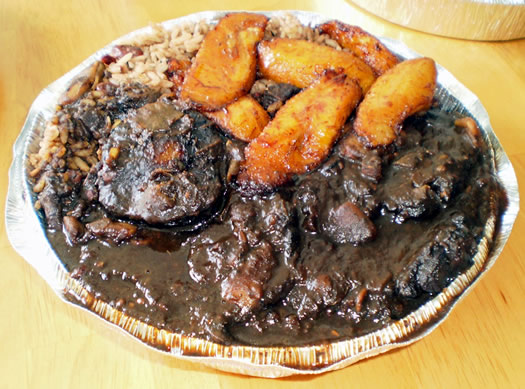 By Jeff Janssens
Put your hands together for Jeff Janssens -- AKA the Masticating Monkey -- who will be writing the Eat This feature here at AOA.
I realize I might be starting off on the wrong foot here as the new caretaker of the Eat This! column. In the middle of this hot summer, I'm recommending a stew--a not-particularly photogenic one, at that.
I hope this says something about the oxtail stew at The Dutch Pot in Albany. This is a plate of meaty, saucy goodness that showcases such a satisfying medley of flavors that it's worth seeking out and eating anytime, anywhere.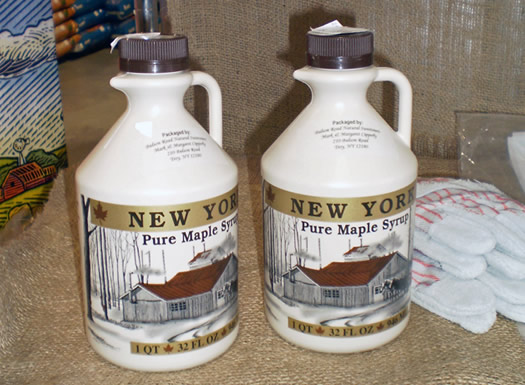 By Jeff Janssens
You might have a picture in mind when you think about maple syrup: a bucket hanging from a tree, smoke from the chimney atop a sugar shack, sap boiling in a cauldron.
While there are places where that picture still fits, modern maple sugaring also involves a range of advances in technology: pipelines, vacuums, evaporators, reverse osmosis machines.
Making maple syrup is a combination of science and craft. And in talking with two local sugarmakers, I found that there are a number of surprising factors that influence both the process and product in making maple syrup. From climate change to soil composition to bacteria in the sap, these are the elements that lead to some of the purest sweet stuff out there, much of which is coming from our backyard in upstate New York.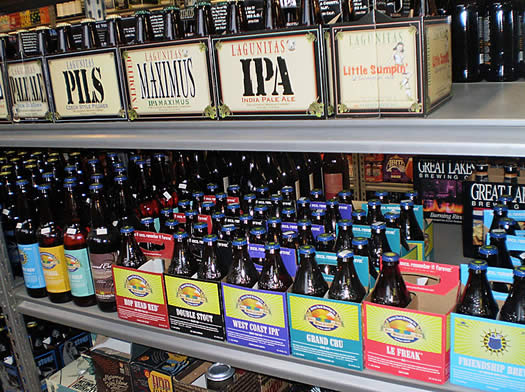 By Jeff Janssens
There's no question that beer lovers of the Capital Region are blessed these days. It's easy to find good beer at a number of bars in the area, there are a handful of beer stores with great selections, and you can even fill a growler at some area supermarkets now.
"[The beer scene] is huge now," says Mike Smith of Hoosick Street Beverage Center in Troy. "You see it here through the RPI kids. On Friday nights, we used to sells kegs of Keystone. Now they're all buying the good stuff."
That doesn't mean we have access to all the good beer, though. Craft brewing is, by definition, done on a small scale. And because of limited supply and distribution, there are some beers that are either hard to find here -- or just not available.
So I stopped by Hoosick recently to talk with Mike Smith about some of the "holy grails" of beer they'd like to be able to get, but can't -- and some good, locally-available substitutes.