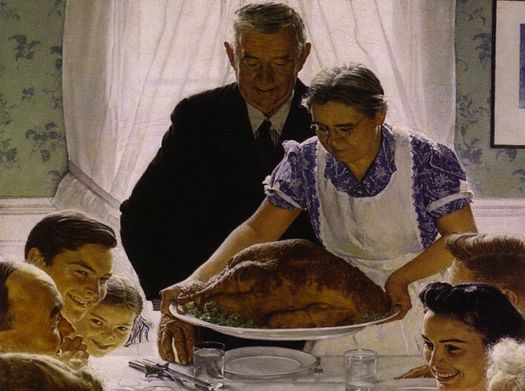 Happy almost-Thanksgiving.
Most of us will be spending Thanksgiving with family. For some, those visits and holiday dinners will be a fun-filled time to bask in the warmth of loved ones, sharing old memories and making new ones. For others, they can be... more of a challenge.
And this year? Well, this year presents its own special conversational mine fields.
For those who want to avoid politics, and are hoping to talk about something other than weather, traffic or the moistness of the bird at Thanksgiving dinner this year, here are a few fun local directions in which to steer the conversation...
New stuff
+ The Capital Region has a new aquarium.
+ That gondola lift that's been proposed to run between the train station and downtown Albany. (Everyone seems to have an opinion about this idea.)
+ There's been a small boom in new residential conversions and construction around Albany -- especially downtown -- with new businesses also popping up. And the Nipper Building is being converted, too.
+ The new casino in Schenectady is scheduled to open in February. And the Albany Capital Center is set to open next March.
Stuff to do to talk about
+ Upcoming holiday markets for gift shopping.
+ Great places to go hiking.
+ Fun local day trips.
+ Places you can still play pinball and skee ball.
Capital Region holiday tales
+ Yes, Virginia of Valatie, there is a Santa Claus: Yes, that Virginia -- who wrote the letter to the New York Sun about that was answered by editor Francis Pharcellus Church -- lived for quite a while in nearby Columbia County. There is even film of her reading the famous editorial answer to her letter to a group of area school children.
+ T'was the night before Christmas: The poem "A Visit From Saint Nicholas" was first published in a Troy newspaper, but there's a controversy over who actually wrote it.
+ The first Christmas card: Something else they might not know: The first Christmas card was printed in Albany and the first Santa ad was seen here.
Food and drink
+ Great things to eat in the Capital Region.
+ Capital Region food culture.
+ What people ate in the Capital Region in the 18th century. And a recipe for Albany Cake from the early 19th century.
+ Albany wedding cake.
History
+ 400 years of Albany history in just a few minutes.
+ Alexander Hamilton got married at the Schuyler Mansion in Albany.
+ Old streets with new names.
+ That odd, skinny building on State Street and other interesting Capital Region architecture.
And if all else fails