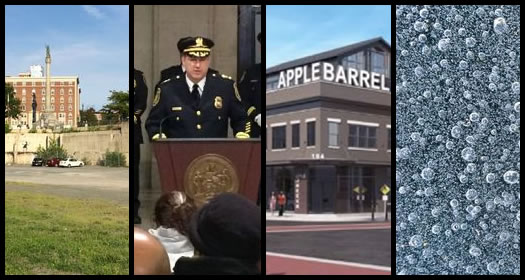 Here are a few highlights from the past week on AOA:
+ Albany's police chief is leaving -- here's what people are looking for in the next chief.
+ Troy has put a request for proposals for the 1 Monument Square site (again).
+ An update about The Gallery on Holland project in Albany, which people have been asking about because it seemed stuck.
+ New York State's population growth has stalled out. That prompted some discussion about why people are leaving the state.
+ What was up in the Neighborhood this week: the weight of words, being a bad mom, beautiful ice, no bad weather, hiking gifts, Christmas trees, a fable involving Albany, the Plane Boys, races run, opening and closings, hush puppies and an exhortation, a heavy sandwich, and an exit.
+ Haley got some details on the proposed Mill Artisan District in Schenectady.
And talking with more people about holiday gift giving, charities, and wishes for the new year:
+ Aray M. Till
+ Jeff Krenn
+ Jennifer Maher
+ Rob Handel
+ Amy Klein
+ T.J. Kennedy
+ SarahNicole Mahoney
Here's the whole week in one place.
Thanks to everyone who posted a comment or shared an idea this week!