Items tagged with 'Siena poll'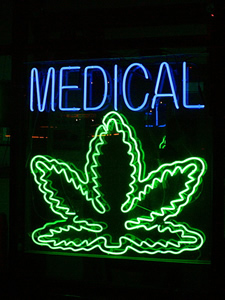 Some follow-up to the recent Q Poll that reported a majority of New Yorkers -- 57-39 -- supported legalizing recreational marijuana use: A Siena poll out today reports respondents oppose recreational legalization 53-43.
The results on recreational pot legalization might not be as far apart as they seem. The Q Poll reported a margin of error of 2.5 percentage points, and the Siena poll 3.5 points. And differences in the makeup of the samples could lead to different results. They also asked slightly different questions:
Q Poll: "Do you support or oppose allowing adults in New York State to legally possess small amounts of marijuana for personal use?"
Siena: "Looking beyond the issue of medical marijuana, two states - Colorado and Washington - have legalized and regulated marijuana for recreational use. Do you support or oppose passing a similar law in New York to legalize and regulate marijuana for recreational use?"
As with that Q poll, the Siena poll also reports large majority support for at least some sort of medical marijuana program in the state. This isn't surprising -- polls have reported majorities in favor of medical marijuana for the last few years. (See 2010.)
Related: There was an interesting article in NYT today about the fact that it's apparently unclear how many votes currently constitute a majority in the state Senate (because of vacancies and the current three-coalition makeup of the body) -- and how that could have an effect on potential votes about legalizing medical marijuana.
More bits from the Siena poll...
+ Respondents had a more or less three-bears split on the Common Core standards: too demanding, not demanding enough, just about right.
+ Respondents prefer Andrew Cuomo over "someone else", 54-37.
+ 73 percent of respondents supported allowing local municipalities to set their own minimum wage at rate higher than the state's.
+ On allowing fracking: oppose - 43 percent | support - 38 percent.
photo: Flickr user Caveman 92223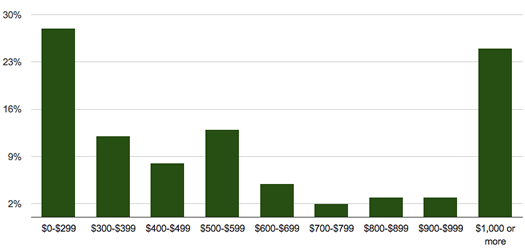 A bunch of bits from the annual Siena Research Institute holiday poll of New York State residents, out this week:
+ 72 percent of respondents said they were either very (28 percent) or somewhat (44 percent) excited about the holiday season.
+ The graph above details how people responded to a question about how much they plan to spend this year on gifts. Of people ages 35-49, 39 percent said they were in the $1000 or more category, as were 30 percent of people who reported there were kids in their household.
+ How much shopping online this year? 28 percent said at least half or more of their shopping -- and 33 percent said none.
+ 29 percent of people reported that they'd be buying a gift for themselves this year.
+ "Do you think retailers should or should not be open to shoppers on Thanksgiving?"
should: 30 percent | should not 64 percent (it was 38-54 in last year's poll)
+ "Will you be shopping for holiday gifts on Thanksgiving day this year at any of the retailers that are open on Thanksgiving?"
yes: 8 percent | no: 87 percent
+ Shopping on the Friday after Thanksgiving? yes: 23 percent | no 68 percent
+ Favorite traditional Thanksgiving foods: turkey (37 percent), stuffing or dressing (21 percent), apple pie/pumpkin pie/sweet potatoes (tied at 10 percent each)
+ "Do you think you will gain weight during this holiday season, lose weight or remain at about the same weight as you are now?"
gain: 24 percent | lose: 5 percent | stay the same: 70 percent
SRI says the poll was conducted November 17-21, and the margin of error is +/- 3.9 percentage points.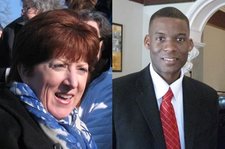 A few bits from the Siena/YNN poll of the Albany Democratic mayoral primary:
+ When asked for whom Democratic respondents would vote for today, Kathy Sheehan led Corey Ellis 54-23, with 23 percent undecided. 85 percent of respondents said there was either "no chance" they would change their mind or it was unlikely.
+ When asked which candidate would do a better job on a series of issues, Sheehan led Ellis in every issue -- with the largest margins for economic development (50-19) and keeping city taxes under control (50-18) and "capitalizing on the Hudson River waterfront as an Albany asset" (49-14). Ellis was closest on fighting crime (39-26) and addressing neighborhood concerns (40-32).
+ 57 percent of respondents said they support term limits for mayor.
+ 71 percent of respondents said they had a favorable opinion of Jerry Jennings. And 66 percent said they rate his job as mayor as either good or excellent.
+ 51 percent said they believe the city is on the right track.
+ The poll also asked people's opinions on a handful of aspects of the city. The answers point to some disparities between how African-American and white residents perceive and experience the quality of things like the condition of parks and roads, and the job done by police. A graph of responses is after the jump.
The poll did not ask people about non-Democratic candidates.
Crosstabs. The margin of error for the poll was +/- 3.2 percentage points and +/- 3.8 percentage points for Democrats only.
Update: YNN talked with Sheehan and Ellis about the poll results and some of the issues mentioned.
The primary is September 10. Considering the fact that the city is overwhelmingly Democratic by enrollment, the primary is pretty much the de facto election. And last time around, only about 14,000 people cast a vote in the mayoral primary. So it's worth doing some research and voting, if you can -- because your vote really could matter. That's especially true in Common Council primaries, where seats are sometimes won by fewer than 20 votes.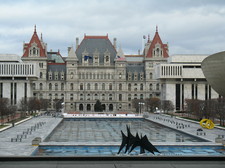 Bits from the Siena poll released today:
+ When asked about how they view state politics, 52 percent of respondents said they were "distrustful, even cynical."
+ About 1/3 of respondents said it was either "very likely" or "somewhat likely" that their own state Senator or Assembly member could be arrested for corruption.
+ Percent who said they support: term limits, 82 percent; limiting candidates to one party line, 55 percent; a full-time legislature with no outside jobs, 54 percent. (If that were a Jeopardy clue, the correct response would be: "What are three things unlikely to happen with the New York State legislature?")
+ Andrew Cuomo's "favorable" number was 62 percent (it was 77 percent two years ago). And 16 percent of respondents said he was doing a "poor" job, the highest level so far. Fifty-three percent said they'd vote to re-elect him as things stand now.
+ On supporting full casinos in the state: 49 percent support, 44 percent oppose.
+ On whether to approve hydrofracking: 40 percent support, 45 percent oppose.
crosstabs | poll was conducted April 14-18 | margin of error: +/- 3.4
Earlier:
+ Andrew Cuomo's calibrations
+ State legislation: $10,000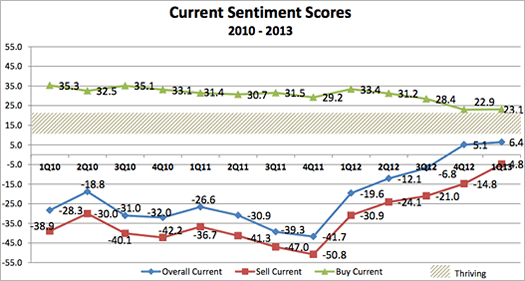 Is now a good time to buy a house? What about a good time to sell a house? The graph above is from a report today from the Siena Research Institute on "real estate sentiment scores" in New York -- basically how people around the state feel about residential real estate.
The short story: After being a buyers' market for years, people think the real estate market is now shifting toward a state in which neither side necessarily has the upper hand.
The slightly longer story, from a statement by SRI director Don Levy:
For the second consecutive quarter, the assessment of housing values in every region of the state is positive and predicted to increase by New Yorkers. Even more importantly, sellers, who for so long were seen as hostages of the financial meltdown now, while not yet universally in the catbird seat, are seen as in a much stronger position and headed upwards. Buyers are still able to get value, but they are no longer able to demand concessions from every seller. All numbers, strong overall market grade, strengthening sellers and modulating buyers, point towards robust real estate health.
And the somewhat longer story is in the report linked above.
In the Capital Region core in 2012, the number of closed sales was up between 10-18 percent in the four counties, and median sale prices were 2-4 percent. But median prices were roughly the same as they were in 2008.
Speaking of real estate decisions: GlobalFoundries' HR director told a Albany-Colonie Regional Chamber of Commerce gathering Wednesday that schools are the most important factor when relocating GloFo employees look for a place to live. [Biz Review]
graph: Siena Research Institute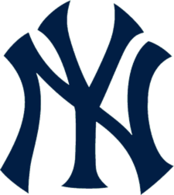 The Yankees are again the favorite sports team among New Yorkers, according to a Siena poll out today.
Forty-five percent of respondents in the poll said the Yankees were either their favorite or second favorite team. Next up: the Giants, at 29 percent, and the Mets, 22 percent. The full lineup is after the jump. (Poor, Jets...)
MMA
The poll also asked people whether they support or oppose legalization of mixed-martial arts. Among all the respondents, legalization was favored 44-31. Among respondents identified as sports fans, it was 53-27. And among people ages 18-34, it was 71-16.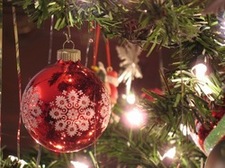 A bunch of bits from the Siena poll's annual holiday survey of people in New York State:
+ 67 percent of respondents said they're excited about the holiday season -- 33 percent said they're not.
+ "Of the following, during this time of the year, which greeting is the one you yourself most often use, is it..."
Merry Christmas: 55 percent
Happy Holidays: 38 percent
Seasons' Greetings: 5 percent
+ 75 percent of people say they planned to put up a Christmas tree. On the ever contentious real vs artificial topic: real 39 percent | artificial 60 percent.
+ "[W]hat do you, personally, enjoy most about the holiday season?" Spending time with family and friends: 76 percent.
+ "[W]hat do you, personally, enjoy the least about the holiday season?" The commercialization of the holiday: 41 percent.
+ "Will you be shopping on the Friday after Thanksgiving this year?" Yes: 23 percent | No: 69 percent.
+ "Do you think retailers should or should not be open to shoppers on Thanksgiving night?" Yes: 38 percent | No: 54 percent. The younger the person, the more likely they were to say yes (55 percent of 18-34 year olds).
A few bits from the Siena Research Institute's "Annual New York Survey of the Economy and Personal Finances," out today:
+ "Would you say you and your household are better off financially today than you were at this time four years ago or that you are not better off financially than you were in October 2008?"
better off: 35% | not better off: 47% | the same: 17% -- upstate, the split was 34/51/14.
+ When people were asked whether they thought businesses in their community were better off now than four years ago, 64% of people upstate said "worse off" compared to just 14% who said "better off." (The split was 56/17 statewide.)
+ Middle class people in your area, upstate response: 62% worse off | 8% better off | 24% about the same.
+ When asked if people thought the current economic problems were temporary, or "our country's best economic days are behind us" (temporary/behind us): Democrats 56/44 | Republicans 34/66 | Independents 51/49.
+ Support or oppose repealing the federal healthcare reform legislation?
Support: 40% | Oppose: 43% -- the split for Democrats: 29/56 | Republicans: 61/28 | Independents: 43/42
Here are the full cosstabs. SRI says the survey has a margin of error of +/- 3.9%.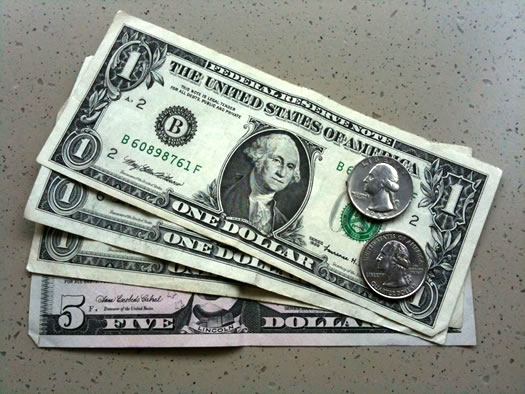 A large majority of New Yorkers support raising the state's minimum wage from $7.25 to $8.50 per hour, according to the Siena poll out today. Of the people polled, support for the increase ran 78-17. The group registering the lowest support for the increase was Republicans -- and even among that group, 58 percent support it.
A few other interesting bits from today's poll:
+ One of Andrew Cuomo's strategies since becoming governor has appeared to be finding ways to allow the legislature to look good (while still doing what he wants it to do). It seems to be working: the number of people saying they have a "favorable" opinion of the Assembly and Senate are at "highest ever" levels* -- in the upper 40s.
+ The Occupy Wall Street movement registered its lowest favorability so far -- 38/52 favorable/unfavorable. The Tea Party's favorable/unfavorable: 38/58.
+ If the presidential election was now: Obama 57 | Romney 37.
+ The percent of people who said "don't know" or have "no opinion" of Kirsten Gillibrand is 25 percent -- the same as it was back in January 2011. We suspect this is roughly the same percentage of people who would feel open about admitting they don't follow politics or government at all. Chuck Schumer's don't know/no opinion: 9. See also: Chuck who?
+ KG still easily beats any of the potential Republicans in a hypothetical matchup for the US Senate.
+ The percent of people who agreed that New York State is on the "right track": 55 percent, a "highest ever" level.
* "Trends reflect questions asked at least twice since the first Siena College Poll in February 2005."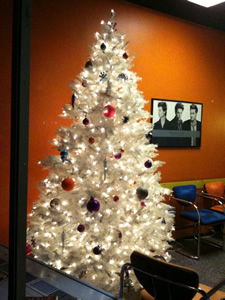 A bunch of holiday bits from the Siena survey out today:
+ 67 percent of people said they are excited about the holiday season; 32 percent said they're not.
+ 34 percent of people said they're cutting back their holiday spending this year compared to last (37 percent said they were last year). Seven percent said they're increasing (compared to 4 percent last year).
+ 23 percent of people said their financial situation is better compared to last year; 30 percent said it's worse.
+ 26 percent said they plan to spend $1,000+ on gifts.
+ 19 percent of people said they shop on the day after Thanksgiving.
+ 57 percent said they planned to do at least some online shopping -- and of those people, 30 percent said it was because of crowds.
+ 59 percent said they try to buy gifts from locally-owned and operated businesses.
+ 77 percent said they would be making a charitable contribution this season; 30 percent said they'd be volunteering.
+ What people enjoy most about the holidays: 77 percent said spending time with family and friends. What people enjoy the least: 39 percent said the commercialization of the holidays. (Takeaway: your family and friends would probably rather you make time for them than buy them a gift.)
+ 63 percent said they think the holiday decorations and ads start too soon.
+ Most often used greeting: Merry Christmas (53 percent), Happy Holidays (37 percent).
+ "I hate to admit it but at this point I'm more Scrooge than Santa." Agree/disagree: 23/67.
+ Among people who put up a Christmas tree, 59 percent say they go artificial.
+ "Would you say you believe in Santa Claus or not?"" Believe: 30 percent. Do not believe: 69 percent.
Margin of error +/- 3.9.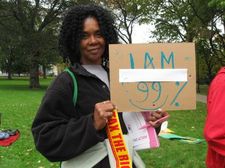 A few bits from the Siena poll out today:
+ 71 percent of respondents said they had been paying at least "some" attention to the Occupy Wall Street movement.
+ 66 percent said Occupy protesters "do not" represent 99 percent of people (56 percent for Democrats, 80 for Republicans).
+ On whether Occupiers should be allowed to stay in parks 24 hours a day -- 57 percent said yes (67 percent of Democrats, 42 percent of Republicans).
+ Favorable/unfavorable: Occupy Wall Street 45/44 | Tea Party 28/60.
+ "Do you think there has been too much media coverage [of Occupy Wall Street movement], about the right amount of coverage, or not enough coverage?" 29 percent said too much, 46 percent right amount, 22 percent not enough. Republicans were split 41/41 on too much versus right amount.

It's been interesting watching reaction to the Occupy movement on Twitter and other places online. The reaction seems to range from automatic, uncritical support to contempt/borderline disgust. That's kind of remarkable for a movement/group whose message lacks sharp focus. Then again, maybe that allows everyone to project their own notions onto the situation.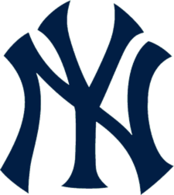 In the Siena poll out today 57 percent of New Yorkers said they would support a constitutional amendment to allow casinos not owned by Native Americans to be built in the state -- 36 percent said they oppose it. Respondents seemed to think that the casinos would bring more jobs (78 percent agree) and government revenue (71 percent) -- but also increase problems such as crime and compulsive gambling (54 percent).
A few other bits, about the state's apparently undying love for Derek Jeter, MMA, and sports betting...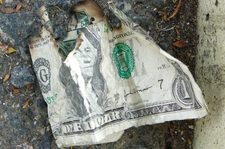 From a Siena poll out this week about New Yorkers and the economy:
+ 42 percent of respondents said they were worse off financially now than they were last year. 16 percent said they were better off.
+ 50 percent said this statement matched their thinking about the economy: "Unfortunately, I think our country's best economic days are behind us. I'm afraid the next generation will have to accept a lower standard of living."
+ But 59 percent of people said they think the economy will be better in 10 years. (19 percent said it would be worse.)
More on jobs, expenses, and the "problem" with government...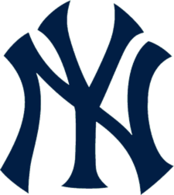 A Siena poll out Tuesday reports the Yankees are New York State's favorite sports team. Fifty-six percent of respondents said the Bronx Bombers are their first, second, or third favorite team (30 percent overall said the Yanks are their #1 favorite).
Perhaps not surprising then that Derek Jeter topped the list for "single greatest athlete of all time that played for a New York team or that you associate with sports in New York." Fourteen percent of people named Jeter when asked that question. Babe Ruth was second at 11 percent. No other athlete registered above 5 percent. The two demographic groups with the highest number of people naming Jeter: women and Latinos, both at 17 percent.
A few more bits...
Are you a sports fan? yes: 59 percent (76 percent of men, 43 percent of women) | no: 41 percent
Favorite sport: football (23 percent -- 27 percent upstate), baseball (22 percent), basketball (19 percent). By the way: soccer is more popular in New York than NASCAR.
The Knicks: A similar Siena poll last year reported that the Knicks were basically no one's favorite team. This year? The Knicks ranked #3 among most single most favored teams. All that money for Carmello and Amar'e is paying off.
On MMA: When asked whether they supported or opposed legalizing mixed martial arts in New York State, 41 percent said they were opposed. 39 percent said they supported MMA legalization. And 19 percent said they didn't know enough about it.
Instant replay in baseball: 54 percent support | 31 percent oppose.
NFL labor situation: 58 percent of people said they supported in the players in the ongoing NFL labor negotiations. 21 percent said they side with the owners. And 100 percent said to wake them when/if the season ever starts. (OK, we made up that last bit.)