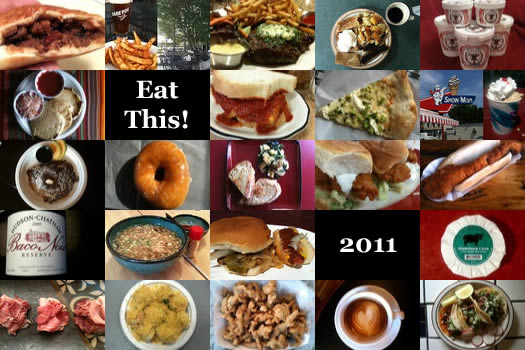 By Daniel B.
Every delicious morsel selected for Eat This! over the course of the past year is truly special. I love each of these 23 foods like I love my children. How could I possibly pick a favorite?
Well, I'll tell you: with a single-elimination blind draw bracket.
Here's how it works: 14 items go head to head in round one, with nine getting a bye to round two. The list of contenders was randomized by random.org and that order determined the initial placement of the foodstuffs.
I agonized over each match-up. Some decisions were harder than others. And it kills me that there are amazing dishes that have to get eliminated in the first round. They deserve a more dignified fate.
What follows is a blow-by-blow of the showdown, with my one favorite thing from the past year left standing.
There's bracket above (scroll all the way up) if you'd like to see the results visually.
Round One
Fish fry at Gene's vs. Blueberry yogurt from Cowbella
The yogurt is amazing with whole plump local blueberries crowning the top of the tub. But even the best nonfat yogurt is no match for a crisp and juicy piece of fried fish with some delicious and interesting takes on the classic sauces.
Winner: Fish Fry
BBQ Pork Buns at Hong Kong Bakery vs. Flat iron steak frites at Garden Bistro 24
I'm still at the Hong Kong Bakery multiple times per week to snack on their buns. And while they may be the best baked buns in the region, they are a bit rough around the edges, especially in comparison to the simple and elegant cooking going on at GB24.
Winner: Steak frites
Eggplant sandwich at Peter Pause vs. Glazed donuts at Cookie Factory
Homemade bread, baked fresh every morning, topped with impossibly thin and delicately fried eggplant, cheese and a bright tomato sauce. Holy cow, that's amazing, as is an impossibly light and yeasty glazed donut. But they are in separate leagues.
Winner: Eggplant sandwich
Sausage sandwich at Gus's vs. Breakfast sausage at Dan's Place Two
The sausage round! The sandwich is the best thing on the menu at this iconic red shack more famously known for its mini hot-dogs. It's delicious with onions and peppers. But the crust that Dan's Place Two is able to get on its breakfast sausage is amazing.
Winner: Breakfast sausage
Tanuki udon at Sushi Tei vs. Kinderhook Creek cheese from Old Chatham Sheepherding Company
I love cheese, just ask my cheesemonger. But a big bowl of toothsome, mouth-filling noodles, enriched with a deeply flavored broth and enlivened with slippery pieces of fried tempura batter will fix whatever is ailing you. Plus these are totally better than the beloved pho at Van's.
Winner: Tanuki udon
Baco Noir Reserve from Hudson-Chatham vs. Pancakes at Jonesville Store
This is a really special wine, because it's ours. And the Baco Noir grape actually grows and thrives in our frigid climate. It goes great with roast chicken and you should totally try it. But if those pancakes don't show up again at the new incarnation of the Jonesville Store, I'm going to be really sad.
Winner: Pancakes
Pupusas at Flores Family Restaurant vs. Macchiato from Caffé Vero
The macchiato isn't a classic one. Vero doesn't just mark their double ristrettos with a dollop of microfoam. It's more like a mini cappuccino. And while nobody else is making pupusas either, the level of dedication to the craft at Vero is impressive.
Winner: Macchiato
Round Two
Clam strips at Bob & Ron's vs. Fish Fry at Gene's
The seafood round! The clams at Bob & Ron's are the most tender I've found around the region, and clearly superior to the restaurant's fish Fry that gets top billing. But Gene's fish fry beats them by a nose, because it's not just of how well they fry, but because I'm still impressed with the red pepper laced cocktail sauce and their tart tartar.
Winner: Gene's
Buffalo chicken sliders at Friendly's vs. Slices at Pizza King
Do not knock those sliders. Sure they may be a highly processed food, but they are an amazing blend of textures and flavors, not least of which is a solid Buffalo sauce. But Pizza King has three heat levels of Buffalo chicken pizza, and his ratio of crust-to-sauce-to-cheese always soothes my soul.
Winner: Slices
Boston shake at The Snowman vs. Flat iron steak frites at Garden Bistro 24
In round one we saw savory beat out sweet and Garden Bistro trounce one of my favorite street foods. But this is a sundae on top of a milkshake, topped with hot fudge and whipped cream. Plus it has absolutely nothing to do with Boston. The shake is amazing, and I'm a bit bummed that GB24 has had to raise their prices.
Winner: Boston shake
Eggplant sandwich at Peter Pause vs. Rare Vos and fries at Sutter's
Beer, french fries and the great outdoors are a killer combination. Sadly there is a precious small window of opportunity in which to enjoy them, especially on this lovely deck by the University at Albany's uptown campus. The eggplant sandwich on the other hand can (and should) be had year round.
Winner: Eggplant sandwich
Schwarzwälderschinken at Rolf's vs. Breakfast sausage at Dan's Place Two
The pork round! Both places transform ordinary pork products and make them into something extraordinary. Except one is hot and served with eggs and potatoes, the other is cold and best enjoyed on its own. Have I mentioned the crust on the breakfast sausage at Dan's Place Two? In this case power overshadows finesse.
Winner: Breakfast sausage
Tanuki udon at Sushi Tei vs. Grilled cheese at All Good Bakers
Two comfort foods going head to head. One hot and slippery, the other crispy and gooey. Take into account the quality of ingredients, the flavor combinations, and absolute value All Good Bakers wins this one handily. Local, organic and seasonal need not be expensive.
Winner: Grilled cheese
Dahi puri at Parivar vs. Pancakes at Jonesville Store
This is getting hard. A multi-layered sensory experience unlike any other versus the only pancakes I've ever enjoyed out of the house. Plus it's another sweet versus savory showdown. Only one offers a taste explosion.
Winner: Dahi puri
Macchiato from Caffé Vero vs. Tacos at La Mexicana Grocery and Restaurant
Never did I think Albany would have either a serious place for espresso drinks or a true taqueria. I've been longing for some good tacos since I arrived to the region, and now we have them. But if both of these shops were to close up, I would miss one just a little bit more.
Winner: Macchiato
Quarter Finals
Fish Fry at Gene's vs. Slices at Pizza King
The Capital District does have a few unique regional foods, and our take on fish fry is one of them. I respect that, and I have come to enjoy the form. But I will always hold pizza deep in my heart, and Pizza King does amazing things with slices. With Pasquale's gone, the Pizza King crust is hard to beat.
Winner: Slices
Boston shake at The Snowman vs. Eggplant sandwich at Peter Pause
Both places are institutions, both dishes involve homemade ingredients, and neither is good for your diet. But the Boston shake is merely a form. You can have it anyway you like. The eggplant sandwich is unchanging regardless of who orders it. It's a mouthful of umami that has been pleasing patrons for generations.
Winner: Eggplant sandwich
Breakfast sausage at Dan's Place Two vs. Grilled cheese at All Good Bakers
I love that sausage, but cooking a conventional sausage really really well will only get you so far. The grilled cheese sandwich at All Good Bakers is more than the sum of its parts. The homegrown rosemary that perfumed my sandwich really took something simple to an entirely higher level.
Winner: Grilled cheese
Dahi puri at Parivar vs. Macchiato from Caffé Vero
By sheer random luck of the draw, Caffé Vero has knocked out some of my favorite ethnic street food. In round one it was pupusas, and in round two tacos. Now it's up against chaat. But this espresso drink is really street food too. It takes moments to prepare, and you can enjoy it in a few sips while standing up. Great coffee is hard to beat, even if your name is dahi puri.
Winner: Macchiato
Semi Finals
Slices at Pizza King vs. Eggplant sandwich at Peter Pause
Two Schenectady powerhouses of great eating finally go head-to-head. As much as I love a great slice of pizza, and as much as a great slice of pizza is hard to come by, this sandwich deserves to be on a pedestal. At the end of the day, even the best slice of pizza is just bread topped with sauce and cheese. The eggplant sandwich is a force to be reckoned with.
Winner: Eggplant sandwich
Grilled cheese at All Good Bakers vs. Macchiato from Caffé Vero
All Good Bakers does amazing work. But there are lots of great places to get a delicious sandwich. Sure, none of them bake their breads with organic local grains or use other high quality seasonal and organic ingredients. But there is also nobody else making espresso or texturing milk like the baristas at Caffé Vero. Seriously, I don't want to get espresso-based drinks anywhere but Vero.
Winner: Macchiato
Finals
Eggplant sandwich at Peter Pause vs. Macchiato from Caffé Vero
How do you compare one of the best classic sandwiches from Schenectady to the best short espresso drink in the region?
There are plenty of places to get some delicious eggplant, and if you had the time, you could make it yourself at home. Granted it would take an incredibly long time, because you would have to start by making your own bread.
On the other hand, to squeeze out a stellar shot of espresso takes thousands of dollars of professional equipment not to mention hundreds of hours of practice. There are some things I'm willing to let the experts handle. And given the equipment, ingredients and labor, three dollars seems a tiny price to pay for something so amazing.
Winner: Macchiato
Congratulations to Caffé Vero. It trounced some mighty powerful competitors. And yes, I do love coffee. But I also love tacos and pizza and cheese and donuts and sausage and ice cream and wine and, well, I love everything this coffee shop went up against. They won not because they make coffee, but because what they make is really incredible, and there is no substitute for it in the region. Well done.
Let it not be said there is no good food in the Capital Region. I've got 23 arguments to say that there is -- with more on the way in 2012.
Daniel B. is the proprietor of the Fussy Little Blog.
Hi there. Comments have been closed for this item. Still have something to say? Contact us.