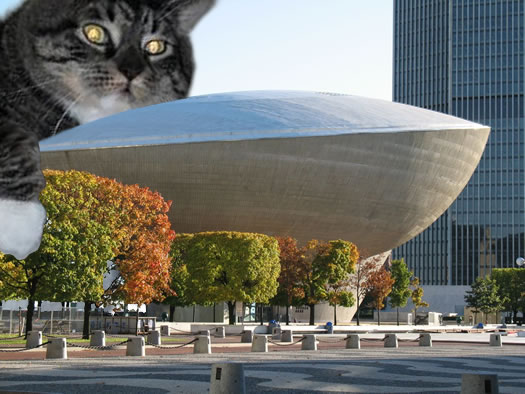 Toward the end of each year we like to go the through the traffic stats on AOA to see which posts were most popular. It's a fun way to remember all the stuff that's happened.
So, without further ado, here are the most popular posts on AOA for each month during the last year...
January: Signs of the times
Jess shared some of her favorite retro signs from around the Capital Region
Also popular: The best way to get from Albany to NYC? | Debbie sells the kitchen
February: The campaign for Thacher Park
The threat of Thacher Park being closed rallied people in support.
Also popular: Troy is underrated | Albany Song!
March: It all adds up
In which we considered the somewhat depressing side effects of the new law requiring calorie counts on chain restaurant menus.
Also popular: AOA Birthday 2 photos
April: Fountain Day 2010 photos
There are always a few fun photos.
Also popular: Supermarket Showdown III | The new Forever 21 megastore
May: Fantastick proposal
Matt Streifert really put on a show for his proposal to Alana Sangiacomo.
Also popular: Jess Fink has a lot of fans | Misconceptions about Albany?
June: The Secret Photostream of Flabby Tabby
He was living large.
Also popular: Albany Jane's must-try cheap lunches | Earthquake?!??!
July: What's the new $10 bus ride to New York like?
Kalyn talked with a few people who had given it a shot.
Also popular: Miss New York supports same-sex marriage and can fix iPods | Where to eat like a state politician
August: Details on the mysterious Albany movie shoot
The possibly ill-fated indie comedy Sister Spirit shot in Albany.
Also popular: A first look at Fresh Market | I'll see you later
September: The odd story involving Price Chopper, Twitter and a total overreaction to a negative comment
A case study in social media how-not.
Also popular: Tournament of Pizza 2010 voting | How did Ric Orlando do on Chopped champions?
October: Fire at Central Warehouse
The fire at the landmark building caught everyone's attention.
Also popular: Other things that are too damn high | Tournament of Pizza 2010
November: A look at the new Dinosaur Bar-B-Que in Troy
People were apparently very hungry for dinosaur.
Also popular: Braving the pancake bites | Little house on State Street
December: It's winter. Your dog has pooped. What now?
Sometimes we all need a little help figuring out what to do.
Also popular: Santa Speedo Sprint 2010 photos | Confirmed: EMPAC looked at for Iron Man 3
_____
A quick note: Regular features such as Craigslist or the Neighborhood excluded. And some stuff that gets spread out, such as the Tournament of Pizza, doesn't end up ranking as high as it would if it was all totaled together. Also, December's not over yet -- so those ranks are preliminary.
Say Something!
We'd really like you to take part in the conversation here at All Over Albany. But we do have a few rules here. Don't worry, they're easy. The first: be kind. The second: treat everyone else with the same respect you'd like to see in return. Cool? Great, post away. Comments are moderated so it might take a little while for your comment to show up. Thanks for being patient.