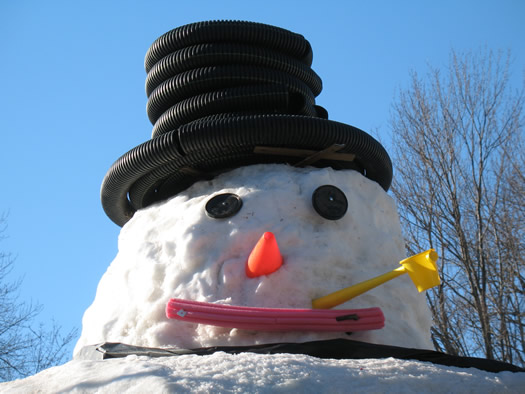 At the end of each year we like to go the through the traffic stats on AOA to see which posts were most popular. It's a fun way to remember all the stuff that's happened.
So, here are the most popular items on AOA for each month during 2011...
January: Saints vs. The State for Washington Avenue
An interesting post by Akum about the Cathedral of All Saints in Albany -- and how the state Education Building ended up between the church and Washington Ave.
Also popular: The Capital Region's best diner breakfasts | It's winter. Your dog has pooped. What now?
February: The Giant Snowman of Guilderland
Sometimes we feel like we have a pretty good sense of what's going to popular. And then there's a giant snowman.
Also popular: The Deep Fried Hamburger at Swifty's | Drawing: Four course meal at Wine Bar and Bistro on Lark
March: Video of the Albany kegs and eggs riot
People like to gawk at disasters and mayhem.
Also popular: The highway that was almost buried under Washington Park | 28.5 facts about Jimmer Fredette
April: What is this hipster you speak of?
In which we asked: What is a hipster? Is there an Albany-specific hipster subtype?
Also popular: Confessions of an Albany ex-pat | Supermarket Showdown IV
May: The Sunmark Startup Grant
Lots of interest in the people who were competing for the $1,500 startup grant.
Also popular: Before we get a Wegmans or a Trader Joe's | Jennings to veto Albany chicken ordinance
June: To: Roy McDonald, From: Bombers and Matt Baumgartner, Re: marriage equality
Matt Baumgartner sent state senator Roy McDonald a message via billboard. McDonald would later change his position and become one of the key votes in favor of legalizing same-sex marriage in the state. McDonald's comments about why he changed his vote then went viral online.
Also popular: Wine-N-Diner no longer | Pick your own strawberry season 2011
July: Pioneer Market and the gentrification of the Collar City
Leah stirred things up in her assessment of the situation surrounding the faltering Troy co-op. Be sure to read Mike's response.
Also popular: Scouting the places beyond the pines
August: Photos of Irene flooding in Troy | Photos of Irene flooding in Schenectady
People are drawn to disasters.
Also popular: Earthquake!
September: Windham, after Irene
A photo log of the destruction left behind by Irene flooding in the Catskills town.
Also popular: Capital City Gastropub | ShopRite Niskayuna opening date
October: A first look at ShopRite Niskayuna
The Capital Region is a little supermarket obsessed.
Also popular: Firsthand accounts of the Latham Gold' Gym struggle | Capital Region income distribution | Tournament of Pizza 2011
November: An Albany dialect?
Lots of interesting discussion about whether there's an Albany accent or dialect.
Also popular: Arrests at Occupy Albany | Grilled cheese at All Good Bakers
December: He picked the wrong wallet
The story about UAlbany rugby player Michelle Williamson chasing down -- and pinning -- the guy who allegedly stole her wallet got a bunch of shares on Facebook. There seemed to be something about it that resonated with people -- a visceral thrill in hearing that someone just wasn't going to sti there and let it happen.
Also popular: Santa Speedo Sprint 2011 photos | The eviction of Occupy Albany
A quick note: We filtered out regular features such as the Neighborhood and Stuff To Do. Also, some things that are spread out over multiple posts -- like the Tournament of Pizza -- don't end up ranking as high as they would if totaled all together.
Hi there. Comments have been closed for this item. Still have something to say? Contact us.