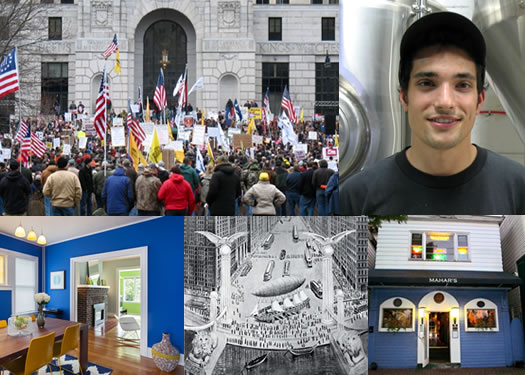 At the end of each year we like to go the through the traffic stats on AOA to see which posts were most popular. It's a fun way to remember all the stuff that's happened.
So, here are the most popular items on AOA for each month during 2013...
January: Mahar's bumped from its Albany location
The building for the popular neighborhood bar in uptown Albany -- a favorite of beer nerds -- lost its space in a change of building ownership.
Also popular: Albany parking permit system starting soon | Surveying the hot food at Stewart's
February: Ravens Head: Cohoes Armory is a done deal
The startup brewery's site selection process ended in Cohoes. Maybe an opening in 2014?
Also popular: Scenes from the rally to repeal the NY SAFE Act | Trying the Super Bowl-themed cupcakes from Coccadotts
March: Scenes from the rally to repeal the NY SAFE Act
The gun control legislation stirred up a lot of attention and conversation.
Also popular: St. Patrick's Day stuff to do 2013 | Bad pancakes
April: Tulip Festival 2013 music lineup
Tulip Fest is a popular event, so it's not really surprising people would be interested in the music lineup. (And a bunch of search referrals helped push the total up even more.)
Also popular: My Place Beyond the Pines | Where the food trucks are. And aren't. And why.
May: A peek at the new Honest Weight store
Honest Weight's long-planned new location opened this year.
Also popular: Albany Bagel Co. | Cheese guru Gustav Ericson leaving Honest Weight
June: An IKEA? Here? Well...
We talked with an IKEA spokesperson about the prospect of a store in the Capital Region. His answer, essentially: Sorry, it's not going to happen.
Also popular: Checking out the new Honest Weight location | A quick look inside the new Troy Bombers
July: The big plan for residential and retail redevelopment in Albany's Park South
Albany Med and its partners moved forward on the ambitious $110 million plan to clear and redevelopment two whole blocks in Albany's Park South neighborhood. Among the buildings that will go: the building that houses Valentine's, and the former Quintessence diner building.
Also popular: Should I text a pic of my junk? (from 2011) | In-between places: Mechanicville and Stillwater
August: Nine Pin Cider Works
As hard cider grows (again) in popularity, a startup cidery setup in North Albany.
Also popular: Lineup for Pearl Palooza 2013 | A quick trip through the Crossgates Dave & Buster's
September: KC and DW's Pine Hills modern
One of the best things about AOA in 2013 was Nicole Lemperle Correia's Open House series -- this one got a look at a traditional on the outside/modern on the inside house in Albany's Pine Hills neighborhood, with some great photos by Paul Gallo.
Also popular: You're bound to come across one, eventually | "First of all, how lame is it that someone tweeted the 518?"
October: Work Week: My job as a retail clothing store manager
An interview with an anonymous manager at a local retail clothing store revealed what really goes on in dressing rooms. This story got picked up a bunch of other places, including a British tabloid and the Today Show.
Also popular: Checking out The Grocery in Troy | TOP 2013: The Final
November: How New York's deck of counties split on the casino vote
A state map of a county-by-county breakdown of voting on the state constitutional amendment allowing full casinos.
Also popular: For sale: Helderberg Castle | What sort of winter coat(s) should I buy? And where?
December: A vision of Troy in 2016 -- from a century ago
An image from a 1916 Troy vaudeville program imagining Troy in 2016 (although maybe it wasn't that specific). This post got a ton of shares on FB, Twitter, and other sites.
Also popular: Favorite local foods 2013 | Santa Speedo Sprint 2013 photos
A quick note: We filtered out regular features such as the Neighborhood and Stuff To Do, along with "utility" type posts such as map listings for apple picking and ice skating. Also, some things that are spread out over multiple posts -- like the Tournament of Pizza -- don't end up ranking as high as they would if totaled all together. And: We pulled the most popular items from December as of December 29.
Here's the list from 2012.
More end of 2013 stuff:
+ Favorite local foods 2013
+ Interesting stories to cover 2013
+ Favorite shows of 2013
Say Something!
We'd really like you to take part in the conversation here at All Over Albany. But we do have a few rules here. Don't worry, they're easy. The first: be kind. The second: treat everyone else with the same respect you'd like to see in return. Cool? Great, post away. Comments are moderated so it might take a little while for your comment to show up. Thanks for being patient.